Books on Business by Elinor Stutz
Top Sales Guru Top 1% Influencer, Top Sales Blog
International Best Seller and Evergreen Content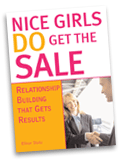 Nice Girls DO Get The Sale
Relationship Building that Gets Results
An International Best-Seller and Evergreen ~ Among the Classics!
---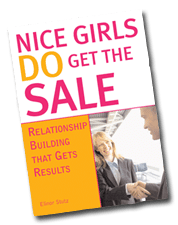 Relationship Building That Gets Results" 
An International Best-Seller and Evergreen ~ Among the Classics!
 by Elinor Stutz
Featured in TIME Magazine, Translated into Multiple Languages and Selling Worldwide! Readers describe this book as "laugh-out-loud funny and containing so much valuable information, I need to read it with a highlighter in hand."It was against all odds after being a stay-at-home mom for 15 years that Elinor Stutz survived her first corporate sales job. The men did everything imaginable to force her out but she refused to go! 
Although Elinor knew nothing about business, the copier technology she was required to sell door-to-door or sales itself, she became the top producer by the 4th month due to her persistence and ability to make friends with everyone she met.
Writen for salesmen and saleswomen, everything she learned in her 11 year corporate sales career, is shared with you in her book. It's as if you are having a cup of coffee with her in her kitchen as she reveals the stories and lessons learned one by one.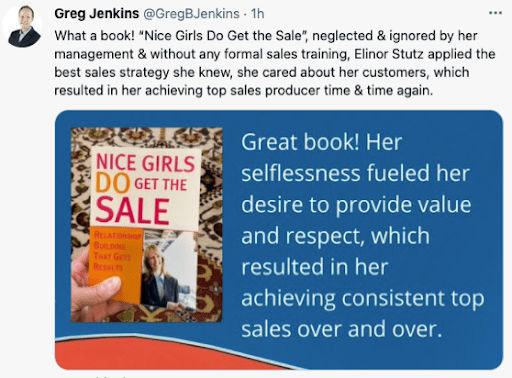 @Social Andrea #FF @smoothsale – her book "Nice Girls DO Get The Sale" has helped me significantly to stay true to myself in my career. Kudos!
@smoothsale Thank you for writing Nice Girls. It's helped me out of bad habits, and I've given several copies to new salespeople!
Nice Guys Get the Sale too:
~Greg Jenkins: 5.0 out of 5 stars "Great Sales book, and so much more!"
Reviewed in the United States on May 6, 2021
" More than just "Sales"! In "Nice Girls Do Get the Sale", Elinor shares her sales career and life lessons that resulted in her achieving top sales producer time and time again. Neglected and ignored by her management, and without any formal sales training, Elinor applied the most effective sales strategy she knew, she cared! Elinor cared about her customers and their needs. Her selflessness fueled her desire to provide value and respect, which resulted in her achieving consistent top sales over and over."
"I found your stories and battles fascinating. It says a lot to me about your character as I read how you dealt with all of these life challenges in your career, especially dealing with us males who often have a tough time getting beyond our testosterone. Your tips on how to handle all of the obstacles you encountered are great mind joggers of the things we knew and forgot or didn't learn at all. I look forward to finishing your book and I'll suggest to my executive wife that she at least glance at your book as well. Thanks for sharing your insights." ~ Michael Olson
"This is a wonderful, warm, practical book that shows you how to build great relationships with your customers.
"~ Brian Tracy ~ Author and Sales Trainer
"I love this book – especially that it encourages ethical behavior rather than the usual used-car-salesman tactics that can be so off-putting to women both as salespeople and consumers. It's a must-read for rainmakers — male or female."
~ Taylor Mallory ~ Lifestyle, Franchise and Web Editor PINK magazine
---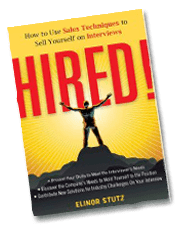 HIRED!
How to Use Sales Techniques to Sell Yourself On Interviews
Most people today act in desperation to take "any" job. Even worse, they interview as a victim, solely focused on themselves. They are missing the vision of finding a job that will provide both career growth and satisfaction. It's possible to have both – you just need to know the how-to techniques!
HIRED! is written by Elinor Stutz, Author of Nice Girls DO Get the Sale. She writes, "The interview is not about you, it's about how well you will solve the company's problems and fit in with the company culture. This is the only way you will get a job you actually enjoy!"
Not only will you read how-to execute what you need to know, but you will also read true stories of interviews that went awry as well as those that succeeded. They are real-world and entertaining to quickly grasp the strategies and Get to HIRED!
| | |
| --- | --- |
| This book is a must-read for the easier "how" to get HIRED! | |
| | Achieve the right mindset for successful interviewing |
| | Specific research prior to the interview |
| | Leadership skills required for advancing a 2-way interview |
| | Specific questions you MUST ask on the interview |
| | Strategies for negotiation |
| | Most importantly, Selling Strategies designed for interviewing to get you "HIRED!" |
As CEO of Smooth Sale, Elinor Stutz has always included Community Service as a part of her business plan. For years she has translated selling strategies as she spoke to many groups of grateful job-seekers. She recognized with the unemployment statistics so high, it would be of great service to this community to write the book.
"As a career coach working with successful career changers and job hunters, I always tell my clients that the interview is all about selling themselves. Hired! is the first that actually explains step-by-step how to make that sale a reality and the job interview a success. Elinor's career is an inspiration, and her book will inspire job seekers." —David Couper, career coach and author of Outsiders on the Inside — David Couper
Get the HIRED! Book on Amazon.com – CLICK HERE