Books on Business by Elinor Stutz
Top Sales Guru, Top Influencer, Top Sales Blog, International Best Seller
Added:
The Wish:
A 360 Degree Business Development Process That Fuels Sales
---
The Wish: A 360 Degree Business Development Process that Fuels Sales
In this book you will learn how to:
• Put sales on a higher level
• Develop a strong personal brand
• Convert your brand into a power branding platform
• Improve decisions concerning money and funding options
• Build a global presence
• Benefit from a sales crash course
• Convert your entire effort into the Smooth Sale
Is All of the Above Truly Possible?
Kred.com confirmed placement in the Top 1% of Influencers ~ and this book details how you may do the same!
Distinguish yourself as the expert by having a higher-level perspective of all of the pieces of the puzzle fitting together.
[youtube]https://youtu.be/4fOS93UvbzI[/youtube]
Is this book for you?
Are you in business to make money?
What were the deciding factors to begin your business?
What are you hoping to have gained from the experience?
These questions exemplify what is asked of you in the following pages. Your soul-searching answers work to enable you to find increased success with your business development and sales effort.
Much more than just a social media book
By James Muir on September 28, 2016
Format: Paperback
Elinor Stutz is a top ranked blogger, one of the most followed sales experts on Twitter, and an experienced business veteran. I would describe what she has crafted here is a practical how-to book that is also an inspiring leadership book. The book is broken down into 3 parts. Part 1 is about the decisions you make and the values you hold that determine your personal brand. Part 2 describes the rules for using social media along with strategy and guidance for leveraging Twitter, LinkedIn, Facebook & blogs to grow that brand and make sales. Part 3 then takes the pulls the previous two sections together and gets tactical on how to generate more sales.
The whole book is a phenomenal fusion how to be a genuinely authentic businessperson (one that leads, serves and makes a real difference for others) and how specifically to leverage social media and quality conversations to generate more business. It's the bona fide sweet spot for the value-based businessperson.
The book does an excellent job of giving the big picture as well as the details. It asks soul-searching questions that must be answered in order to make work fulfilling and then goes on to crystallize that into sensible steps. Every chapter ends with a list of actionable tips.
Social media expertise is a requirement for business success today and Elinor's book makes real sense of it. It is easy to become overwhelmed with social media and The Wish is like Akim's razor for those seeking guidance on social media. It's just what you need without becoming overwhelming.
At the core all of these things is the fact that social media, sales and leadership is about human relationships and quality conversations. That truth permeates the work throughout and speaks loud and clear to character of the book and the author. I would give this book my top recommendation for established or would-be business owners and entrepreneurs that seek to learn and leverage sales and social medial in an authentic way. 5 stars.
Recommended to Increase Sales
"There is a reason why Elinor Stutz has been recognized as a Top 1% Influencer by Kred. For the last two years in a row, CEO World Magazine has called her, 'One of the brightest minds to follow on Twitter'. Her blog is continually named among the "Top 100 creative", and Microsoft asked her to contribute to their e-book.
In "The Wish", Elinor shares the strategies to entrepreneurial success that skyrocketed her business. I'm always looking for new ways to increase my client base. I especially want to use social media better so I can close more sales. "The Wish" made learning new strategies for accomplishing my goals easy, and I don't have to pay a fortune to a social media marketing company to get the results I want. Elinor's writing is straightforward and the action steps she recommends are easy to follow as well. I highly recommend "The Wish".
– Randy Peyser, Author One Stop
How to surge ahead with transformational strategies
"After getting amazing results from Ms. Stutz previous books, I was looking forward to another enlightening book, and this one does not disappoint. She not only asks all the right questions about your own process in the social media and sales world, but she supplies specific instructions about how to move forward efficiently. Although every chapter is filled with strategies, I especially love Chapter 3: "Your Unique Personal Brand is the Heart of Business." As a Professional Certified Coach, I agreed with every concept she stated, backed up with examples from her own successful sales career. "The Wish" is a must-read for anyone in life or business who wants to bring wild success into the heart of their working lives."
– Sharon Hooper, Vision Journeys
---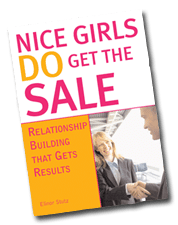 Relationship Building That Gets Results" – An International Best-Seller!
by Elinor Stutz
Featured in TIME Magazine, Translated into Multiple Languages and Selling Worldwide!
Readers describe this book as "laugh-out-loud funny and containing so much valuable information, I need to read it with a highlighter in hand."It was against all odds after being a stay-at-home mom for 15 years that Elinor Stutz survived her first corporate sales job. The men did everything imaginable to force her out but she refused to go!
Although Elinor knew nothing about business, the copier technology she was required to sell door-to-door or sales itself, she became the top producer by the 4th month due to her persistence and ability to make friends with everyone she met.
Writen for salesmen and saleswomen, everything she learned in her 11 year corporate sales career, is shared with you in her book. It's as if you are having a cup of coffee with her in her kitchen as she reveals the stories and lessons learned one by one.
@Social Andrea #FF @smoothsale – her book "Nice Girls DO Get The Sale" has helped me significantly to stay true to myself in my career. Kudos!
Jenna Sells It! ?@JennaSalesIt
@smoothsale Thank you for writing Nice Girls. It's helped me out of bad habits, and I've given several copies to new salespeople!
Nice Guys Get the Sale too:
"I found your stories and battles fascinating. It says a lot to me about your character as I read how you dealt with all of these life challenges in your career, especially dealing with us males who often have a tough time getting beyond our testosterone. Your tips on how to handle all of the obstacles you encountered are great mind joggers of the things we knew and forgot or didn't learn at all. I look forward to finishing your book and I'll suggest to my executive wife that she at least glance at your book as well. Thanks for sharing your insights." ~ Michael Olson
"This is a wonderful, warm, practical book that shows you how to build great relationships with your customers.
"~ Brian Tracy ~ Author and Sales Trainer
"I love this book – especially that it encourages ethical behavior rather than the usual used-car-salesman tactics that can be so off-putting to women both as salespeople and consumers. It's a must-read for rainmakers — male or female."
~ Taylor Mallory ~ Lifestyle, Franchise and Web Editor PINK magazine
---
HIRED!
Most people today act in desperation to take "any" job. Even worse, they interview as a victim, solely focused on themselves. They are missing the vision of finding a job that will provide both career growth and satisfaction. It's possible to have both – you just need to know the how-to techniques!
HIRED! is written by Elinor Stutz, Author of Nice Girls DO Get the Sale. She writes, "The interview is not about you, it's about how well you will solve the company's problems and fit in with the company culture. This is the only way you will get a job you actually enjoy!"
Not only will you read how-to execute what you need to know, but you will also read true stories of interviews that went awry as well as those that succeeded. They are real-world and entertaining to quickly grasp the strategies and Get to HIRED!
| | |
| --- | --- |
| This book is a must-read for the easier "how" to get HIRED! | |
| | Achieve the right mindset for successful interviewing |
| | Specific research prior to the interview |
| | Leadership skills required for advancing a 2-way interview |
| | Specific questions you MUST ask on the interview |
| | Strategies for negotiation |
| | Most importantly, Selling Strategies designed for interviewing to get you "HIRED!" |
As CEO of Smooth Sale, Elinor Stutz has always included Community Service as a part of her business plan. For years she has translated selling strategies as she spoke to many groups of grateful job-seekers. She recognized with the unemployment statistics so high, it would be of great service to this community to write the book.
Get the HIRED! Book on Amazon.com – CLICK HERE
Prepare Yourself for These Potential Interview Curve Balls