Sales Scenario Podcasts
http://blogradio.salesscenario.com/expert/elinor-stutz
Host Sarah Spencer – Self Talk Radio Show:
Love my next guest's story – going from the possibility of paralysis to creating Smooth Sale, best-selling author, Elinor Stutz shares what it takes to make (and keep…) the sale:
http://selftalkradioshow.com/elinorstutz.html
The show is uploaded now onto iTunes, Google Play and will air on the following radio stations this Sunday:
99.9 The BUZZ WBTZ 7:30-7:45am
98.9 WOKO 9:31 – 9:46pm
AM 1230 WJOY 8:30 – 8:45 am
105.5 KOOL 105 WKOL 10:30-10:45pm
106.7 WIZN 7:30-7:45am
Sales Experts Webinar – Sales Enablement by Elinor Stutz
http://bit.ly/2l1wbOn
(45 minutes on demand = free of charge)
Sales Lead Management Association
Host: Jim Wesley Obermayer, CRM Radio
May 2017

Razors Edge Podcast
[audio:RazorEdgeEStutz-64bit2.mp3]
Sales Reinvented – 2016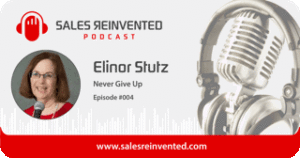 WS Radio Interviews 2015
Hear me on wsRadio's Success Advisor Radio – Creating an Effective Environment, Structure and Company Culture that Supports Sales
Part 1 – Success Starts with Building a Personal Brand and Building / Contribuiting to the Company Brand
Part 2 – Success Builds on Content shared through Social Media. You must Engage!
Part 3 – Digital Sales Prospecting. Social Media give you reach. Connect and Build Relationships with the Right Communities. Power Branding!
Part 4 – Content Supports Conversion. Turn Prospects into Clients into Fans that Provide Highly Profitable Repeat Sales.
Travis Huff, Host of Be Real Show
January Jones W4CY Radio, Clear Channel, iHeart and BlogTalkRadio
Inspiring and motivating conversation between January Jones and Elinor Stutz per finding the better version of yourself
Marketing University CEO and Host Ely Delaney
Ely Delaney, CEO of Mrketing University and Host, interviews Elinor Stutz and offers insights from a marketing-sales perspective.
The Entrepreneurial Moment
Brian Sullivan Host of ESPN Radio "The Entrepreneurial Moment" – the first few minutes I was dropped from the call; once it kicks in it sounds good.
[audio:https://smoothsale.net/audio/entremoment-101413.mp3]