Attract the Right Job or Clientele:
My Story About Different Ideas for Business and Career
As I rode the escalator to the second floor of the M&M store at Times Square, NY, I realized my next stop.   The back of the first floor became my priority upon seeing this photo: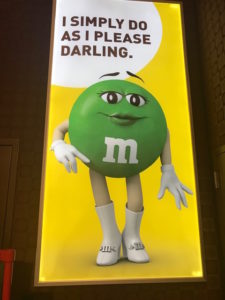 Many view me as using the type of thinking displayed in the poster.  While it may appear to be accurate, strategic qualifiers always apply.
Strategic Qualifiers for Success
Business growth, sales success, and career development all do best by following these three steps:
Stop in your tracks

Look for verbal and visual clues

Listen to all ideas, especially the most unusual
The strategic qualifiers for success point to what yogis and yoga practitioners advise. 
Be in the present.
Stop-Look-Listen
I give 100% attention to what is in front of me.  My duty is to figure out what may work in spite of different ideas for business and career.
As a person speaks, I look for varying facial expressions and movement in body posture. Movement in either regard indicates new thought or essential questions. I stop to ask what is on the other person's mind. Most are surprised by my noticing a shift.  Doing so motivates the other person to answer in full. The conversation then proceeds to a deeper level.
Should an idea not be in alignment with mine, I ask questions to uncover the 'why.'  When I hear strange questions asked of me, I attempt to understand the reasoning behind them. The process becomes a meeting of the minds.  The outcome is a relaxed form of negotiation.
Acceptable Rejection
When I cannot buy into suggestions, I do head in another direction. Disagreements usually stem from the ideas not meeting my values and priorities. Other times the offerings appear to be a waste of time.
My exiting the conversation can be viewed in one of two ways:
As the M&M poster


or

As standing up for myself.
We limit success by caving into the ideas of others that poorly affect our brand.
The perfect example arrives when there is a need to interview for a new job. How we handle the conversation will determine if we are to be the candidate of choice.
It is with great pleasure to share a new job interview podcast hosted by Jeff Altman.
Listen to:   "Sales People Have Something to Teach You About Job Search."
Interestingly, Jeff was a previous headhunter. We enjoyed sharing teachable stories.  And we hope our story-telling will help you advance your career.
For More Insights Read:
Your Story About Differing Ideas For Business And Career
The moment of truth is here. Most people will dismiss ideas different from their own. Worse is when some choose to scorn unique thought. How carefully do you listen to different opinion to potentially increase business or career potential?
Consider the following:
Do you sometimes wish you gave more thought to a suggestion?

Have you missed out on an opportunity because it initially sounded ridiculous?

Are peers appearing to succeed more rapidly due to taking an occasional risk?
Diversity is a popular topic of conversation. Most often, companies refer to the acceptance of diverse cultures. However, the subject matter should be inclusive of varying opinions and ideas. The problem is that people often fear to state something that can be viewed as the opposite of the norm. Hesitation stems from being laughed at or having management look down.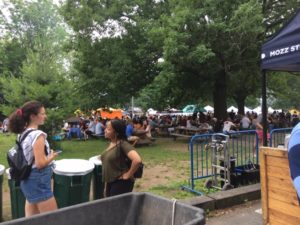 An excellent way to increase openness to differing ideas is with a team event. 
Consider this Differing Idea for Business and Career:
Avoid the typical sports-oriented game or featuring one top producer. Take an example from the ever-popular food trucks.  
Host an international food fest!
Nothing promotes conversation and a wide array of ideas better than food. As attendees enjoy the delicacies, a more relaxed environment takes hold. A more extensive variety of interactions take place along with a range of conversations. Speaking with management becomes more accessible to everyone.
The open environment and ambiance will have the event remembered long afterward. Should you be seeking new work, keep differing conversations in mind as you interview. Listen and look for clues as you visit various companies and speak with the team you may soon join. After all, your opinions count, too!
Sales Tips for Being Open To Differing Ideas For Business And Career
Consider every idea you hear from multiple perspectives

Listen carefully to opposing viewpoints

Analyze if you are missing something in your approach

Should you hear something significant, follow up with a private conversation

When a good idea strikes, help promote it

Develop a team of peers striving to market the work of one another

As you get to know people, refer them to new jobs that will elevate their career

Focus on personal development every day including listening to podcasts and reading blogs

Track your progress and always think ahead to next steps

Celebrate Success!
Today's blog is provided to help you achieve the Smooth Sale!
Full Disclosure:  Fees may be applied and I may receive commission through the links below.
  HubSpot Sales  "Sell More and Work Less!"
Sales Hub – Direct OFFER: Inbound Selling Guide
RESOURCES FOR PERSONAL AND BUSINESS GROWTH:


Powered by Intellum, providing expertly curated content on the most sought after topics.