Attract the Right Job Or Clientele:
Are You Ready To Make Video Conferencing More Productive?
Remote work is here to stay, and companies will do their best by enhancing their remote meetings. Enhancement may consist of ease of use, including varying ways for staff to share ideas. Examples include speaking and sharing a whiteboard with pictures or a film clip to add value to their thoughts. The greater the variety of methods for involving the team via video conferencing, productivity will likely increase, adding to business growth.
Our guest blog provides insights on how to boost your video conferencing productivity with their guide. Below you will learn techniques to improve engagement, efficiency, and outcomes in virtual meetings.
In today's modern business era, remote work has become increasingly prevalent. Companies and employees alike are embracing the convenience and flexibility that video conferencing provides. However, video conferencing can sometimes feel burdensome and unproductive without better optimization efforts.
_________________________________________________________________________________________________________________________
Ready to Make Video Conferencing More Productive.
Having the Right Technology: Look and Sound Professional
The first critical step to improving a video conferencing experience begins with having the right technology. Ensure you choose a reliable, user-friendly platform that suits your organization's needs. High-quality video, audio, and intuitive user interfaces are essential for selecting your software. You may need to evaluate several options before identifying the best fit for your remote work setup.
A professional video conferencing experience must include high-quality audio and video. Investing in good video conferencing tech devices, such as a quality webcam and microphone, will make you look and sound more professional. Doing this will also ensure you and your team effectively communicate without distractions.
Furthermore, ensure you correctly configure your audio and video settings for your hardware and software. Take the time to test your equipment and settings regularly to avoid last-minute technical difficulties during calls.
Minimize Background Distractions: Create a Dedicated Workspace
Reducing background noise and distractions can significantly improve the productivity of your video conferences. Set up a dedicated workspace that is tidy, well-lit, and quiet. Close the door and windows to minimize noise interruptions, and use headphones with a built-in microphone for more focused audio input. Should you experience unexpected noise disturbances, remember to mute your microphone when not speaking to maintain a professional atmosphere during the call.
Utilize Collaboration Tools: Optimize Your Communication Channels
Using the right collaboration tools can significantly optimize your video conferencing experience. Depending on your preferred software, various features can help your team communicate and collaborate seamlessly during meetings. Compare and contrast the possibilities to select the better ones for your team. Make use of screen-sharing, document editing, and project management tools to streamline discussions and keep everyone on the same page. Last, familiarize yourself with these tools before the video conference to avoid wasting time navigating unfamiliar interfaces.
Set Clear Agendas: Maintain Concise Communication
Time is valuable and is easy to waste during disorganized video conferences. Create a clear agenda and share it with all participants before the meeting. The benefits include setting expectations, keeping your session focused, and ensuring everyone comes prepared.
Moreover, respect the designated start and end times for each meeting to maintain your team's productivity throughout the day. Be concise in your communication and encourage others to do the same.
In Conclusion: Make Video Conferencing More Productive
By incorporating these suggested ways to enhance your video conferencing productivity, you can maximize the efficiency of your remote work environment. Keep in mind that constant improvement is critical. Always be proactive in evaluating and optimizing your setup. With the right approach and resources, video conferencing can become a powerful tool for maintaining seamless collaboration and productivity during remote work.
For More Insights: Visit Elinor's Amazon Author Page
'Communicate to Attract Interest'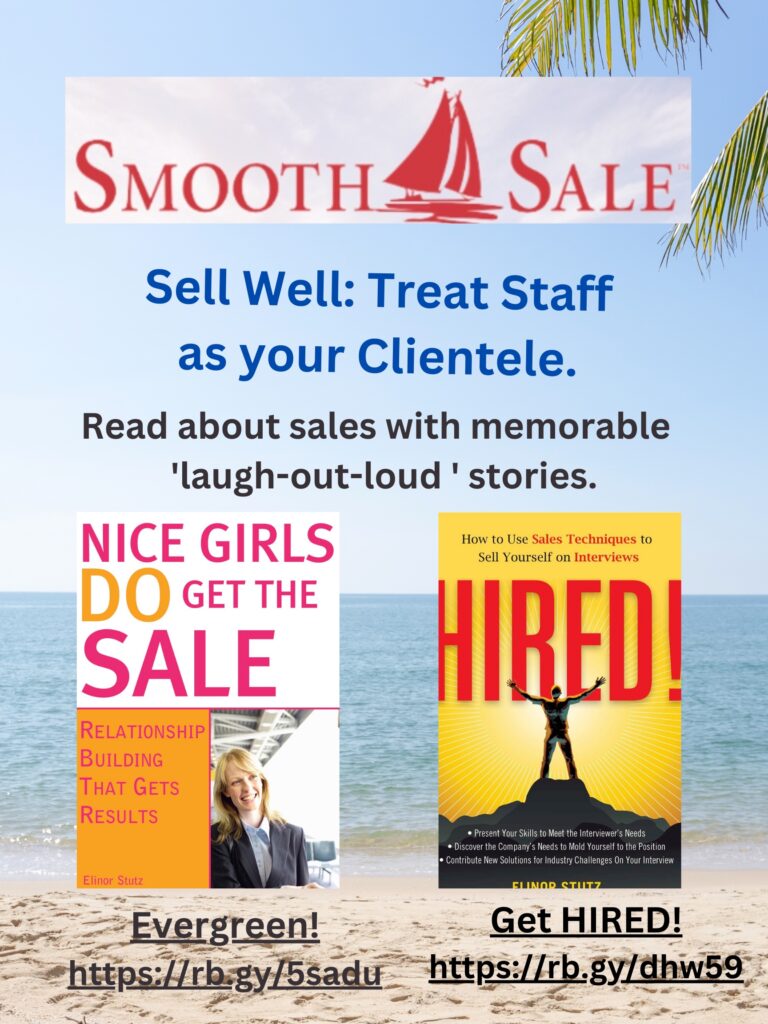 Be A Story-Teller
Believe, Become, Empower"
Related Blog Stories:
Sales Tips: Make Video Conferencing More Productive
Before implementing new processes for video meetings, host a team meeting specifically to discuss possibilities and gain input from all.
Research all suggestions and appoint a sub-committee to do the same.
Verify the company budget and compare it against the fees for making improvements.
Reconvene with the entire time to discuss the findings and develop an agreeable solution for the staff and company.
If several improvements are forthcoming, implement only one at a time to ensure it works properly.
Upon confirming that the first tool or strategy works well, determine how you may expand upon it.
Realizing the productivity benefits of the first new approach, begin implementing the following suggestions one at a time to monitor each.
Listen to feedback to gain unanimous appreciation from staff.
Create a special event to, in turn, give your appreciation to your team.
Celebrate Success!
Today's insights are provided to help you achieve the Smooth Sale!
RESOURCES FOR PERSONAL AND BUSINESS GROWTH:
Advisorpedia Publishes information to help advisors build their practice, and those interested in the markets choose investments and find inspiration.
BabyBoomer – A trusted media source that collects and curates all the news, resources, and shows of interest for the Baby Boomer generation and offers timely courses.
BizCatalyst360 Presents a life, culture, and biz new media digest as a hub of creative expression and personal growth.
CatCat Build your future one skill at a time.
ContactOut is a web-based platform that enables users to search for contact information and uncover contact details, including email addresses, phone numbers, and other personal data.
Fedica Provides a geographical-based AI-driven engagement, analytics, publishing, and listening platform that is unique in its comprehensiveness and accuracy, available on multiple platforms.
Greg Jenkins Consulting LLC – Helping organizations realize the value of diversity to build inclusive, evolving, high-performing cultures.
Growth Hackers – Helping businesses globally grow with lead generation, growth marketing, conversion rate optimization, data analytics, user acquisition, retention, and sales.
Inclusion Allies Coalition "Everyone is welcome here." Learn more to train teams and join the advocacy program.
Internet Advisor Find the internet service right for you among 2083 internet providers across 36,380 cities; plus, Cellphonedeal compiles excellent deals on phones, plans, and prepaid to furnish you with the best options in your area.
Kred Connect with top-rated influencers to learn from and grow your networks.
LinktoEXPERT "It is not who you know – who knows you and what your expertise can do for them, plus understand the value of hiring you."
Lotus Solution LLC Helps organizations create diversity and inclusion to ensure fairness and work through customized consulting, training, and keynote speeches.
Onalytica Find relevant influencers for your brand.
SalesPop! Purveyors of Prosperity; How to Compete against Yourself to Excel in your career.
Simma Lieberman, "The Inclusionist," helps develop inclusive leaders from the inside out to champion diversity and build equitable, inclusive cultures at every level.
Yoroflow offers a comprehensive suite of digital workplace platforms to help you streamline your day-to-day operations, manage your finances, and grow your business.
Vunela Provides a unique opportunity to view Videos and read articles by World Leaders.
WebTalk is the one-stop platform To build your marketplace and grow social connections.
Win Win Women is the world's only interactive network and an international community for women. Women WIN when they receive solutions + Experts WIN when they provide solutions = Win Win Women.