Photo by Geralt via Pixabay
Attract the Right Job Or Clientele:
Do You Believe Expanding Your Business Is Always About Size?
When considering expanding your business, you will likely invest your retained profit into essential areas that necessitate improvements or implementation for the first time. It could include building an HR team, even if that comprises one person, to manage future hiring efforts and look after your staff correctly.
However, while expanding your business is about size, that's not all expansion means or implies. Adding new departments isn't always a good idea if you haven't prepared the fertile ground for them to grow in your organization. Moreover, sometimes expanding your business isn't necessarily about how much volume you can deliver but who you provide it to or how you strengthen your brand image so you can operate in new markets.
For that reason, our collaborative blog offers insights into the question, Do you believe expanding your business is always about the size? Below we discuss how reinvesting in and expanding your operation can be managed outside of the stock growth strategies you may also have in place:
_____________________________________________________________________________________________________________
Expanding Your Business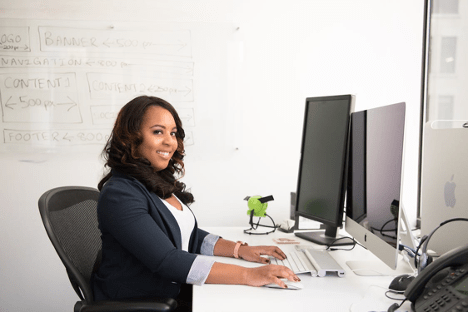 Developing Better System Infrastructure
The internal systems you use to manage workflow, assign tasks, administrative user profiles, or even deliver on your day-to-day planning are inherently tied to your productivity as an organization. In some cases, essential practices are unique, and so porting their management into specific pre-configured managed suites is less reliable than it could be.
That's why investing in custom software development that provides this kind of freedom can feel so freeing, as it gives you a chance to determine the services and capabilities you need from the ground up. In the long run, that can help you better adapt your systemic management efforts to a suite dynamic enough to handle those workflow needs. It can increase collaboration at all levels. For example, if you manage many freelance writers, a module you use to assign work, schedule revisions, or offer full project briefs, especially external platforms like Google Docs, could be ideal and more secure.
Reformatting Policy To Set The Stage
As your business grows, your responsibilities and necessary obligations increase too. That's why it's good to take another look at your policy, albeit your hiring practices, work loyalty programs, or, now that you're integrating new customer support channels, how agents should respond to certain situations.
As you can see, policy can and will adapt to the needs of your firm. Suppose your business is becoming known, and brand power is your concern. In that case, you might instruct your staff members to moderate their online behavior better if listing you in their job description on their social media profiles.
It is also true if you're of the size where now meeting new regulations is essential. For instance, if you hope to take on government tenders, the law may require you to implement critical cybersecurity protections to protect your data. Reformatting the policy to enshrine staff use requirements in their daily workflow habits can help you keep up with that compliance. Using policy experts, lawyers, and consultants to help you write this policy (or at least inform it) can be a great idea to begin with, also.
Investing In Training & Skills
It's not just about how many people you have working at your firm but also the skills of those applying their talents to your company daily. Expansion is not just about how many more people you can bring in but what you do with them when they're at your firm.
This approach can also help increase staff satisfaction and lower turnover, which saves you money in the long run. Skills training could include:
Specialisms within their trade.
Learning new software.
Understanding new regulations.
Investing in practical skillsets like public speaking courses.
The more you invest in your staff, the more you can hire internally. It means that when you expand your business outwards by moving into new departments, you can keep one of your current hires as the department head, with all the experience they've gained at your firm to benefit them.
Rolling Out New Communication Methods
Streamlining and standardizing your communication methods can make intra-company organizations much easier to care for, allowing for many forms of communication. Using an instant-messaging app like Microsoft Team or Slack is the very first place to begin, allowing your staff members to be reactive, friendly, and less formal than they might be otherwise.
Of course, it's not just internal communications that matter, as adding an AI chatbot that can help your customers send support requests which the module can then address, is a fantastic place to begin. Other communication methods can include VoIP integration for your manager desks, which not all staff members need. When you roll out communications in this manner, you can define the best approach as and when you need it.
Attending Events & Becoming Present
When you have the chance, heading out to industry events can help you grow brand familiarity and expose your talent to those in the same field. It might be a conference you attend, a business expo with booths for you to present a product or service you hope to inspire confidence in, or it might just be a fun celebration of the year's achievements within your field.
Either way, getting involved and becoming present is a luxury you can enjoy when you expand outwards, partly due to the staff to spare but also because you have the experience and presence to justify your company. Who knows what kind of business-to-business connections or networking opportunities you can use well while there? Developing that can be a rewarding approach to take and give you more exposure than you had expected.
In Conclusion: Do You Believe Expanding Your Business Is Always About Size?
Consideration of the above insights can help grow your business,
plus realize that expanding your business is only sometimes about size. Your visualization of growth for your company is your decision, and we hope the above provides you with food for thought.
For More Insights: Visit Elinor's Amazon Author Page
'Communicate to Attract Interest'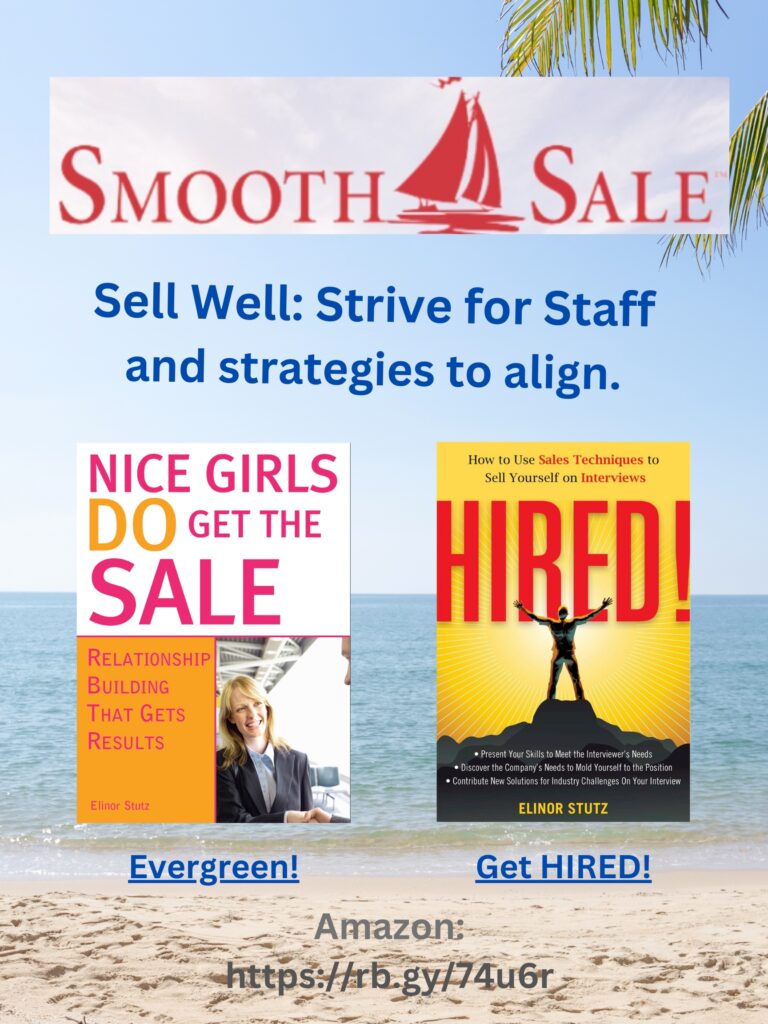 Authentic Relationships Are Essential
Be A Story-Teller
"Believe, Become, Empower"
Related Blog Stories:
Sales Tips: Do You Believe Expanding Your Business Is Always About Size?
Before expanding your business, setting appropriate goals and creating a specific plan for achieving them is vital.
Add target dates for completion to each goal you set.
Confer with staff to gain their input and acknowledgment of coming change.
Only implement one new strategy at a time to ensure it works appropriately, plus integrates with the others already in place.
Set schedules for the review of new policies and strategies to ensure everything is cohesive and timely.
Research technology and software updates daily, or appoint someone else.
Confirm whether you are achieving goals on a timely basis.
Always seek out efficiencies you may need to include.
Prepare yourself and your staff for ongoing updates, testing, and revision.
Celebrate Success!
Today's insights are provided to help you achieve the Smooth Sale!
RESOURCES FOR PERSONAL AND BUSINESS GROWTH:
Advisorpedia Publishes information to help advisors build their practice, and those interested in the markets choose investments and find inspiration.
BabyBoomer – A trusted media source that collects and curates all the news, resources, and shows of interest for the Baby Boomer generation.
BizCatalyst360 Presents a life, culture, and biz new media digest as a hub of creative expression and personal growth.
CatCat Build your future one skill at a time.
ContactOut is a web-based platform that enables users to search for contact information and uncover contact details, including email addresses, phone numbers, and other personal data.
Greg Jenkins Consulting LLC – Helping organizations realize the value of diversity to build inclusive, evolving, high-performing cultures.
Growth Hackers – Helping businesses globally grow with lead generation, growth marketing, conversion rate optimization, data analytics, user acquisition, retention, and sales.
Inclusion Allies Coalition "Everyone is welcome here." Learn more to train teams and join the advocacy program.
Internet Advisor Find the internet service right for you among 2083 internet providers across 36,380 cities; plus, Cellphonedeal compiles excellent deals on phones, plans, and prepaid to furnish you with the best options in your area.
Kred Connect with top-rated influencers to learn from and grow your networks.
LinktoEXPERT "It is not who you know – who knows you and what your expertise can do for them, plus understand the value of hiring you."
Lotus Solution LLC Helps organizations create diversity and inclusion to ensure fairness and work through customized consulting, training, and keynote speeches.
Onalytica Find relevant influencers for your brand.
SalesPop! Purveyors of Prosperity; How to Compete against Yourself to Excel in your career.
Simma Lieberman, "The Inclusionist," helps develop inclusive leaders from the inside out to champion diversity and build equitable, inclusive cultures at every level.
Vunela Provides a unique opportunity to view Videos and read articles by World Leaders.
WebTalk is the one-stop platform To build your marketplace and grow social connections.
Win Win Women is the world's only interactive network and an international community for women. Women WIN when they receive solutions + Experts WIN when they provide solutions = Win Win Women.