Photo by Geralt via Pixabay
Attract the Right Job Or Clientele:
Do You Know How To Simplify Procedures?
Entrepreneurs enter a state of overwhelm until they realize the method of 'how to simplify procedures.' Upfront, everything is complex and daunting, requiring much time and study to figure out how to manage everything. Responsibility for all aspects of business is on the shoulder of every entrepreneur. Gaining footing can be nightmarish until one realizes the better way to proceed.
Similarly, corporate employees, especially those new on the job, are usually overwhelmed until they can figure out how to simplify procedures. Upon training new hires, it's best to provide information in the simplest form possible and be available to answer questions. Long-term employees may know the basics inside out, but they too can stop in their tracks upon the need to learn about new technology and the updating of rules and methods for conducting business.
My Story
Pressure placed on salespeople to close business can be highly stressful. Some salespeople return the favor by relentlessly putting pressure on their prospective clientele to purchase. Doing so rarely works out well, and the business is lost, and soon, the employees are gone, too.
On the opposite track, I found that observation, and the question-based approach to simplify procedures usually work to everyone's benefit. Asking questions of prospective clients are the key elements that can simplify procedures. Clientele became my 'tour guides' explaining how their company works, what they require of vendors, and how to proceed. Uncovering the answers made the process not only easier and less stressful, but also enjoyable.
In short, simplifying procedures begins with toning down the sales effort to first and carefully question each prospective client for learning purposes. Next is listening for the necessary details of how they prefer to proceed. Scary initially, I explained that my goal was to be of service the best I could, so clarification in more straightforward terms would be helpful. Instead of throwing me out for being ignorant, I was invited back repeatedly because of my honesty and desire to do well for each client.
Most notable is that prospective clients admire our honesty in admitting what we don't know. Accordingly, trust builds and helps us to earn the sale. On the other hand, most representatives will attempt to bluff their way through the conversation, which never turns out well. At this juncture, it is best to decide where each of us stands and what we may adjust to improve results.
Your Story: How To Simplify Procedures
Businesspeople always feel they are on a short leash for conducting business, particularly upon facing fierce competition without much time to finalize an agreement. Allowing stress to enter the picture is never helpful for anyone. The better approach is to review the day's activities every evening calmly. It's beneficial to use a CRM system to its fullest extent to capture everything the client needs, wants, and desires, plus the associated projects behind it. A CRM was exceedingly helpful when they were first announced. Over the years, the incorporated services have broadened capabilities and simplified procedures. It's well worth checking out how they may help you.
Document what is complete and which projects are in process to avoid losing time the next day. Underneath the projects and tasks, you plan to process, note what you need to learn, who may help you the best, and what you need to reveal to the prospective client. Keeping tabs on what needs to complete each hour of the day seems like extra work, but it will simplify procedures. Most of all, the process eliminates wasting valuable time. Sadly, the time lost is typically a significant factor for most and contributes to losing out on sales.
The better way to simplify procedures further is to continue doing your research and asking peers how they handle challenging situations. Not everyone works in the same style, so only test what matches your way of doing business. Although a system may work for another, a highly proclaimed system may not work for you due to varying styles and needs. Be willing to implement, test, and confirm whether or not one new method at a time is working as it should. If not, discard the strategy to try a new one.
Continual testing and monitoring strategies will put you on a better path. Accordingly, it will feel as if you know how to simplify procedures!
In Conclusion:
When someone asks, 'Do you know how to simplify procedures?' the wise person will answer, 'Yes, I ask for guidance from my intended clientele.'
For More Insights: Visit Elinor's Amazon Author Page
"Communicate to Attract Interest"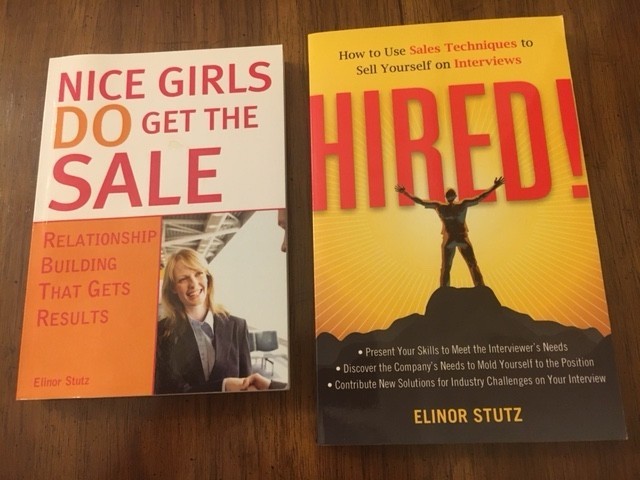 Authentic Relationships Are Essential
Be A Story-Teller
As the CEO of Smooth Sale, after her near-death experience, Stutz adapted the motto,
"Believe, Become, Empower"
" Nice Girls DO Get the Sale is an International Best-Selling and Evergreen Book – among the classics;
HIRED! Helped many to secure the job they desired.
Related Blog Stories:
Sales Tips: How To Simplify Procedures
Be brave enough to have your clientele guide you on how to simplify procedures.
Ask many questions of those you meet to understand their situation and expectations thoroughly.
Anytime you do not fully comprehend what someone says, ask for clarification.
Your best sales tool is honesty which contributes to the credibility that garners new sales.
Before each appointment, research the company and the people with whom you will meet.
Ask relevant questions about what you read in your research for clarity and to provide a favorable impression.
Inquire what questions each prospective client may have of you.
Answer to the best of your ability and then ask if there is anything else the person may want to know.
Enjoy the conversation as you sprinkle an element of story-sharing with those you meet.
Celebrate Success!
Today's insights are provided to help you achieve the Smooth Sale!
RESOURCES FOR PERSONAL AND BUSINESS GROWTH:
Advisorpedia Publishes information to help advisors build their practice, and those interested in the markets choose investments and find inspiration.
BizCatalyst360 Presents a life, culture, and biz new media digest serving as a hub of creative expression and personal growth.
CatCat Build your future one skill at a time.
For Book Lovers Only For Book Lovers Only introduces you, the book lover, to new and exciting authors and works of fiction and non-fiction.
GetCiara Make remote your unfair advantage.
Greg Jenkins Consulting LLC – Helping organizations realize the value of diversity to build inclusive, evolving, high-performing cultures.
Growth Hackers – Helping businesses from all over the world grow with lead generation, growth marketing, conversion rate optimization, data analytics, user acquisition, retention, and sales.
Inclusion Allies Coalition "Everyone is welcome here." Learn more to train teams, and join the advocacy program.
Internet Advisor Find the internet service right for you among 2083 internet providers across 36,380 cities, plus Cellphonedeal compiles great deals on phones, plans, and prepaids to furnish you with the best options in your area.
Kred Connect with top-rated influencers to learn from and grow your networks.
LinktoEXPERT "It is not who you know – it is who knows you and what your expertise can do for them plus understands the value of hiring you."
Lotus Solution LLC Helps organizations create diversity and inclusion to ensure a fair and just work through customized consulting, training, and keynote speeches.
SalesPop! Purveyors of Prosperity; how to compete against yourself to excel in your career.
Simma Lieberman "The Inclusionist" helps develop inclusive leaders from the inside out to champion diversity and build equitable, inclusive cultures at every level.
Vunela Provides a unique opportunity to view Videos and read articles by World Leaders.
WebTalk is the one-stop platform To build your marketplace and grow social connections.
Women's Information Network (WIN) An education-and-event-based Global Community of Women Helping Women Worldwide Live Their Best Lives through Celebration, Self-Improvement, and Service.