Photo by ColiNOOB via Pixabay
Attract the Right Job Or Clientele:
Do You Regularly Test Options?
It is always a good practice to test options regularly. However, when mishaps occur, it becomes essential to do so. Four errors recently occurred via vendors, but one can potentially affect business having my attention. Rather than lamenting the problem, I am testing what may and may not work today as it may affect future work. The goal is to enjoy, hopefully, a better tomorrow.
My Story
Over time, I learned that agonizing over a troubling situation accomplishes little except extra stress. On the positive side, unexpected issues often lead to better solutions and outcomes. When we allow ourselves to ride the wave of uncertainty, we often find ourselves on a new shore of opportunity.
The word options used in the title can refer to trading via the markets, but that was not my intent. However, a relatable story occurred yesterday. A friend was lamenting that the stock market was headed way down and doomed to crash. Although not a financial advisor, my reply was that the stock market has a history of highs and lows, only to return to its starting point and then surpass that momentary high point. I used the Great Depression as an example.
Hopefully, we won't be heading toward anything similar, but we are to prepare for the highs and lows of life in all regards. For that reason alone, it is best to regularly test options before us to ensure we can move forward the way we desire. Doing so affects business as well as our everyday life.
Testing aligns with learning. Testing ideas, technology advancements, and strategies are essential to remain ahead of the curve and not stagnate. The bonus in turning to test options is that our enthusiasm begins to return, and the stress fades away. We know that something good will come out of the situation to become a learning moment in time. Accordingly, the knowledge can and will increase confidence to continue moving forward.
Social media is an outstanding resource for reviewing the thought of others, reading credible articles, and collaborating with people worldwide. We can siphon the best of what we hear and read when we realize various views. By not allowing incidents to pull us back or accept everything, we strengthen our resolve to figure out our next moves. We are then on the path to test options regularly. The bonus is in learning to work with our endeavors cohesively. For this reason alone, diversity and inclusion are essential elements for success.
Your Story: Do You Test Options Regularly?
First and foremost, it's a good idea to realize how you deal with setbacks and if a new method will be beneficial. The common thread is to fret, allow a situation to hold you back, and then scramble to catch up once ready to begin again. The typical scenario doesn't do well for anyone and it's best to find a better way forward. Consider the idea to test options regularly.
Those who are motivated will see closing one door as the opportunity to open a new one with greater possibilities ahead. It's best to remember that life is not stagnant and that the success factor includes being resilient. In other words, whether we have a setback or worse, taking a deep dive by holding the belief that we can not only return to where we were but achieve greater heights will be the motivating force to do so.
While having a keen sense of motivation is great, we must validate our next moves and test options regularly. Not everything works to our expectations. Accordingly, we need to be specific and intentional with the new strategy. It is the only way to realize whether the approach works well or not factually. When you regularly test options, you will have the facts and are more likely to enjoy the success you desire.
In Conclusion:
While having a keen sense of motivation is great, we must regularly validate our next moves and test options. Not everything works to our expectations. Accordingly, we need to be specific and intentional with the new strategy. It is the only way to realize whether the approach works well or not factually. When you regularly test options, you will have the facts and are more likely to enjoy the success you desire.
For More Insights: Visit Elinor's Amazon Author Page
"Communicate to Attract Interest"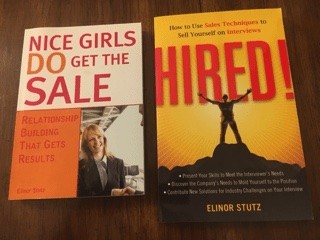 Be A Story-Teller
As the CEO of Smooth Sale, after her near-death experience, Stutz adapted the motto,
"Believe, Become, Empower."
"Nice Girls DO Get the Sale is an International Best-Selling and Evergreen Book – among the classics;
HIRED! Helped many to secure the job they desired.
Related Blog Stories:
Sales Tips: Do You Regularly Test Options?
When work comes to a halt, realize it may be an excellent time to consider moving forward with something new.
Embrace the habit of regularly testing options.
Test each new idea one at a time, in total, to capture all the facts about how it works.
Compare the one that works well to the other possibilities by testing each, one at a time.
Segment the one option that works best to decide how to implement it well.
Ensure that the new idea works well with the other approaches in place.
Review which older methods may be out of date to discard.
Encourage employees to contribute to the research, trial and error methodology if you have employees.
Seek out new thoughts online to determine what may work well for you; similarly, share your ideas to help others.
Celebrate Success!
Today's insights are provided to help you achieve the Smooth Sale!
RESOURCES FOR PERSONAL AND BUSINESS GROWTH:
Advisorpedia Publishes information to help advisors build their practice, and those having an interest in the markets choose investments and find inspiration.
BizCatalyst360 Presents a life, culture, and biz new media digest serving as a hub of creative expression and personal growth.
CatCat Build your future one skill at a time.
For Book Lovers Only For Book Lovers Only introduces you, the book lover, to new and exciting authors and works of fiction and non-fiction.
GetCiara Make remote your unfair advantage.
Greg Jenkins Consulting LLC – Helping organizations realize the value of diversity to build inclusive, evolving, high-performing cultures.
Growth Hackers – Helping businesses worldwide grow with lead generation, growth marketing, conversion rate optimization, data analytics, user acquisition, retention, and sales.
Inclusion Allies Coalition "Everyone is welcome here." Learn more to train teams, and join the advocacy program.
Internet Advisor Find the internet service right for you among 2083 internet providers across 36,380 cities, plus Cellphonedeal compiles great deals on phones, plans, and prepaids to furnish you with the best options in your area.
Kred Connect with top-rated influencers to learn from and grow your networks.
LinktoEXPERT "It is not who you know – it is who knows you and what your expertise can do for them plus understands the value of hiring you."
Lotus Solution LLC Helps organizations create diversity and inclusion to ensure a fair and a just workplace through customized consulting, training, and keynote speeches.
SalesPop! Purveyors of Prosperity; how to compete against yourself to excel in your career.
Simma Lieberman "The Inclusionist" helps develop inclusive leaders from the inside out to champion diversity and build equitable, inclusive cultures at every level.
Vengreso Provides easy-to-follow on-demand sales training for LinkedIn.
Vunela Provides a unique opportunity to view Videos and read articles by World Leaders.
WebTalk is the one-stop platform. Build your marketplace and grow social connections.
Women's Information Network (WIN) An education-and-event-based Global Community of Women Helping Women Worldwide Live Their Best Lives through Celebration, Self-Improvement, and Service.