Attract the Right Job Or Clientele:
Four Ways to Leverage Learning in the Workplace to help your employees
When it comes to helping your employees you need to be creative in many ways. Employees can fall into two camps: The first is the people that will precisely do what you tell them to, and the other that will kick against authority, albeit in a more carefully considered way. It's critical to utilize both groups, especially when it comes to learning. The most challenging aspect of the business is getting your teams to learn new skills.
What does it take for your teams to learn a new skill effectively? Our collaborative blog offers suggestions below that can make a massive difference to any team as a unit, no matter the personalities within.
_________________________________________________________
Four Ways to Leverage Learning In the Workplace and Help Your Employees
Learning by Experience
Many believe that to learn effectively, they need to sit in a chair reading a densely-layered text, but this is far from the truth. We all have different learning styles, and what you learn in a cyber security training program or a soft skills seminar will differ, depending on the individual.
The best way for people to learn is to do it. Some can benefit from the theory side of things. However, when we're talking about a team and stimulating engagement across the board, we must look at the best way for them to engage with the subject because this is something they will use within the business.
Create a Culture of Continuous Learning
Engagement is critical to ensuring your employees can learn, retain and use the information correctly. People must understand that conversational ideas are not to be thrown away but to be in mind continually. It's best to create the desire within all to research more in-depth by integrating e-learning platforms, relaxed testing, and skill swap sessions.
Employees should understand that skills are for utilization daily when the occasion calls for it in the workplace. A one-day course in previous years will not be with them for the rest of their careers. It is why it is critical to embed continuous learning within the organization.
Appointing Facilitators
External facilitators help to keep people focused and engaged because they are new personalities. There are various ways you can stimulate learning from your colleagues—for example, a peer-to-peer learning program, which pairs participants in one-to-one sessions.
You may already have great facilitators in a business. However, you need to tread carefully, just in case the facilitator is someone people have an unsavory opinion. There are better approaches than peer learning, depending on the partners, which is why a facilitator can get the most participation from individuals.
Creating a Safe Environment
Finally, a safe environment is critical if your goal is to get your employees to learn better business strategies regardless of their personalities and learning styles. It is also helpful to recognize that some people still have hangovers from their school education because they don't like all the questioning they need to face. For this reason, set some ground rules for welcome and effective feedback, and offer empathy. One more caution is to avoid joking, as sensitive people may take great offense, which can cause management issues.
In Conclusion: Leverage Learning in the Workplace
A welcoming environment whereby there is an instructor but all attendees are welcome to share story examples that provide extra input. Ensure everyone embraces the training, is willing to add their insights, and all session components are professional.
For More Insights: Visit Elinor's Amazon Author Page
"Communicate to Attract Interest"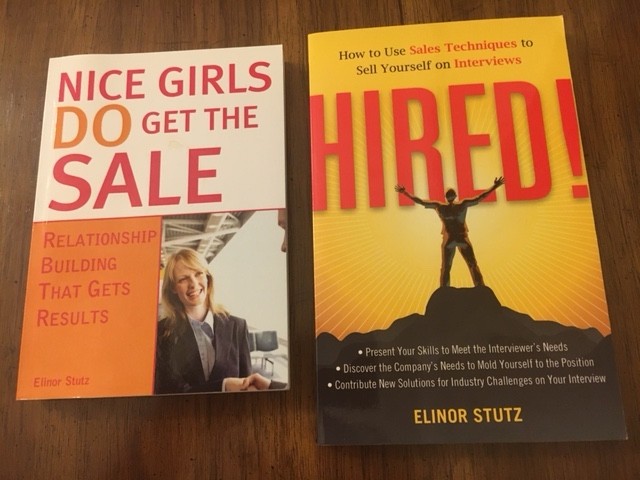 Authentic Relationships Are Essential
Be A Story-Teller
As the CEO of Smooth Sale, after her near-death experience, Stutz created the motto,
"Believe, Become, Empower"
" Nice Girls DO Get the Sale is an International Best-Selling and Evergreen Book – among the classics;
HIRED! Helped many to secure the job they desired.
Related Blog Stories:
Sales Tips: Leverage Learning in the Workplace
To retain loyal employees, leverage learning in the workplace, and they will show appreciation.
Ask your staff what was missing from previous training to improve.
Research new trends per technology, social media, and strategies for your industry to share with class attendees.
Read the business news and watch the stock market for indicators of what is to come next.
Visit websites to see what others in your industry implement that you may need to include.
Ask your staff for their suggestions on how to approach the new trends.
Consult with professional trainers for new ideas to increase enthusiasm for the training.
Upon hiring a trainer, attend a class to ensure the training delivery is as expected.
Hold a meeting with class attendees after the training to gain feedback regarding the quality of the new training methods.
Celebrate Success!
Today's insights are provided to help you achieve the Smooth Sale!
RESOURCES FOR PERSONAL AND BUSINESS GROWTH:
Advisorpedia Publishes information to help advisors build their practice, and those interested in the markets choose investments and find inspiration.
BizCatalyst360 Presents a life, culture, and biz new media digest serving as a hub of creative expression and personal growth.
CatCat Build your future one skill at a time.
For Book Lovers Only For Book Lovers Only introduces you, the book lover, to new and exciting authors and works of fiction and non-fiction.
Greg Jenkins Consulting LLC – Helping organizations realize the value of diversity to build inclusive, evolving, high-performing cultures.
Growth Hackers – Helping businesses globally grow with lead generation, growth marketing, conversion rate optimization, data analytics, user acquisition, retention, and sales.
Inclusion Allies Coalition "Everyone is welcome here." Learn more to train teams, and join the advocacy program.
Internet Advisor Find the internet service right for you among 2083 internet providers across 36,380 cities, plus Cellphonedeal compiles great deals on phones, plans, and prepaids to furnish you with the best options in your area.
Kred Connect with top-rated influencers to learn from and grow your networks.
LinktoEXPERT "It is not who you know – it is who knows you and what your expertise can do for them, plus understands the value of hiring you."
Lotus Solution LLC Helps organizations create diversity and inclusion to ensure a fair and just workplace through customized consulting, training, and keynote speeches.
SalesPop! Purveyors of Prosperity; how to compete against yourself to excel in your career.
Simma Lieberman "The Inclusionist" helps develop inclusive leaders from the inside out to champion diversity and build equitable, inclusive cultures at every level.
Vunela Provides a unique opportunity to view Videos and read articles by World Leaders.
WebTalk is the one-stop platform. Build your marketplace and grow social connections.
Women's Information Network (WIN) An education-and-event-based Global Community of Women Helping Women Worldwide Live Their Best Lives through Celebration, Self-Improvement, and Service.