Photo: https://unsplash.com/photos/744oGeqpxPQ
Attract the Right Job Or Clientele:
How to Take Charge and Improve Your Financial Situation
When it comes to your finances, it will always be vital to take matters into your own hands. It can feel stressful to realize that you owe a lot of money or that you're not quite earning as much as you like. But there are simple ways for you to be able to take charge of it all.
Our collaborative blog post provides insight into three key steps to help you improve your financial situation. The insights include understanding your current situation better, from getting out of debt to growing your finances. Below, you may read the options in more detail.
___________________________________________________________________________________________
Improve Your Financial Situation
Step One: Know Where You're At
Keeping track of your finances can be daunting, especially if you are not used to it. However, staying on top of your money is crucial to make informed decisions about your spending and saving. Know where you stand today to improve your financial situation diligently.
A. Know Your Income and Expenses
The first step to tracking your finances is knowing how much you have coming in and going out each month. List all your sources of income, including your salary, investments, and all other sources of money coming in. Then, list all your expenses, including your mortgage or rent, groceries, utilities, and other regular bills. Doing so will give you a good starting point for tracking your finances.
B. Set Up a Budget
Once you know your income and expenses, setting up a budget is next. The process will help you track how much money you have to spend each month and ensure you are not overspending. When setting up a budget, include a buffer for unexpected expenses so you don't get caught off guard.
C. Track Your Spending to Improve Your Financial Situation
Now that you have a budget in place, it's time to start tracking your spending. It means keeping track of every penny you spend to see where your money goes each month. There are many different ways to track your spending, including using apps or spreadsheets. Find the method that works best for you. Be sure to stay consistent with it to track your finances accurately. An accurate accounting of all expenditures will enable you to improve your financial situation.
Step Two: Get Out of Debt
Do you feel like you're swimming in a sea of debt with no end? You're not alone. According to a recent study, the average American has $38,000 in personal debt (not counting mortgage debt). If you are struggling to keep your head above water, it's time to take charge of your financial situation and change the course of your Future.
A. Create a Budget and Stick to It
As we have seen, creating a budget is the first step to taking control of your finances. A budget is simply a plan for how you will spend and save your money each month. Start by evaluating your income and expenses. Which expenses are essential, and which can you eliminate? Once you have a clear picture of your spending, it will be easier to create a realistic budget to which you can adhere.
B. Get Organized
Another critical element of taking charge of your finances is organization. It means keeping track of all your bills, payments, and account balances in one place. Many find that setting up automatic payments helps them stay on top of their finances and avoid late fees. You can also set up reminders to never miss a payment again.
C. Start Saving for the Future
Last but not least, part of taking charge of your financial situation is planning for the Future. It means saving for retirement, emergency funds, and big-ticket items like cars or homes. The earlier you start saving, the better off you will be down the road. But it's never too late to start! Those savings will increase over time, even if you only add a few dollars each month. So start small and watch your nest egg grow.
Step Three: Grow Your Finances
Many people dream of earning more money, but few take the steps necessary to make it happen. If you're looking to grow your income, consider the following suggestions:
A. Get a Promotion or Raise
One of the easiest ways to earn more is to ask for it. You may be surprised at how easy it is to get the raise you're asking for, especially if you have a good track record at your job. If you feel underpaid or deserve a raise, talk to your boss or HR department about getting a bump in salary.
Admittedly, asking does not always work well, or the offer is minimal compared to our expectations. Negotiation skills come in handy. In the worst case, apply for similar jobs. Use the new job offer to negotiate a better pay raise if you want to remain at the current company.
B. Start a Side Hustle
Another great way to start growing your income is to start freelancing on the side. If you have a skill others are willing to pay for, such as writing, design, or programming, you can easily find work online through sites like Upwork or Fiverr. Once you get started and build up a good reputation, you may even be able to command higher rates for your services. And since you're working on your own time, you can easily fit freelancing work into your schedule even if you already have a full-time job.
C. Investments
If you're looking for more long-term growth potential, investing in real estate, the stock market, or even with bnb staking can be a great way to grow your income. Each option offers the potential for high returns if done wisely. But beware, these investments also come with risks to take seriously before diving in headfirst. However, if you're patient and willing to take on some risk, investing can be a great way to earn comparatively more money. If you want to be even more active in managing your investments, you might want to try trading or Forex Trading, for example.
Owning Your Finances for the Future
Taking charge of your financial situation is no easy feat. However, by so doing, you can eliminate much stress and know that you are steady. When you proactively track your finances, pay down debt, and look at possibilities to grow your income, you position yourself to find the better path. The goal is to be on a sound financial track that works well for you as you strive to improve your financial situation.
In Conclusion: Improve Your Financial Situation
A positive bottom line allows attention to creative thought and new business plus career growth strategies. The effort often proves well-worthwhile as it will help improve your financial situation.
For More Insights: Visit Elinor's Amazon Author Page
"Communicate to Attract Interest"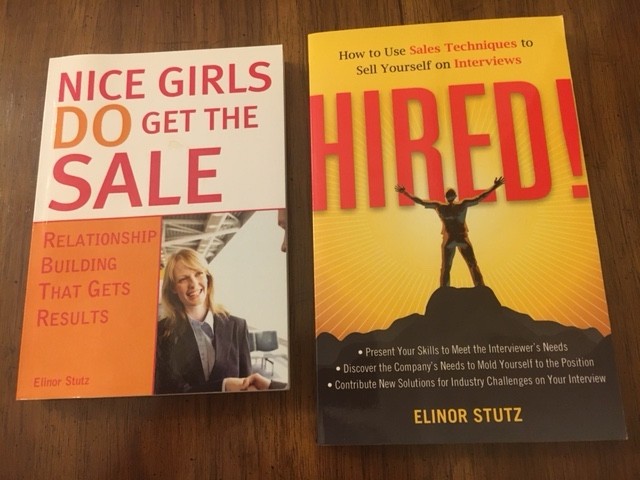 Authentic Relationships Are Essential
Be A Story-Teller
As the CEO of Smooth Sale, after her near-death experience, Stutz created the motto,
"Believe, Become, Empower"
" Nice Girls DO Get the Sale is an International Best-Selling and Evergreen Book – among the classics;
HIRED! Helped many to secure the job they desired.
Related Blog Stories:
Sales Tips: Improve Your Financial Situation
A vigorous review of all expenses vs. income is to take place to improve your financial situation.
Determine which expenditures are not contributing to your purpose and goals to eliminate.
Review which expenses contribute to the betterment of your business and how you may expand on the possibilities within reason.
Decide whether a bookkeeper, tax accountant, investment counselor, or otherwise may better be able to direct your finances.
Research financial investments of varying types to determine which best meets your needs.
Subscribe to reputable financial newsletters for steady advice and reminders to be mindful of your finances.
As an employee, research salaries for your career and interview elsewhere bi-annually to see if advancement is possible elsewhere.
Improve negotiation skills when a better-salaried opportunity arises to see if your employer is willing to match or increase the offer and improve your financial situation.
Before negotiating a better salary, create a compelling story of how you contribute to your current position, team, and company to deserve the raise you request.
Celebrate Success!
Today's insights are provided to help you achieve the Smooth Sale!
RESOURCES FOR PERSONAL AND BUSINESS GROWTH:
Advisorpedia Publishes information to help advisors build their practice, and those interested in the markets choose investments and find inspiration.
BizCatalyst360 Presents a life, culture, and biz new media digest serving as a hub of creative expression and personal growth.
CatCat Build your future one skill at a time.
For Book Lovers Only   For Book Lovers Only introduces you, the book lover, to new and exciting authors and works of fiction and non-fiction.   
GetCiara  Make remote your unfair advantage.
Greg Jenkins Consulting LLC – Helping organizations realize the value of diversity to build inclusive, evolving, high-performing cultures.
Growth Hackers – Helping businesses globally grow with lead generation, growth marketing, conversion rate optimization, data analytics, user acquisition, retention, and sales.
Inclusion Allies Coalition "Everyone is welcome here." Learn more to train teams, and join the advocacy program.
Internet Advisor Find the internet service right for you among 2083 internet providers across 36,380 cities, plus Cellphonedeal compiles great deals on phones, plans, and prepaids to furnish you with the best options in your area.
Kred Connect with top-rated influencers to learn from and grow your networks.
LinktoEXPERT "It is not who you know – it is who knows you and what your expertise can do for them plus understands the value of hiring you."
Lotus Solution LLC Helps organizations create diversity and inclusion to ensure a fair and just workplace through customized consulting, training, and keynote speeches.
SalesPop! Purveyors of Prosperity; how to compete against yourself to excel in your career.
Simma Lieberman "The Inclusionist" helps develop inclusive leaders from the inside out to champion diversity and build equitable, inclusive cultures at every level.
Vunela Provides a unique opportunity to view Videos and read articles by World Leaders.
WebTalk is the one-stop platform. Build your marketplace and grow social connections.
Women's Information Network (WIN) An education-and-event-based Global Community of Women Helping Women Worldwide Live Their Best Lives through Celebration, Self-Improvement, and Service.