Attract the Right Job Or Clientele:
Promoting Diversity in Your Workplace
Our collaborative blog speaks to our changing work environment(s) providing insights for 'Promoting diversity in your workplace.' Workplace diversity is a hot topic nowadays. Increasing numbers of people are becoming more socially aware.
More startling are the negative trends regarding:
The positions that a diverse group of people occupies within businesses.
People earn varying amounts of money for a job with the same title and description.
Today it is essential to make a conscious effort to ensure that the right person is genuinely in each seat. Moreover, each person receives the correct pay regardless of their protected characteristics, such as race, sex, age, gender, etc.
Below you will find helpful information to help you to promote diversity in your workplace plus social understanding.
__________________________
Promoting Diversity in Your Workplace
Survey Your Workplace
First, you might want to begin by conducting a workplace diversity survey by GoodHire. The survey will give you a good idea of what's taking place in your current workplace. You can assure your staff to answer your questions openly and honestly.
The survey may reveal:
The level of diversity in your workplace at the current moment
Whether any intervention needs to take place to ensure fair and equal pay or promotion
Whether people from minority groups feel comfortable and happy in your workplace
Whether you need to implement necessary steps to improve the work environment.
Ensuring anonymous surveys will encourage employees to provide their truth regarding potential issues without repercussions. They will feel safe expressing their perspectives. Possible new ideas will arise and give you extra guidance. Serious consideration of the suggestions can be beneficial for all.
Diversity Training
Often, people don't understand issues about diversity, different cultures, norms, do's and don'ts, and more. Basic diversity training in your workplace will help to educate your employees on the essential topics. The training will increase employee awareness of different types of diversity, including appreciating differences among co-workers.
Moreover, the training will provide the knowledge and strategies the staff needs to maximize and improve interpersonal and communication skills within the workplace. New perspectives will serve as a means for creating a more positive and productive work environment.
The training can also help staff satisfaction and retention levels across the board. Accordingly, it can significantly reduce recruitment and training costs on an ongoing basis. Numerous programs exist, so it will be best to see which one(s) will best suit your needs and offer the most value.
Implement New Policies
Your work to date may unveil that you can benefit from new diversity and inclusion based workplace policies. It's important to consider what needs to be changed and what changes could implement the most positive difference in your company. Also, consider which systems and policies may prevent certain groups from being able to work in your business.
For example, you may realize that you must implement family-friendly policies for parents with young children. Ensure everyone knows about each new approach so they may contribute to an inclusive environment when each new policy rolls out.
In Conclusion:
Our goal is for some of the suggestions above to help you create a more inclusive and diverse workplace that works for everyone. The benefits will soon be evident.
For More Insights: Visit Elinor's Amazon Author Page
"Communicate to Attract Interest"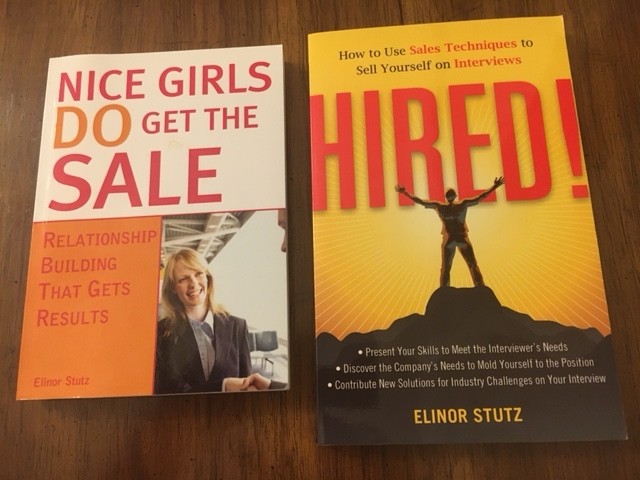 Be A Story-Teller
As the CEO of Smooth Sale, after her near-death experience, Stutz adapted the motto,
"Believe, Become, Empower"
" Nice Girls DO Get the Sale is an International Best-Selling and Evergreen Book – among the classics;
HIRED! Helped many to secure the job they desired.
Related Blog Stories:
Sales Tips: Promoting Diversity in Your Workplace
Asking for employee feedback and striving to implement the suggestions will begin promoting diversity in your workplace.
Acknowledge the commonalities as you read through the survey complaints and the suggestions.
Prioritize the reoccurring complaints for improvement.
Although you may have a diverse primary staff, review whether diversity exists within company promotions.
Correct the variances in initial salaries among those holding the same job description and the promotion salaries for the following levels.
Set clear and equal goals for every employee regarding promotion and ensure all benefits are available for everyone.
Investigate that everyone in management treats their reports equally and fairly in every regard.
Instill diversity and inclusion training for all employees while advocating fairness in equity.
Return to asking for feedback for further improvement and suggestions for future training.
Celebrate Success!
Today's insights are provided to help you achieve the Smooth Sale!
RESOURCES FOR PERSONAL AND BUSINESS GROWTH:

Advisorpedia Publishes information to help advisors build their practice, and those interested in the markets choose investments and find inspiration.
BizCatalyst360 Presents a life, culture, and biz new media digest serving as a hub of creative expression and personal growth.
CatCat Build your future one skill at a time.
For Book Lovers Only For Book Lovers Only introduces you, the book lover, to new and exciting authors and works of fiction and non-fiction.
GetCiara Make remote your unfair advantage.
Greg Jenkins Consulting LLC – Helping organizations realize the value of diversity to build inclusive, evolving, high-performing cultures.
Growth Hackers – Helping businesses from all over the world grow with lead generation, growth marketing, conversion rate optimization, data analytics, user acquisition, retention, and sales.
Inclusion Allies Coalition "Everyone is welcome here." Learn more to train teams, and join the advocacy program.
Internet Advisor Find the internet service right for you among 2083 internet providers across 36,380 cities, plus Cellphonedeal compiles great deals on phones, plans, and prepaids to furnish you with the best options in your area.
Kred Connect with top-rated influencers to learn from and grow your networks.
LinktoEXPERT "It is not who you know – it is who knows you and what your expertise can do for them plus understands the value of hiring you."
Lotus Solution LLC Helps organizations create diversity and inclusion to ensure a fair and just work through customized consulting, training, and keynote speeches.
SalesPop! Purveyors of Prosperity; how to compete against yourself to excel in your career.
Simma Lieberman "The Inclusionist" helps develop inclusive leaders from the inside out to champion diversity and build equitable, inclusive cultures at every level.
Vunela Provides a unique opportunity to view Videos and read articles by World Leaders.
WebTalk is the one-stop platform To build your marketplace and grow social connections.
Women's Information Network (WIN) An education-and-event-based Global Community of Women Helping Women Worldwide Live Their Best Lives through Celebration, Self-Improvement, and Service.