Photo by Geralt via Pixabay
Attract The Right Job Or Clientele:
Rebuilding Staff Morale in Your Restaurant After Covid-19
Our collaborative blog provides insights on 'Rebuilding staff morale in your restaurant after Covid-19.' Restaurants are most likely the first place that those who were hesitant to venture out will visit. The staff can also use an update in training and how to meet and greet customers at their service in today's environment.
Times, technology, and thinking are in flux, and it's necessary to retrain our brains for today and into the future. After Covid-19, it's essential to retrain employees in all types of business. Similarly, entrepreneurs will do well to give thought to new approaches for conversation starters with their prospective clientele.­­­­­­­­­­
____________
Rebuilding Staff Morale After Covid-19
The global pandemic dramatically affected the hospitality sector, which struck the world at the beginning of 2020. It's no secret that the impact of Coronavirus is still ongoing. But how is it affecting businesses in more profound ways?
Nowadays, running a restaurant isn't just about staying afloat and rebuilding your brand. It's about supporting the staff members who have been so hard done by during these unprecedented times. To avoid making costly mistakes in the future, and losing your best staff members, there are a handful of considerations you need to make now to rebuild staff morale in your restaurant.
Research and Reflect
Reading up about how different establishments approached the pandemic is an effective way to learn, research, and reflect on what has happened over the past two years. Jonathan Sears eloquently explains that staffing issues in the hospitality sector are troubling for many different reasons. As a restaurant manager, you can take inspiration from his words and adopt some of his strategies to rebuild your staffing levels effectively.
Enhance Your Hiring Process
Rethinking your hiring process is a reliable way to improve retention rates and set the right tone for new starters who are new to working with your business. It means spending more time looking at applications and alternating how you interview people so their personalities and experience can shine through. You need to be able to identify the most qualified candidates to secure the best employees for your establishment.
Provide Support to Your Staff
If you are currently struggling to hire staff, you need to support those already working hard for you. Whether you put protocols to reduce your opening hours, shorten their shift lengths, or alter the menu offerings so that your employees aren't overworked, you can adopt many strategies to keep morale high during the most challenging times.
Reassess Your Rewards and Recognition Schemes
Suppose you want to keep your hard-working staff members motivated. In that case, it's essential to consider your rewards and recognition schemes so that you can provide them with benefits while they're working at your establishment. When a labor shortage is evident, it's vital to offer more benefits so that your restaurant becomes a more appealing option to your potential employees. From discounts to exciting progression opportunities, it's essential to consider all of these avenues.
As the world gradually rebuilds itself and finds its feet again, it's necessary to adopt a gentle and considerate way of thinking when you're running a business. Making up for lost time and earning profit is one part of your goal, but you also need to take a human standpoint and consider your employees' feelings.
Many employees will be worried about the future of their jobs. Some will also have anxiety about returning to work when there is still an air-bound virus. When you take the time to consider your strategies, you will not only be serving your business in the long run, but you will be nurturing the hard-working employees who have stood by your side during these challenging moments.
On a similar note, consider your clientele. How can you appropriately apply some of the suggestions above to your conversations? Empathy goes a long way in business in developing relationships. Accordingly, you will build a trusting clientele and enjoy further business growth.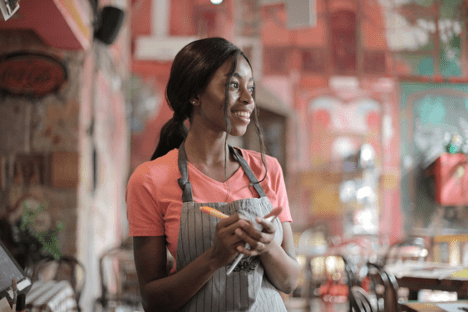 Image from Pexels – CC0 Licence
Related Blog Stories
For More Insights: Visit Elinor's Amazon Author Page
"Communicate to Attract Interest'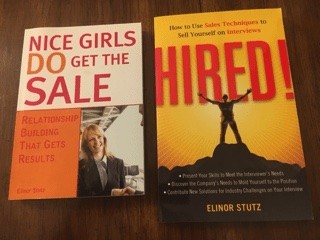 Be A Story-Teller
As the CEO of Smooth Sale, after her near-death experience, Stutz adapted the motto,
"Believe, Become, Empower.
"Nice Girls DO Get the Sale is an International Best-Selling and Evergreen Book – among the classics;
HIRED! Helped many to secure the job they desired.
Today's insights are provided to help you achieve the Smooth Sale!
Sales Tips: Rebuilding Staff Morale After Covid-19
Host a staff meeting to ask for their concerns.
Address each concern one by one and then ask if the answers put their concerns to rest.
Request additional ideas for improving morale among employees.
Update your staff with suggestions of meet and greet with restaurant patrons.
Again, ask for additional suggestions.
Reward your employees for their extra effort and valuable ideas for improving service.
As a business owner of any type or a sales representative, similarly have discussions with your clientele about how they are adapting.
Listen for helpful suggestions from your clients, and if you have any, thoughtfully provide yours.
Strive to establish a return to normalcy by being extra attentive to staff clientele.
Celebrate Success!
RESOURCES FOR PERSONAL AND BUSINESS GROWTH:
Advisorpedia Publishes information to help advisors build their practice, and those having an interest in the markets choose investments and find inspiration.
BizCatalyst360 Presents a life, culture, and biz new media digest serving as a hub of creative expression and personal growth.
CatCat Build your future one skill at a time.
For Book Lovers Only For Book Lovers Only introduces you, the book lover, to new and exciting authors and works of fiction and non-fiction.
GetCiara Make remote your unfair advantage.
Greg Jenkins Consulting LLC – Helping organizations realize the value of diversity to build inclusive, evolving high-performing cultures.
Growth Hackers – Helping businesses from all over the world grow with lead generation, growth marketing, conversion rate optimization, data analytics, user acquisition, retention, and sales.
Inclusion Allies Coalition "Everyone is welcome here." Learn more to train teams, and join the advocacy program.
Internet Advisor Find the internet service right for you among 2083 internet providers across 36,380 cities, plus Cellphonedeal compiles great deals on phones, plans, and prepaids to furnish you with the best options in your area.
Kred Connect with top-rated influencers to learn from and grow your networks.
LinktoEXPERT "It is not who you know – it is who knows you and what your expertise can do for them plus understands the value of hiring you."
Lotus Solution LLC Helps organizations create diversity and inclusion to ensure a fair and just workplace, through customized consulting, training, and keynote speeches.
SalesPop! Purveyors of Prosperity; how to compete against yourself to excel in your career.
Simma Lieberman "The Inclusionist" helps develop inclusive leaders from the inside-out, out to champion diversity and build equitable inclusive cultures at every level.
Vengreso Provides easy-to-follow on-demand sales training for LinkedIn.
Vunela Provides a unique opportunity to view Videos and read articles by World Leaders.
WebTalk is the one-stop platform Build your marketplace and growing social connections.
Women's Information Network (WIN) An education-and-event-based Global Community of Women Helping Women Worldwide Live Their Best Lives through Celebration, Self-Improvement, and Service.