Attract the Right Job or Clientele:
Social and business gatherings bring out the best and the worst in all of us and can affect relationships. When we are among long-time friends, we expect a great deal of fun ahead but sometimes we are stopped in our tracks. Traditional sales and marketing advice provide excellent life lessons, and are to be applied to relationships of all kinds.
My Story
We quickly learn in the sales environment that assuming kills the sale. It takes an in-depth conversation to get to the final, 'Yes, we want your service.' The best route is to ask for input, insights, and personal opinion as you move through the sales cycle. As you work in this manner, relationships begin to build.
The following five suggestions apply to all areas of our lives:
Eliminate assumptions; instead, qualify and match

Treat others as you wish to be treated

Work with 100% consistency

Display integrity to earn trust from the start

Proudly spread word of your brand
Mindful training also suggests we learn to eliminate making incorrect assumptions about others. We will do best by applying the mantra to our social relationships, too. Treating others as we wish to be treated applies to everyone we encounter.
Illness struck after a friend failed to reveal she was sick. Realizing the consequence, she then said she only had allergy. This does not represent how I would accept or address hospitality from another. The next sales principle is to match and qualify the better fit for business. The same is true for building friendships or finding people online with whom to connect.
Answers to questions and an exchange of experiences will reveal if there is a possibility of working together. Sometimes disappointment hits when others hold back with the truth. On occasion, we just need to politely move away to find a better connection. The experience turns into good, as we are then able to focus on the better projects and clientele. It always helps us mentally and spiritually to look for the silver lining. 
Your Story
Now that 2017 is in the rear view mirror, take time to review all of the year's projects that come to mind. No doubt not everything will have worked out well and that's okay. In fact, list those first with the lessons learned from each experience.
What will be the biggest turning point due to the errors?

Where do you now see yourself headed next?

What is your silver lining takeaway?
Check for consistencies in the lessons or if any are related to one another. Should there be a connection, it will provide excellent insight on how to improve. And then list the highlights of last year. What made you proud and why? When you work with pride (not ego), you attract improved and increased business relationships.
Once you answer the question, consider how you may apply the enthusiasm to new endeavors or enhance what is in place. There is also much truth to the saying, find your passion and you will never work again. You don't need to have a quick answer. But what is always to be in place is to recognize what you enjoy doing. Little by little incorporate the joy into your work until it becomes your major focus. It will then be with pride that you spread word about your work and your brand. and build relationships in the process.
Read additional marketing insights by clicking this link. 
Sales, Marketing and Relationship Tips:
Read sales and marketing articles online

Listen to audible instruction when you are out of the office

Read books to further educate

Write thoughts after you read to enhance the experience

Discuss what you read with peers

Join groups related to the topics of interest

Share articles and insights of group members

Build business around what you enjoy most

Find the fun in your work

Celebrate Success!
Our mission is to help you achieve The Smooth Sale!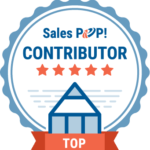 Visit EntrePerks for discounted proven services to assist with your business growth and goals for 2018.  
         
Book and Consulting Packages Available ~ Contact us for details.