Attract the Right Job or Clientele:
The Top 3 Takeaways From Salesforce's State of Sales Research Report

NOTE: Adam Draper, Vice President of Sales, Introhive, provides today's guest blog.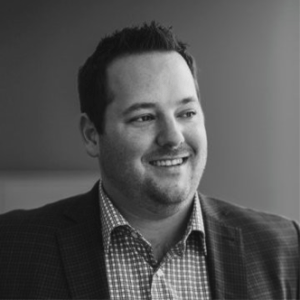 With over 14 years of enterprise sales experience in the startup and Fortune 500 spaces, Adam is an expert at helping build and lead sales organizations in high-growth markets and startup environments. Follow Adam on LinkedIn.
_________________________________
Research from Salesforce shows that 57% of sales reps expect to miss their sales quotas this year. An overwhelming amount of tasks and administrative responsibilities that eat away at the product sales processes are cited.
In their State of Sales Report, Salesforce Research describes how sales and business development organizations are coping with these changes. Included are data-driven approaches to sales, cross-functional collaboration, and systems integrations.
Below, we explore the top three takeaways from the State of Sales Report and how you can apply them to your sales organization to put your team on the path to success.
1. Sales Reps Only Spend One-Third of Their Time Selling
Salesforce's report reveals that only 34% of sales reps spend time selling each week. This includes prospecting, meeting with clients face-to-face, and communicating with clients virtually.
66% of their time is spent on mundane, administrative tasks such as:
Lead prioritization

Entering customer data into CRM

Researching prospects

Generating quotes

Preparing for meetings.
This time away from clients has made it harder for reps to meet their quotas. Only 42% of sales reps are expected to hit their quotas this year.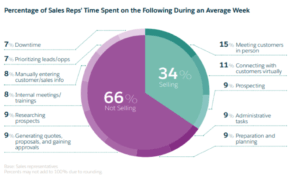 Image Credit: Salesforce Research State of Sales Report
Successful firms are turning to automation to minimize the number of mundane tasks that sales teams need to complete. Through solutions like CRM automation or relationship intelligence automation, sales reps no longer have to manually input data. The data includes capturing contact information, post-meeting notes, tracking their latest account activity or digging into CRM for actionable relationship insights.
Instead, all that busy work can be managed with a direct email to CRM, syncing for creating new contacts and updating activities. Using the data from the Salesforce report, automation could free up 42% of sales rep time typically spent on non-sales-related activities. Following this path will increase the amount of time they spend on selling to 76%.
2. Top Sales Performers Rely Heavily on Data Insights
According to the State of Sales report, leading sales teams are 1.6 times more likely to use data analysis to prioritize leads and half as likely to prioritize using intuition. Data-driven lead prioritization takes the guesswork out of the process. Sales teams then have a more accurate and reliable way of measuring prospect traction and momentum.
However, many sales teams are missing this opportunity. As Salesforce reports, "data-driven lead prioritization is hardly universal. Only one-third of teams use this methodology by default, while others stick with more basic criteria such as geography, company size, or job title."
80% of sales reps state that knowing whether a prospect has a past or existing relationship with their company is the most helpful insight in prioritizing leads and opportunities.
Customer relationship data is crucial for sales reps to prioritize their communications effectively. But with upwards of 30% of CRM data quality eroding within a given year, quality relationship data inside sales organizations is hard to come by as it tends to be outdated, inaccurate, or incomplete.
To increase the quality and accuracy of your CRM data, the system will require help from data enrichment and data cleansing services, like Introhive. For example, once a new contact is identified in your email inbox or calendar, Introhive's AI and machine learning algorithm will analyze that contact record. The sources include the web, LinkedIn, and databases to automatically build a complete contact profile before entering it into CRM. The system ensures that your sales team has the most accurate and complete information powering their data analysis and leading prioritization efforts.
3. Leading Sales Teams Break Down Silos
To win new business, three-quarters of organizations agree that connected processes across departments (marketing, sales, service) are of utmost importance. But only 49% of organizations have fully integrated systems, leading to lackluster sales performance. Top sales teams are 2.1 times more likely than under-performers to have fully integrated systems, bringing customer data into a single, shared view for the entire organization.
To join the upper echelon of sales performers, firms must bring disparate data sources into a single, centralized system. Not only will this increase access to valuable customer data, but it will also encourage collaboration among sales, marketing, and service teams.
By breaking down silos to increase visibility into the information, teams have a complete view of the customer journey, from marketing campaigns to ensure a light customer satisfaction rating. And salespeople agree that this connected view is important for myriad reasons: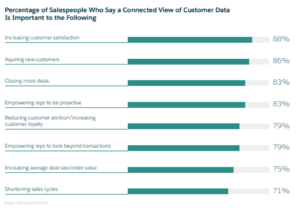 Image Credit: Salesforce Research State of Sales Report
Accelerating the Path to Sales Success
Salesforce Research's State of Sales Report revealed that sales organizations must prioritize rep productivity, collaboration, and data analysis. And one way to free up more time for sales to spend more time selling is to invest in technology that automates mundane data entry in CRM.
For more insight into how other progressive organizations are accomplishing this, browse Introhive's website to learn more about the platform's CRM automation, data enrichment, and relationship mapping capabilities. Setting your team up with the right tools will allow your reps to spend more time selling (and selling well). About the
For More Insights: Visit Elinor's Amazon Author Page
"Communicate to Attract Interest"
Authentic Relationships Are Essential
Be A Story-Teller
As the CEO of Smooth Sale, after her near-death experience, Stutz adapted the motto,
"Believe, Become, Empower"
" Nice Girls DO Get the Sale is an International Best-Selling and Evergreen Book – among the classics;
HIRED! Helped many to secure the job they desired.
Related Blog Stories:
Today's insights are provided to help you achieve the Smooth Sale!
RESOURCES FOR PERSONAL AND BUSINESS GROWTH:
Advisorpedia Publishes information to help advisors build their practice, and those interested in the markets choose investments and find inspiration.
BizCatalyst360 Presents a life, culture, and biz new media digest serving as a hub of creative expression and personal growth.
CatCat Build your future one skill at a time.
For Book Lovers Only For Book Lovers Only introduces you, the book lover, to new and exciting authors and works of fiction and non-fiction.
GetCiara Make remote your unfair advantage.
Greg Jenkins Consulting LLC – Helping organizations realize the value of diversity to build inclusive, evolving, high-performing cultures.
Growth Hackers – Helping businesses from all over the world grow with lead generation, growth marketing, conversion rate optimization, data analytics, user acquisition, retention, and sales.
Inclusion Coalition "Everyone is welcome here." Learn more to train teams, and join the advocacy program.
Internet Advisor Find the internet service right for you among 2083 internet providers across 36,380 cities, plus Cellphonedeal compiles great deals on phones, plans, and prepaids to furnish you with the best options in your area.
Kred Connect with top-rated influencers to learn from and grow your networks.
LinktoEXPERT "It is not who you know – it is who knows you and what your expertise can do for them plus understands the value of hiring you."
Lotus Solution LLC Helps organizations create diversity and inclusion to ensure a fair and just work through customized consulting, training, and keynote speeches.
SalesPop! Purveyors of Prosperity; how to compete against yourself to excel in your career.
Simma Lieberman "The Inclusionist" helps develop inclusive leaders from the inside out to champion diversity and build equitable, inclusive cultures at every level.
Vunela Provides a unique opportunity to view Videos and read articles by World Leaders.
WebTalk is the one-stop platform To build your marketplace and grow social connections.
Women's Information Network (WIN) An education-and-event-based Global Community of Women Helping Women Worldwide Live Their Best Lives through Celebration, Self-Improvement, and Service.