Photo by Domenico Loia on Unsplash
Attract the Right Job Or Clientele:
Tips to Help You Create Your Unique Online Business Journey
Starting an online business can be a great way to achieve financial independence and live the life you want. However, it can be challenging to get started; there is typically more learning ahead than we care to admit. Our collaborative Blog offers insights to help you create your online business journey.
________________________________________________________________________________________________________
Your Unique Online Business Journey
1. Find Your Niche.
The first step to starting any business is finding your niche. You will cater to this market with your products or services. Establish your unique place by asking yourself, what need can you fill that others overlook?
Once you have identified your niche, research the needs of this market. The next step is determining what they seek in a product or service. It will help you establish the type of online business to start.
2. Get Insured
You will need insurance when starting your business legally, and you must get it; sooner than later is best. It could also be worth considering getting some insurance for yourself at the same time. It'll protect you in case anything happens. Looking through the best life insurance company rankings helps determine which one you should go for.
3. Create A Business Plan.
Once you have found your niche, it's time to start planning your business. Creating a plan for an online business can seem daunting, but it doesn't have to be. You can create one that will help you launch and grow your business by following simple steps.
A. Define your business by identifying the following:
Products or services you will offer.
Your target market.
Your goals for your business.
Answering these questions will help you develop a clear vision for your business.
B. Research your industry.
Once you know what kind of business you want to start, it's time to do some research. Find out who your competitors are and what they're doing well (and not so well). Identify any gaps in the market that you stand out as a leader with your business.
C. Create a marketing plan.
Once you know who your customers are and what you're offering them, begin thinking about how you will reach them. Develop a marketing plan that outlines your strategies for connecting with your target market.
D. Develop a financial plan.
The financial plan is an essential part of your business plan. First, you must know, recognize and commit to your finances, including your startup costs, operating expenses, and projected revenue.
E. Write your business plan.
Capturing the facts makes it the time to put it all down in writing. Your business plan should be clear, concise, and easy to understand. It should outline your business goals, strategies, and financial projections.
F. Get feedback.
Once you have written your business plan, ask for feedback from others. Share your goals and plan for achieving them with friends, family, and mentors, and then ask for their suggestions.
G. Revision.
Take the feedback you receive and use it to revise your business plan. Ensure your revised plan is clear, concise, and easy to understand.
H. Implement your plan
Once you have a solid business plan, it's time to implement it. Start working on your goals and strategies, and track your progress always.
I. Evaluate and adjust
Revisiting your business plan, monitoring progress, and adjusting are ongoing necessities. Evaluate your progress regularly and make changes to remain on track for achieving your goals.
Creating a business plan may seem like a lot of work, but it's essential to starting your online business. By developing a well-thought-out plan, you'll set yourself up for success.
4. Choose A Business Model.
Many business models exist for an online business. The type of business model you choose will depend on the products or services you offer, your target market, and your overall goals.
A. E-commerce Model
The e-commerce model is the most popular business model for online businesses. It involves selling products or services online. E-commerce businesses can be B2C (business to consumer) or B2B (business to business). B2C businesses sell products or services to consumers, while B2B businesses sell products or services to other businesses.
B. Subscription Model
Another popular business model for online businesses is the subscription model. It is an excellent option for companies offering ongoing content or services, such as an online course or a monthly service. It allows customers to sign up for a recurring subscription to access your content or services.
C. Pay-per-Click Model
Another standard business model is the pay-per-click (PPC) model. This model allows businesses to charge customers based on the number of clicks they make on an advertisement. It is an excellent option for companies wanting to generate leads or drive traffic to their website.
D. Affiliate Marketing Model
The third business model is the affiliate marketing model. This model allows businesses to partner with other companies to promote their products or services. It is an excellent option for businesses that want to expand their reach and increase their sales.
Each business model has advantages and disadvantages, so choosing the right one for your business is essential. If you are still determining which model is best for you, consider consulting with a business consultant or a marketing expert. They can help you determine which model will best fit your needs. No matter the business model, the underlying message is that your online business must be well-planned and well-executed to succeed.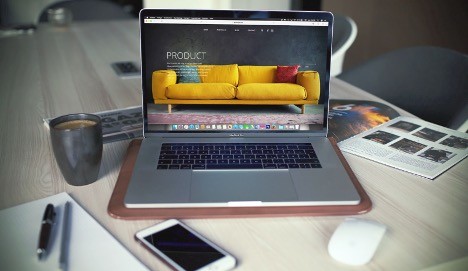 Photo by Igor Miske on Unsplash
5. Build A Website.
Once you select a business model, it's time to create your website. Your website will be the foundation of your business and one of your most important assets.
Here are some things to consider adding to your site:
A. A clear description of what you offer:
Your customers need to understand what you are selling without the need to search for information. Clearly describe the products and services you offer on your website.
B. High-quality photos or videos:
Customers want to see what they're buying. Include a variety of photos or videos of your products or services.
C. Prices:
Never hide the cost of doing business. Ensure the prices of your products are services are easily visible.
D. A way to contact you:
Include your contact information on your website so customers can reach you with questions or need assistance.
E. A FAQ section:
Ensure that your website is professional and easy to navigate. Visitors will find it helpful when you directly answer common questions about your products or services on your website. Optimize your website for search engines so people can easily find you online. Be sure to speak to a professional website designer if you are still getting familiar with creating one.
6. Drive Traffic to Your Website.
Once you have built your website, it's time to start driving traffic to it. There are several ways to do this, such as creating SEO-optimised content, using social media to promote your website, and running online ads.
6. Convert Visitors into customers.
Another step in starting your online business is converting visitors into customers. Consider offering extra value, such as a gift, on your website. Examples are a free e-book or report, an exclusive discount, or access to a valuable resource. Once you have captured the attention of your target market, it's time to close the sale and get them to become paying customers.
7. Scaling Your Business.
Once you have a few customers, it's time to start scaling your business. It means adding new products or services, expanding your marketing efforts, and adding new team members to help grow your business. Scaling too quickly can be dangerous for any business, so do it gradually and carefully.
In Conclusion: Creating Your Unique Online Business Journey
No matter what route you decide, starting an online business is a great way to take control of your financial future and achieve the lifestyle you've always wanted. Use these tips for creating your online business journey today!
For More Insights: Visit Elinor's Amazon Author Page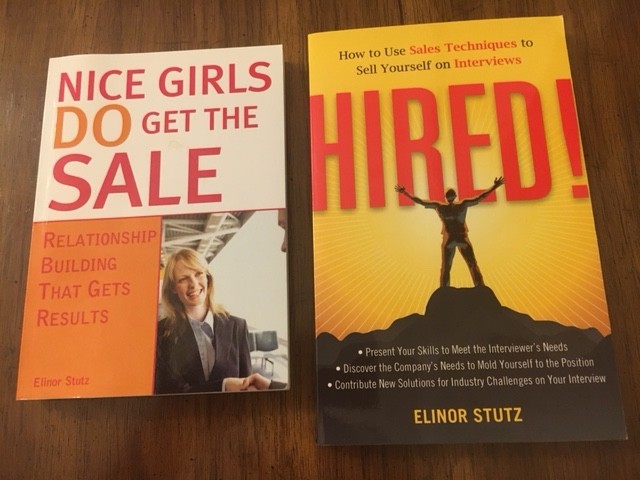 "Communicate to Attract Interest"
Authentic Relationships Are Essential
Be A Story-Teller
As the CEO of Smooth Sale, after her near-death experience, Stutz created the motto,
"Believe, Become, Empower"
" Nice Girls DO Get the Sale is an International Best-Selling and Evergreen Book – among the classics;
HIRED! Helped many to secure the job they desired.
Related Blog Stories:
Sales Tips: Creating Your Unique Online Business Journey
Transform your uniqueness into creating your unique online business journey.
When people say 'you can't, it's time to prove them wrong.
Nothing is impossible with determination to succeed and a willingness to learn.
Know that most people face unfortunate incidents, and you are not alone, keep going!
Create a group of trusted peers dedicated to helping one another grow.
Learn from every experience you encounter.
Create a brand name that captures your unique thinking.
Capitalize on your unique online business journey with a robust branding and marketing campaign.
Reflect on the journey for an indication of what to do next.
Celebrate Success!
Today's insights are provided to help you achieve the Smooth Sale!
RESOURCES FOR PERSONAL AND BUSINESS GROWTH:
Advisorpedia Publishes information to help advisors build their practice, and those interested in the markets choose investments and find inspiration.
BizCatalyst360 Presents a life, culture, and biz new media digest serving as a hub of creative expression and personal growth.
CatCat Build your future one skill at a time.
For Book Lovers Only For Book Lovers Only introduces you, the book lover, to new and exciting authors and works of fiction and non-fiction.
Greg Jenkins Consulting LLC – Helping organizations realize the value of diversity to build inclusive, evolving, high-performing cultures.
Growth Hackers – Helping businesses globally grow with lead generation, growth marketing, conversion rate optimization, data analytics, user acquisition, retention, and sales.
Inclusion Allies Coalition "Everyone is welcome here." Learn more to train teams, and join the advocacy program.
Internet Advisor Find the internet service right for you among 2083 internet providers across 36,380 cities, plus Cellphonedeal compiles great deals on phones, plans, and prepaids to furnish you with the best options in your area.
Kred Connect with top-rated influencers to learn from and grow your networks.
LinktoEXPERT "It is not who you know – it is who knows you and what your expertise can do for them, plus understands the value of hiring you."
Lotus Solution LLC Helps organizations create diversity and inclusion to ensure a fair and just workplace through customized consulting, training, and keynote speeches.
SalesPop! Purveyors of Prosperity; how to compete against yourself to excel in your career.
Simma Lieberman "The Inclusionist" helps develop inclusive leaders from the inside out to champion diversity and build equitable, inclusive cultures at every level.
Vunela Provides a unique opportunity to view Videos and read articles by World Leaders.
WebTalk is the one-stop platform. Build your marketplace and grow social connections.
Women's Information Network (WIN) An education-and-event-based Global Community of Women Helping Women Worldwide Live Their Best Lives through Celebration, Self-Improvement, and Service.