Photo by mohamed_hassan via Pixabay
Attract the Right Job Or Clientele:
Four Ideal Ways To Utilize Your Time When Business Slows
Our collaborative blog provides insights on 'Four ideal ways to utilize your time when business slows.
Sometimes, you will have slower months or times to deal with and manage in business. You may expect it each year, or some surprises or hiccups may arise that cause these unwanted instances. No matter the reason, it's essential that you prepare for it to avoid wasting additional time by doing nothing.
The following list includes four ideal ways to utilize your time when business slows so you can not only stay afloat but also make forward progress and make the most of the situation.
________________

Four Ideal Ways to Utilize Your Time
When Business Slows
1. Improve Your Online Presence
Your company needs to have a solid online presence in our digital era. You may have been busy previously and not thought much about your marketing strategy or your online reputation and existence. Therefore, use this time to update your online presence and ensure your target market sees you, understands what you represent, and why it may be helpful for them to learn more. It is essential to review every aspect when business slows to experience improvement ahead.
There are many ways to enhance your website, increase your content marketing, and engage more on social media. Is the extra effort and time spent worthwhile? You may surprise yourself by 'accidentally' generating new leads that help boost sales, yet another positive outcome of experiencing a slow period.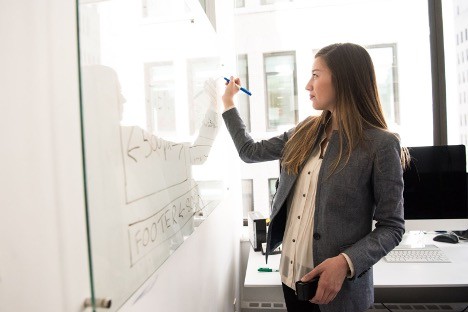 2. Professional Development
If you want your business to continue running smoothly and be profitable, it helps when you commit to being the leader who makes wise decisions. Utilize your time when business is slow by working on your professional development. Invest in yourself by taking courses, attending conferences, or looking into the benefits of MBA Online Certificates and how this designation can advance your career.
It is essential and inevitable that it is necessary to continue to change, evolve, and grow over time along with your company and the demands of your customers, particularly when business slows. You'll never regret spending time working on and bettering yourself if it means the company benefits from the grueling process. Above all, you benefit by increasing your confidence and potentially setting heartier goals ahead.
3. Keep Your Employees Engaged
As a business leader and boss, it is essential to find ways to keep your employees engaged in your company, their goals, and wanting to make forward progress. It's best to avoid having them become bored, disconnected, and unproductive during this phase. Another ideal way to utilize your time when business is slow is to focus on your employees.
Now might be an excellent opportunity to focus on specific initiatives or goals you want to achieve but have been too busy to concentrate your effort. Delegate tasks and assign projects worth their time so that together you continue to succeed even amid uncertainty. Upon giving out the assignments, explain their reasoning and phrasing to motivate and inspire your employees to take immediate action.
4. Connect with Your Customers When Business Slows
Help your business power through a slow period by using it as a chance to connect with your customers. Show them some love and appreciation by going above and beyond for them and addressing any outstanding issues or problems.
Revisit your customer service standards when business slows and approach and review your customer satisfaction scores to see what you should be working on in your downtime. Use this time to gather feedback when business slows, input what you can be doing better, and then take action. The purpose is to offer your customers an enhanced experience when business picks up again.
For More Insights: Visit Elinor's Amazon Author Page
"Communicate to Attract Interest"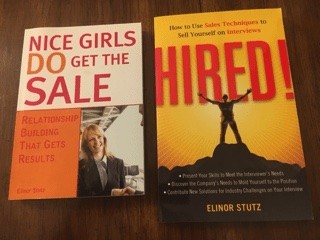 Be A Story-Teller
As the CEO of Smooth Sale, after her near-death experience, Stutz adapted the motto,
"Believe, Become, Empower"
"Nice Girls DO Get the Sale is an International Best-Selling and Evergreen Book – among the classics;
HIRED! Helped many to secure the job they desired.
Related Blog Stories:
Sales Tips: Four Ideal Ways To Utilize Your Time When Business Slows
When business slows down, view it as a signal that the time may be suitable to attempt something new.
Seriously contemplate the possibilities for developing your 'something new.'
Create a list of no more than ten possibilities to weigh the pros and cons upfront.
Prioritize your list by what excites you most vs. the reality of being able to ensure it materializes well.
Take note whether your energy and enthusiasm for business are back on high to enable the new.
All new projects include up and downswings; as you figure them out, be patient.
Upon being close to completion of the first project, consider which one on your list is next to implement
When business slows, get your staff enthused and behind the changes.
Keep your clientele up to date and build relationships with all those you encounter.
Celebrate Success!
Today's insights are provided to help you achieve the Smooth Sale!
RESOURCES FOR PERSONAL AND BUSINESS GROWTH:
Advisorpedia Publishes information to help advisors build their practice, and those having an interest in the markets choose investments and find inspiration.
BizCatalyst360 Presents a life, culture, and biz new media digest serving as a hub of creative expression and personal growth.
CatCat Build your future one skill at a time.
For Book Lovers Only For Book Lovers Only introduces you, the book lover, to new and exciting authors and works of fiction and non-fiction.
GetCiara Make remote your unfair advantage.
Greg Jenkins Consulting LLC – Helping organizations realize the value of diversity to build inclusive, evolving, high-performing cultures.
Growth Hackers – Helping businesses worldwide grow with lead generation, growth marketing, conversion rate optimization, data analytics, user acquisition, retention, and sales.
Inclusion Allies Coalition "Everyone is welcome here." Learn more to train teams, and join the advocacy program.
Internet Advisor Find the internet service right for you among 2083 internet providers across 36,380 cities, plus Cellphonedeal compiles great deals on phones, plans, and prepaids to furnish you with the best options in your area.
Kred Connect with top-rated influencers to learn from and grow your networks.
LinktoEXPERT "It is not who you know – it is who knows you and what your expertise can do for them plus understands the value of hiring you."
Lotus Solution LLC Helps organizations create diversity and inclusion to ensure a fair and a just workplace through customized consulting, training, and keynote speeches.
SalesPop! Purveyors of Prosperity; how to compete against yourself to excel in your career.
Simma Lieberman "The Inclusionist" helps develop inclusive leaders from the inside out to champion diversity and build equitable, inclusive cultures at every level.
Vengreso Provides easy-to-follow on-demand sales training for LinkedIn.
Vunela Provides a unique opportunity to view Videos and read articles by World Leaders.
WebTalk is the one-stop platform. Build your marketplace and grow social connections.
Women's Information Network (WIN) An education-and-event-based Global Community of Women Helping Women Worldwide Live Their Best Lives through Celebration, Self-Improvement, and Service.