Attract the Right Job Or Clientele:
Are You Ready to Create A Genuinely Positive Working Environment for Your Staff?
If you're looking to improve your business, there are numerous areas in which you can focus. The range is all-encompassing, from improving your product to your order fulfillment, customer service, plus more. But one place that you need to pay strict attention to is improving working conditions and the working environment for your staff.
Your staff is the cog that keeps the wheels of your business turning. Without motivated employees, business is minimal at best. There wouldn't be anyone to complete the many processes required to raise brand awareness, market your goods, continue manufacturing your products, ensure customers are happy, and so much more.
The question becomes, what can you do to improve your team's working environment? Our collaborative Blog offers ideas to prepare for a genuinely positive working environment for your staff.
_____________________________________________________________________
Create A Genuinely Positive Working Environment
Anonymous Surveys
One of the most effective ways to understand what your staff needs and the areas of business that can benefit from improvements are with anonymous surveys. Surveys allow you to ask questions for the answer you need openly and privately. Use the questions for touchy topics such as, "do you feel your salary is fair?" to "do you need any new software to complete your job to a high standard?" The two questions are examples of the many that apply to your company.
The reason for keeping surveys anonymous is simple. Doing so increases the willingness of your staff to answer honestly. Your team may be reluctant to openly say they need something or provide constructive criticism for fear of repercussions. When surveys are anonymous, they can say what they need to say, positive or negative, allowing you to work on what's best for them and your company in general.
Suitable Work Spaces
Ensure that the workspaces you provide your staff meets all of their needs. It's best to ensure that office spaces are bright and airy. Natural light exposure can make one feel more comfortable and increase productivity. Likewise, have suitable rooms for meetings, HR discussions, and more. If you want to hold a specific event for your team, you may want to rent out specialist meeting rooms or event spaces with Evins Mill. Ensure that workspaces have the right furniture and equipment for your team to be comfortable. Where possible, invest in ergonomically designed options supporting posture and preventing ongoing health issues, such as repetitive strain injury.
Flexible Working Options
Working nine to five may be standard hours nationwide, but you should consider providing your team more flexibility. Nine to five may clash with specific commitments that some team members have. For example, if you have a team member with kids, starting work at nine may not give them sufficient time to get their kids to school and their desks on time due to experiencing traffic problems.
Another approach is to allow these team members to start work at 10:00 and finish at 6:00 instead. Also, try to be flexible for dentist and doctor appointments and other essential appointments. Allow your staff to attend and start work earlier or finish later on those days to hit their hours without extra anxiety in the mix. Flexibility can make all the difference to team members' happiness and satisfaction within their roles.
Remote Working Options
Since the pandemic, increasing numbers of staff would like to work from home on a remote basis. It is entirely understandable. During nationwide lockdowns and stay-at-home orders, many businesses had no choice but to let office staff and other staff complete their work from the comfort of their own living spaces. During this time, many found that they were equally able to complete their work to a good standard from their own walls and preferred it.
For employees, remote work can mean cutting out expensive and time-consuming commutes, cutting out parking costs, working in a comfortable environment, and having access to private facilities such as toilets and kitchens during their breaks. From your perspective, allowing continued remote work (or some days per week of remote work) can have benefits, too, as it reduces commercial rent costs and expensive overheads such as electricity usage.
Implementing the suggestions that appeal to you should help create a genuinely positive working environment possible for your team. Some of the benefits may include:
In Conclusion: Are You Ready for A Genuinely Positive Working Environment for Your Staff
Upfront change always seems highly challenging. However, striving for a genuinely positive working environment for your staff boosts advancements for the business in multiple ways. The bottom line is that following the suggestions are likely to boost morale, business growth, and profits.
For More Insights: Visit Elinor's Amazon Author Page
"Communicate to Attract Interest"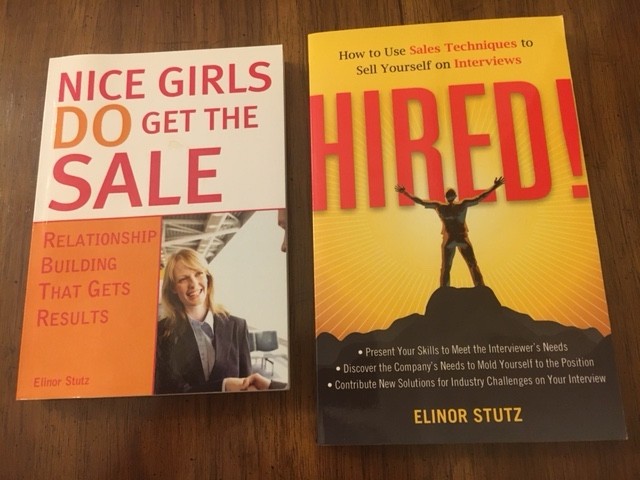 Authentic Relationships Are Essential
Be A Story-Teller
As the CEO of Smooth Sale, after her near-death experience, Stutz created the motto,
"Believe, Become, Empower"
" Nice Girls DO Get the Sale is an International Best-Selling and Evergreen Book – among the classics;
HIRED! Helped many to secure the job they desired.
Related Blog Stories:
Sales Tips: Are You Ready to Create A Genuinely Positive Working Environment for Your Staff"
A genuinely positive working environment for your staff will likely attract much interest in the company.
Generating interest in your company is essential for proper branding, marketing, and sales.
Create a list of possibilities for creating a more positive working environment for your staff to convert into a poll for your staff to answer.
Hold a team meeting to discuss the poll results and receive further input.
Prioritize the suggestions and strive to implement the top one immediately.
As employees begin to see the change, offer a new poll as times change.
Make it a regular habit to check in with your teams and offer private conversations to improve the workplace.
Continue researching the latest technology to ease the burden of working behind the scenes.
As time and budget permit, implement the new efficient software and hardware to remain productive and visible.
Celebrate Success!
Today's insights are provided to help you achieve the Smooth Sale!
RESOURCES FOR PERSONAL AND BUSINESS GROWTH:
Advisorpedia Publishes information to help advisors build their practice, and those interested in the markets choose investments and find inspiration.
BizCatalyst360 Presents a life, culture, and biz new media digest serving as a hub of creative expression and personal growth.
CatCat Build your future one skill at a time.
For Book Lovers Only For Book Lovers Only introduces you, the book lover, to new and exciting authors and works of fiction and non-fiction.
Greg Jenkins Consulting LLC – Helping organizations realize the value of diversity to build inclusive, evolving, high-performing cultures.
Growth Hackers – Helping businesses globally grow with lead generation, growth marketing, conversion rate optimization, data analytics, user acquisition, retention, and sales.
Inclusion Allies Coalition "Everyone is welcome here." Learn more to train teams, and join the advocacy program.
Internet Advisor Find the internet service right for you among 2083 internet providers across 36,380 cities, plus Cellphonedeal compiles great deals on phones, plans, and prepaids to furnish you with the best options in your area.
Kred Connect with top-rated influencers to learn from and grow your networks.
LinktoEXPERT "It is not who you know – it is who knows you and what your expertise can do for them, plus understands the value of hiring you."
Lotus Solution LLC Helps organizations create diversity and inclusion to ensure a fair and just workplace through customized consulting, training, and keynote speeches.
SalesPop! Purveyors of Prosperity; how to compete against yourself to excel in your career.
Simma Lieberman "The Inclusionist" helps develop inclusive leaders from the inside out to champion diversity and build equitable, inclusive cultures at every level.
Vunela Provides a unique opportunity to view Videos and read articles by World Leaders.
WebTalk is the one-stop platform. Build your marketplace and grow social connections.
Women's Information Network (WIN) An education-and-event-based Global Community of Women Helping Women Worldwide Live Their Best Lives through Celebration, Self-Improvement, and Service.