Photo by Eden Constantino via Unsplash
Attract The Right Job Or Clientele:
One movie line brings a smile and the question, 'Are you ready to improve your management style?' What is the movie line that remains in my mind? 'Show me the money!' Tom Cruise delivered the line in the movie Jerry Maguire.
Sadly, management style too often centers on the theme, show me the money, especially in the sales profession. Sure, we are all in business or gainfully employed to make money no matter the occupation, as it puts food on the table and gives us the necessities of life. However, at what point should money decline from being the central issue for business development?
The question may have you stopped in your tracks, so let's explore how the sole focus on money can deteriorate the strategic plan in place. Next, let's consider how we may improve our efforts.
My Story
As a question arose to convey how you can improve your management style, I immediately put a sales perspective on my answer. Throughout my career (eleven jobs in eleven years), every single sales manager behaved in the following manner:
Instead of taking the time to ask about my experiences with clientele, they only inquired about one topic – will you make quota this month? It was only the first couple of months that I did not meet the monetary expectations, but after that, I always did. Yet, month after month, year after year, I essentially was told, 'Show me the money!'
But the worst part was year after year, having my hard-earned accounts given to the men and my quota tripled for the following year. I so wanted to yell back, 'You show me the money!' But that would have gone nowhere, and so on an annual basis, I found employment elsewhere.
So how can you improve your management style if you do have the privilege of being in management?
The Executive Suite Model:
Model the management style from the executive office down to the first level of managers.

Executives, inquire of your management staff what you may do to improve morale and longer-term employment.

Prioritize the suggestions and make it a habit to implement the better ones.
The Sales Team Model:
Encourage everyone to share their insights in team meetings.

Require respectful listening and conversation at the team gatherings.

Encourage a diverse and inclusive experience each and every time.
The Team Environment for Individual Team Members
Speak separately with each team member to get their perspective on improvement for themselves, their clients, and the team.

Encourage members as you speak to them individually.

Show appreciation for their effort.

Ask how they believe you may be of help, and follow-through by assisting.

Model customer service upfront by taking good care of your employees.
The Benefits
By extending a helping hand instead of pounding people with the thought, show me the money, you are more likely to earn respect, trust, and loyal employees.
A large part of losing business plus the money is directly related to unhappy employees. People quit their jobs because of the lack of help and pressure, along with the lack of appreciation. Sadly, the scenario happens far too often to become known as 'the revolving door syndrome.' I was advised long ago that this is one of the costliest expenses for companies.
When you are ready to improve your management style throughout a corporation, a small business establishment, and even as solo entrepreneurs who use virtual assistants, your bottom-line will add up favorably.
For More Insights: Visit Elinor's Amazon Author Page
"Communicate to Attract Interest"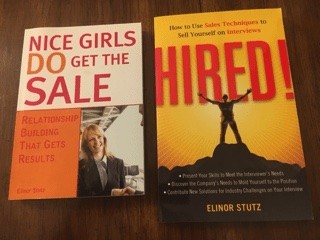 Be A Story-Teller
As the CEO of Smooth Sale, after her near-death experience, Stutz adapted the motto,
"Believe, Become, Empower."
"Nice Girls DO Get the Sale is an International Best-Selling and Evergreen Book – among the classics;
HIRED! Helped many to secure the job they desired.
Related Blog Stories:
Your Story: Are You Ready to Improve Your Management Style?
Consider past experiences with varying managers to compare the best with the worst. It can be worthwhile to create a spreadsheet with three columns. Separate the columns by what you like best, least, and the outcome from the measures you experienced. If you aren't today, one day, you may surprise yourself by rising into management.
Keep track of your insights as they are learning tools for improving the future.
No matter your industry, it is wise to treat everyone you encounter as a potential customer. Whether you seek to build relationships personally or secure part-time help by treating everyone in the best possible manner, it becomes more likely to develop long-term connections. And should you decide to enter the sales profession, you will already be well adept and making sales.
Summary
Each day can be a learning experience when we are willing to acknowledge our approaches, interactions, and outcomes. By being adaptable for improvement a little each day, significant results occur by year-end. We can achieve more substantial ones as we grow into becoming the person we visualize today.
Sales Tips: Are You Ready to Improve Your Management Style?
Work toward diversity and inclusion for everyone to feel they belong.

Give equal treatment to all team members.

Provide individualized help to each member of the team.

Encourage teamwork and motivate the ambition to meet goals.

Award those who provide insightful ideas.

Create monthly activities that will promote team spirit.

Some months create activities working in two's to develop camaraderie.

Ask your team for feedback so that you may improve your management style.

Give and get a report card to improve your style for the following year.

Celebrate Success!
Today's insights are provided to help you achieve the Smooth Sale!
RESOURCES FOR PERSONAL AND BUSINESS GROWTH:
Advisorpedia Publishes information to help advisors build their practice, and those having an interest in the markets choose investments and find inspiration.
BizCatalyst360 Presents a life, culture, and biz new media digest serving as a hub of creative expression and personal growth
CatCat Build your future one skill at a time.
For Book Lovers Only For Book Lovers Only introduces you, the book lover, to new and exciting authors and works of fiction and non-fiction.
GetCiara Make remote your unfair advantage.
Greg Jenkins Consulting LLC – Helping organizations realize the value of diversity to build inclusive, evolving high-performing cultures.
Inclusion Allies Coalition "Everyone is welcome here." Learn more to train teams, and join the advocacy program.
Internet Advisor Find the internet service right for you among 2083 internet providers across 36,380 cities, plus Cellphonedeal compiles great deals on phones, plans, and prepaids to furnish you with the best options in your area.
Kred Connect with top-rated influencers to learn from and grow your networks.
LinktoEXPERT "It is not who you know – it is who knows you and what your expertise can do for them plus understands the value of hiring you."
Lotus Solution LLC Helps organizations create diversity and inclusion to ensure a fair and just workplace, through customized consulting, training, and keynote speeches.
SalesPop! Purveyors of Prosperity; how to compete against yourself to excel in your career.
Vengreso Provides easy-to-follow on-demand sales training for LinkedIn.
Vunela Provides a unique opportunity to view Videos and read articles by World Leaders.
WebTalk is the one-stop platform Build your marketplace and growing social connections.
Women's Information Network (WIN) An education-and-event-based Global Community of Women Helping Women Worldwide Live Their Best Lives through Celebration, Self-Improvement, and Service.