Photo by Donald Giannatti via Unsplash
Attract the Right Job or Clientele:
Are You Turning Off Prospects?
Before we even attempt to sell a product or service to someone, we are to ask and answer the following question of ourselves; 'Am I turning off prospects?' Taking the question a step further, is to answer, 'Would I purchase from me?'
On occasion, we need to seriously consider whether our effort is working as well as we expect. Should the answer be, 'no,' then what can we do to improve? On occasion, we need additional training or learning about a new subject matter to incorporate into the meetings. However, the more telling effort is in the initial approach. It does not matter which method we use to contact people. The issue is in how we communicate.
My Story
Upon visiting my Twitter profile, one can see that the pinned tweet states, 'Trust is the soul of sales and all else that we do.' The latest trend appears to be the offers of honors and media spotlights to individuals. It's exciting upfront to receive notification that we are a top winner. But sadly, only well after the news does the shock kick in when the sticker price arrives. My viewpoint is they are turning off prospects; me included.
Why on earth would anyone pay for an honor?
The type of recognition has no bearing:
Either it's an honor, or it isn't.

Either one makes an achievement or doesn't.
The request to pay for recognition makes zero sense and is anything but honest. What the announcement proves to be instead is a request for paid advertising. And the person who receives the pay isn't the one who does the excellent work. Instead, it is the one who shrewdly asks for money upon stating it's an honor for the other person. Accordingly, they are the ones who are turning off prospects.
This type of communication appears to be a new upcoming trend and one of which to be aware. In the past two months, I have received five such offers of 'recognition' for my work. The notifications include the possibilities for receipt of a trophy, a framed document, a Zoom interview, a professional broadcast, and being featured in a magazine. Upon acknowledging the news, the announcements came forth on how to proceed. All of them gave away the hidden agenda that I am to provide payment.
It is far better to do an excellent job with or without forthcoming recognition. Egotistical managers usually need to find new jobs. Those who lead a company at a higher level will typically face the revolving door syndrome with employees in general. It's very costly and adversely affects the bottom line. Often, these type of leaders finds the need to find a new job themselves. And when salespeople are arrogant while speaking with clientele, they quickly lose the sale.
On all levels ego never works well.
For me, it's senseless to pay for awards and recognition because it becomes meaningless. Let's instead put work and career on a higher plane. We know whether we are doing good work with or without the recognition.
The ideal is to serve clientele well and possibly or potentially improve the status of others. We are to strive for their satisfaction. The best reward, and what I strive to achieve, is the Smooth Sale, earning a returning and referring clientele.
"Communicate to Attract Interest"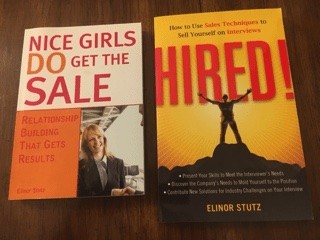 Be A Story-Teller
As the CEO of Smooth Sale, after her near-death experience, Stutz adapted the motto,
"Believe, Become, Empower.
"Nice Girls DO Get the Sale is an International Best-Selling and Evergreen Book – among the classics;
HIRED! Helped many to secure the job they desired.
Related Blog Stories:
Your Story: Turning Off Prospects
Everyone has a starting point with a long road ahead for learning. Beating oneself up regarding errors only makes the mountain path steeper. Being willing to learn from mistakes is the distinguishing factor between those who give up and those who dare to climb to the top.
Whether you have much experience behind you or are new to the field, it is always good to review past interactions with clients. Specifically, replay in your mind the conversations that lead up to hearing 'no.'
Discover commonalities between the experiences to see if there is a habit that can use adjustment. Admit whether some commentary is repetitive, suggesting a need to change.
Attempting to ignore feedback is never a good idea. Not everything will work, but when we hear something worthy of a try, it's good to attempt to move forward with it.
All the while, brainstorm with partners and counterparts and invite open discussions with employees. Striving to explore better approaches and delivery will strengthen the teamwork and encourage clients to be loyal to your effort.
Sales Tips: Are You Turning Off Prospects?
Seek to improve skills every day.

Keep an eye on daily, weekly, monthly, and yearly goals.

Review whether you are on track to achieve the set goals.

Upon realizing a goal may not be achievable, research how you can turn it around.

Read articles daily.

Take classes on an as-needed basis.

Determine if habits are out of date and, if so, how to improve.

Monitor new methods to ensure they work well.

Revise your approach and delivery as clients require within your guidelines.

Celebrate Success!
Today's insights are provided to help you achieve the Smooth Sale!
RESOURCES FOR PERSONAL AND BUSINESS GROWTH:
Advisorpedia Publishes information to help advisors build their practice, and those having an interest in the markets choose investments and find inspiration.
BizCatalyst360 Presents a life, culture, and biz new media digest serving as a hub of creative expression and personal growth.
CatCat Build your future one skill at a time.
For Book Lovers Only For Book Lovers Only introduces you, the book lover, to new and exciting authors and works of fiction and non-fiction.
GetCiara Make remote your unfair advantage.
Greg Jenkins Consulting LLC – Helping organizations realize the value of diversity to build inclusive, evolving, high-performing cultures.
Growth Hackers – Helping businesses worldwide grow with lead generation, growth marketing, conversion rate optimization, data analytics, user acquisition, retention, and sales.
Inclusion Allies Coalition "Everyone is welcome here." Learn more to train teams, and join the advocacy program.
Internet Advisor Find the internet service right for you among 2083 internet providers across 36,380 cities, plus Cellphonedeal compiles great deals on phones, plans, and prepaids to furnish you with the best options in your area.
Kred Connect with top-rated influencers to learn from and grow your networks.
LinktoEXPERT "It is not who you know – it is who knows you and what your expertise can do for them plus understands the value of hiring you."
Lotus Solution LLC Helps organizations create diversity and inclusion to ensure a fair and a just workplace through customized consulting, training, and keynote speeches.
SalesPop! Purveyors of Prosperity; how to compete against yourself to excel in your career.
Simma Lieberman "The Inclusionist" helps develop inclusive leaders from the inside out to champion diversity and build equitable, inclusive cultures at every level.
Vengreso Provides easy-to-follow on-demand sales training for LinkedIn.
Vunela Provides a unique opportunity to view Videos and read articles by World Leaders.
WebTalk is the one-stop platform. Build your marketplace and grow social connections.
Women's Information Network (WIN) An education-and-event-based Global Community of Women Helping Women Worldwide Live Their Best Lives through Celebration, Self-Improvement, and Service.