Photo by Geralt via Pixabay
Attract the Right Job Or Clientele:
Are Your Offers Receiving the Results You Desire?
Being memorable on a positive footing applies to creating and building an effective business on a positive note enabling you to earn your desired results. Often, the offers we receive have a double meaning, and we must carefully examine all aspects to ask methodical questions of the person extending the offer.
My recent encounters and messaging received raised the question, 'Are your offers receiving the results you desire?' The better way to begin is to recall the responses you received recently and whether there is room for improvement. If you answer yes, consider the insights below and create a new plan to enjoy a better outcome repeatedly.
My Story
A recent example is of a gentleman wanting to petition his community to create a golf putting green for residents. The idea is for those interested in golf who want to gather socially and channel new friendships. His plan carries much merit, but one question left unanswered raised concern: Is he appealing only to the wealthy who can afford the golf gear, or will he somehow include others that cannot afford the necessary golf components?
As the gentleman introduced himself and his golf putting green petition for signatures, my sales perspective conjured up many questions necessitating his responses. I wanted to help him present a strong case, but only if I agreed with his answers.
Encouraging Positive Responses
No mention was made upfront about potential problematic issues, so I stopped the man in his tracks to ask:
Will the company keep the environment green to match the term, putting green, or will it have to remove many trees?
Will the game only apply to the wealthier people owning golf clubs?
Is there a plan to help those who cannot afford the equipment to enhance community spirit?
The gentleman thanked me for my questions as the realization hit that to acquire the most signatures possible, he needed to address the 'game-stoppers.' I then explained that selling an idea is second nature for me and that it is vital to address all potential concerns upfront. Otherwise, fewer people will agree to a petition or a sale without having their concerns addressed upfront.
Fortunately, there will be an outdoor cabinet containing all the equipment for everyone to enjoy. No tree needs removal, and the small area will dedicate itself to the community enjoying time outdoors together. Moreover, everyone will be welcome as an outdoor storage area will contain all the necessary pieces and gear for all the game courts.
As our conversation concluded, I suggested always hearing out concerns upfront to address them appropriately. Moreover, I emphasized that as the quest for petition signatures continues, informing people up front that the program will enhance the community spirit and accommodate those who desire to participate will produce better results. The gentleman conceded he wasn't aware of all that but realized the importance and will implement the strategy from now on.
Business Development
Our example illustrates that we must address all concerns upfront before attempting to encourage or 'sell' anyone on an idea, product, or service. Moreover, we need to give thought to the audience or prospective clientele to get in tune with their concerns and address them the best we can as we present offers to encourage the results we desire.
A part of digging deep while in a business conversation is to observe facial expressions and body language as we exchange words. The moment we see a quick change in either is the instant we are to stop and inquire whether the person has a question. Rarely will the answer be no. Only then will you enjoy a deep and honest conversation to uncover the hidden facts, make appropriate adjustments, and be on track to earn the desired results.
Your Story: Are Your Offers Receiving the Results You Desire?
No matter the type of request you make, whether a formal sale to a large corporation, a request for a collaborative effort, or a desire to petition people for signatures, it is necessary to examine whether the results are as expected.
Often the issue requires thinking ahead of time about the typical objections and how to address them upfront to enjoy a more compatible conversation. Most often, it is not about price. Instead, the deciding factors are more about credibility, trust, and what you convey about how you conduct business. Moreover, a more relaxing back-and-forth dialogue encourages new ideas for consideration and a more robust solution.
In Conclusion: Are Your Offers Receiving the Results You Desire?
People quickly recognize when you have their better interests in mind. Upon perceiving you to operate in this manner, it will encourage them to test doing business with you. Business growth will be yours by proving that you live up to your word and that your client can trust you.
For More Insights: Visit Elinor's Amazon Author Page
'Communicate to Attract Interest'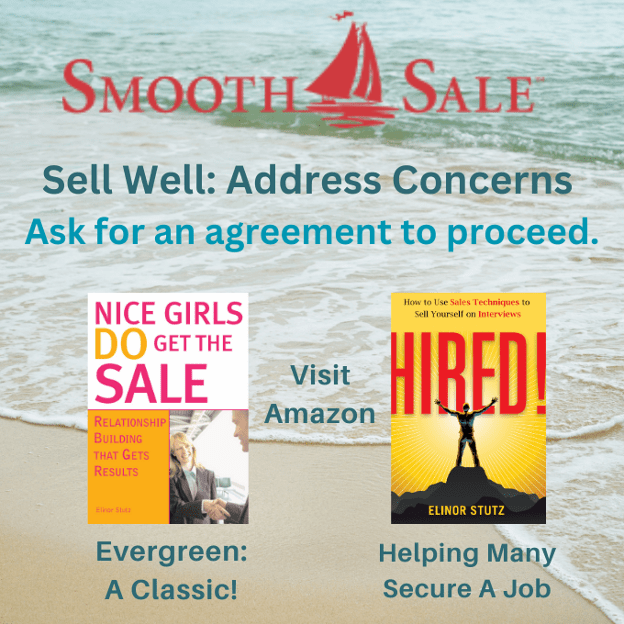 Authentic Relationships Are Essential
Be A Story-Teller
As the CEO of Smooth Sale, after her near-death experience, Stutz created the motto,
"Believe, Become, Empower"
Related Blog Stories:
Sales Tips: Are Your Offers Receiving the Results You Desire?
The step-by-step methodology will have you receiving the desired results and often more via introductions and opportunities not previously foreseen.
The better sales tools are the questions on your mind; ensure that you openly ask them of your prospective clientele..
Ask questions if you are curious about how your prospective client handles challenging situations.
Inquire about the budget, but also understand that the amount can expand when the prospect sees the value in your offering.
Upon realizing you have no more questions to ask, inquire of your prospect if they have more questions for you.
It is the value that earns the sale, not the price lowering.
Value pertains to customer care and trusting that you are the one to take care of them.
After questions on both sides are complete, ask your prospect when they might like to begin with what you provide.
If need be, schedule a return date and leave the conversation open for more questions that may come to mind.
Celebrate Success!
Today's insights are provided to help you achieve the Smooth Sale!
RESOURCES FOR PERSONAL AND BUSINESS GROWTH:
Advisorpedia Publishes information to help advisors build their practice, and those interested in the markets choose investments and find inspiration.
BabyBoomer – A trusted media source that collects and curates all the news, resources, and shows of interest for the Baby Boomer generation.
BizCatalyst360 Presents a life, culture, and biz new media digest as a hub of creative expression and personal growth.
CatCat Build your future one skill at a time.
ContactOut is a web-based platform that enables users to search for contact information and uncover contact details, including email addresses, phone numbers, and other personal data.
Greg Jenkins Consulting LLC – Helping organizations realize the value of diversity to build inclusive, evolving, high-performing cultures.
Growth Hackers – Helping businesses globally grow with lead generation, growth marketing, conversion rate optimization, data analytics, user acquisition, retention, and sales.
Inclusion Allies Coalition "Everyone is welcome here." Learn more to train teams and join the advocacy program.
Internet Advisor Find the internet service right for you among 2083 internet providers across 36,380 cities; plus, Cellphonedeal compiles excellent deals on phones, plans, and prepaid to furnish you with the best options in your area.
Kred Connect with top-rated influencers to learn from and grow your networks.
LinktoEXPERT "It is not who you know – who knows you and what your expertise can do for them, plus understand the value of hiring you."
Lotus Solution LLC Helps organizations create diversity and inclusion to ensure fairness and work through customized consulting, training, and keynote speeches.
Onalytica Find relevant influencers for your brand.
SalesPop! Purveyors of Prosperity; how to Compete against Yourself to Excel in your career.
Simma Lieberman, "The Inclusionist," helps develop inclusive leaders from the inside out to champion diversity and build equitable, inclusive cultures at every level.
Vunela Provides a unique opportunity to view Videos and read articles by World Leaders.
WebTalk is the one-stop platform To build your marketplace and grow social connections.
Win Win Women is the world's only interactive network and an international community for women. Women WIN when they receive solutions + Experts WIN when they provide solutions = Win Win Women.