Attract the Right Job Or Clientele:
Big Tech Innovations You Should Be Using In Small Business, Too
Our Collaborative blog provides insights regarding 'Big tech innovations you should be using in small business, too.'
When it comes to the latest and greatest in business tech innovations, the average small business owner is likely to close their ears to them. Why? The erroneous assumption in their thinking is that these innovations are not for them. They believe that big businesses are the only ones that can use these innovations.
However, that line of thinking is far from true. Certain recent tech developments are accessible and can be helpful to smaller businesses, as well. No matter the size of your business, it is good to review the insights below to determine whether you are currently overlooking one of the latest beneficial developments or gain confirmation you are on a steady track.
It would be a rare person who knows everything about the steady rise of innovation. So for large corporations, small businesses, and entrepreneurial endeavors, it may be beneficial to read the suggestions below.
_______________________________________
Big Tech Innovations You Should Be Using In Small Business, Too
Artificial Intelligence
We might not be at the point where we're unable to tell human interaction from a machine. Still, artificial intelligence is already playing an essential role in the customer service side of many businesses.
On-site chat tools have become a popular way to ensure that your customers get the attention and help they need when shopping, but not all offer enough assistance. You could offer your customers the best service by using AI-driven chatbots that rely on customer data to recommend resources, links, and answers to the most common problems, reducing your need to rely on human interaction to keep customers happy.
Big Data
Data has played an increasingly important role in many businesses, but big data isn't just for big business. Data management consultants can help you compile, structure, and better use that data. You likely already have a few data capture points, such as:
Marketing and social media analytics
Website analytics
Data submitted by customers directly through registration
Data on their purchase habits within your business
When you gather it all together and have the right people to interpret it, it can be beneficial in understanding customer data and internal operations, allowing you to make better decisions with more insight.
Automation
The mantra, 'Work smarter, not harder' has always been held close to heart by the intelligent business owner. There are, of course, ways to do this without automation, such as finding the most efficient way to do any task and making it part of the business guidebook through the process of standardization. However, plenty of software can be used to automate even your most simple daily tasks. Accordingly, they will free up your time for you to focus on things that make better use of your attention and energy.
The Cloud
The Cloud might have been an exciting new development a few years ago. Today, cloud usage is a more fundamental fact of life that you might be underusing. Cloud storage allows you and your team to access files from any location and device so long as you have the correct access details. However, Cloud software is where the real innovation lies. It allows you to access data and even the tools you use to do your work without downloading them. Look at some of the available options to determine if they will add to your flexibility for increased productivity..
Whether it's to enhance the brand experience, make better decisions, or work much more efficiently, there's a lot that you can use in your business when it comes to the latest tech.
For More Insights: Visit Elinor's Amazon Author Page
"Communicate to Attract Interest"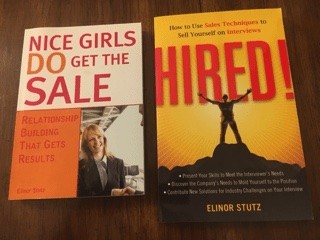 Be A Story-Teller
As the CEO of Smooth Sale, after her near-death experience, Stutz adapted the motto,
"Believe, Become, Empower.
"Nice Girls DO Get the Sale is an International Best-Selling and Evergreen Book – among the classics;
HIRED! Helped many to secure the job they desired.
Related Blog Stories:
Sales Tips: Big Tech Innovations You Should Be Using In Small Business, Too
Habits can prevent growth, and be willing to change what may hold you back.
When new ideas or technology arise, give due consideration to whether they may help further goals.
Speak with peers about innovations to see what they are using and ask, 'why?' for greater understanding.
Discuss with teammates how they are finding new technology and if they have advice for improving the usage.
Ask management to supply training for the team so that everyone may perform better.
As an individual, seek training outside of work to ensure you do everything you may to succeed.
As an entrepreneur, share where you may the insights you find with the clientele you want to attract to your business.
Make it a daily habit to read up on significant tech innovations for small businesses.
Challenge yourself to regularly give big tech innovations a try to see if the innovations will work for you.
Celebrate Success!
Today's insights are provided to help you achieve the Smooth Sale!
RESOURCES FOR PERSONAL AND BUSINESS GROWTH:
Advisorpedia Publishes information to help advisors build their practice, and those having an interest in the markets choose investments and find inspiration.
BizCatalyst360 Presents a life, culture, and biz new media digest serving as a hub of creative expression and personal growth.
CatCat Build your future one skill at a time.
For Book Lovers Only For Book Lovers Only introduces you, the book lover, to new and exciting authors and works of fiction and non-fiction.
GetCiara Make remote your unfair advantage.
Greg Jenkins Consulting LLC – Helping organizations realize the value of diversity to build inclusive, evolving, high-performing cultures.
Growth Hackers – Helping businesses worldwide grow with lead generation, growth marketing, conversion rate optimization, data analytics, user acquisition, retention, and sales.
Inclusion Allies Coalition "Everyone is welcome here." Learn more to train teams, and join the advocacy program.
Internet Advisor Find the internet service right for you among 2083 internet providers across 36,380 cities, plus Cellphonedeal compiles great deals on phones, plans, and prepaids to furnish you with the best options in your area.
Kred Connect with top-rated influencers to learn from and grow your networks.
LinktoEXPERT "It is not who you know – it is who knows you and what your expertise can do for them plus understands the value of hiring you."
Lotus Solution LLC Helps organizations create diversity and inclusion to ensure a fair and a just workplace through customized consulting, training, and keynote speeches.
SalesPop! Purveyors of Prosperity; how to compete against yourself to excel in your career.
Simma Lieberman "The Inclusionist" helps develop inclusive leaders from the inside out to champion diversity and build equitable, inclusive cultures at every level.
Vengreso Provides easy-to-follow on-demand sales training for LinkedIn.
Vunela Provides a unique opportunity to view Videos and read articles by World Leaders.
WebTalk is the one-stop platform. Build your marketplace and grow social connections.
Women's Information Network (WIN) An education-and-event-based Global Community of Women Helping Women Worldwide Live Their Best Lives through Celebration, Self-Improvement, and Service.