Attract the Right Job or Clientele
Change is a constant, and so it is possible to revise the perception of salespeople and the way in which management treats them. The lack of respect, integrity (in some companies), and unequal treatment among genders, has one scratching their head wondering why anyone would enter such a profession? If this sounds like your experience, please answer these survey questions by clicking here.
Given all of the above, a special team, within The Sales Enablement Society, is focusing on improving upon these issues and more.  We are asking every salesperson, within our reach, to please take fifteen minutes to complete a survey form. Once the results are in, you will receive the analysis. All we need is your input on the inherent problems you face so that together we may fix as many as possible. The bonus will be the ability to compare the worldwide experience.
My Story
The reason that I find speaking up so important is, I began my career in sales 25 years ago. It has taken all these years for people to wake up to the fact that there must be a better way to encourage and enable sales. On top of it all, I was one of the many millions who openly typed in #MeToo on the Twitter campaign, originated by Tarana Burke and reignited by Alyssa Milano. While this may appear as an entirely different topic, it is most definitely related to sales dysfunction and disablement that is prevalent in the corporate sales environment.
It was with great relief to turn to entrepreneurship after enduring 11 years of sales success, but with little appreciation from peers or management.  My mission became to teach those desiring a fulfilling career, the better communication and sales strategies, and to implement them on a higher plane. However, one person can only do so much.  We are much stronger together.
Your Story
Should you be a professional salesperson who enjoys working with clients, but believes management and systems may be improved, take time to consider these questions:
Do you see dysfunction within the office; if so how does it affect your time spent?

Could you be more time-efficient if newer systems were in place?

What if you and other salespeople you know were to each take a 15-minute survey to gain clear answers on how to improve all of the above?

Will the 15 minutes be well-spent if the common problem areas point to definitive answers?
Speaking up is not always easy, but sometimes it's the only way to make the change and see improvement ahead. At times like these, it's best to look at the grandest vision possible to see the benefit involving everyone in the sales profession today and future generations.
We are each a drop in the ocean, but by joining forces worldwide, we can become the tidal wave that makes change happen.
PLEASE fill out the survey and let's improve your career and that of those you know.
Sales Tips
When problems arise, speak up.

 

Don't just complain, but consider all possible solutions.

Spread the word for creating the solution to get additional help.

Distribute the word on social media platforms to widen attention to the problem.

Capture every thought that comes to mind

Gather with peers to find commonality among the issues and fixes.

Together devise a long-term solution

Connect the dots on the better ideas for a comprehensive fix to the problem(s)

Write, speak, post about the problems and the findings.

Share the entire process with everyone you know who will benefit from a positive change
Following these guidelines will lead you to the Smooth Sale!
P.S. Send us your sales related questions to elinor@smoothsale.net.
Book Packages Available ~ Call 408-209-0550.
Click Here to Visit Elinor's Author Page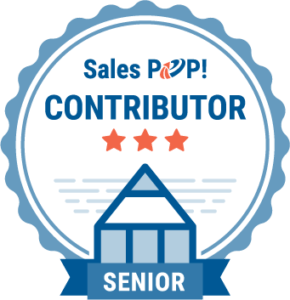 Visit EntrePerks for additional service to assist with business growth.