Attract The Right Job Or Clientele:
Note: Our collaborative Blog asks, 'Could A Franchise Be A Good Option For You?' and offers subject matter for serious consideration.
Not every franchise will satisfy one's needs and desires, and for that reason, it's wise to consider the inside knowledge and suggestions below. At first glance, it appears everything is done for you when it comes to marketing and branding. But each potential owner is to come to terms with the legal requirements and the effort it takes behind the scenes to be a successful franchise owner.
Today, many of us are searching for a way to work that gives us more control over our careers, income, and future. The pandemic highlighted how quickly you could lose work when you're relying on an employer. It's not surprising that many of us want to work for ourselves now to counteract the risks. Some are going self-employed, and some are setting up their own business. But have you ever considered getting involved with a franchise? Here's some information that could help you to see the benefits!
_________________________________________________
Could A Franchise Be A Good Option For You?
What Is a Franchise?
Let's start by determining what exactly a franchise is. Franchising can feel pretty complex and complicated when you first get involved, but it's easiest to understand if you consider it a type of licensing relationship. Franchises occur when a small business experiences high levels of demand and success that will allow it to expand dramatically. Still, the owner finds that they cannot control and run all the new branches or stores themselves.
In this situation, the owner may become a franchisor, granting other individuals grants and licenses to run these different stores and branches semi-independently. They will maintain the store's branding, marks, and regulations, and however, they will run it themselves. To get an idea of how this may look, you can browse franchises here.
Maintaining the Franchiser's Brand
One of the main challenges you will face when investing in a franchise is maintaining the franchiser's original brand. Sure, you can run this company like it's your own business. But there are going to be strict rules about the brand and how you represent it. Bear in mind that a company's brand is often its most valuable asset. By having the permission to use a successful brand, you realize the benefit.
Customers will recognize the brand and visit your store, purchasing your products without you having to do much marketing. Customers tend to stick to what they know, and you're selling what they already know. You don't have to worry about standing out against the crowd in a saturated marketplace and drawing attention away from big-name competitors. You are already an established brand and – potentially – a big-name competitor.
While most businesses often fail to make it past their first year of operation, you are with a company already in good stead, and you are ready to go. Make the most of the brand the company provides you. Avoid trying to change it without permission. Changes can break your franchising agreement and confuse customers, making them reluctant to shop or spend money with you. On a better note, your franchisor will likely give you a long list of brand guidelines that you can follow.
Playing By the Rules
It's essential that you play by the rules when you invest in a franchise. Always remember that ultimate control over the franchise lies in the franchisor's hands. They will likely provide you with some strict and legally submitted contracted terms and conditions. The requirement is to be fully ready and understand what you can and can't do to expand the franchise of which you are in control.
Make sure you know whether you have a franchise or merely a license. It's also important to be aware of three terms included in any franchising agreement. The franchise that you run must be substantially associated with the franchiser's trademark. You will have to pay an initial and possibly a continuing fee for the right to enter and remain in the business.
You will also be entitled to receive assistance from the franchisor should you need it. The agreement will also let you know whether you can expand, change protocol, or alter existing modes of operation laid out by the franchisor.
Get Legal Advice
Of course, if you're confused about anything in the agreement, it is a good idea to get some legal advice on the subject. A lawyer will be able to lay out what you can and can't do, according to the agreement, in plain language that's easy to understand. It can reduce the chances of you breaking the contract and finding yourself in trouble.
As you can see, getting involved with a franchise could be an excellent opportunity for you if you're looking for a straightforward way to take more control over your career and income. It's also beneficial for those daunted by, or simply uninterested in, starting up a business from scratch themselves. There are so many perks that come hand in hand with franchising that it's an option worth taking into serious consideration.
For More Insights: Visit Elinor's Amazon Author Page
"Communicate to Attract Interest"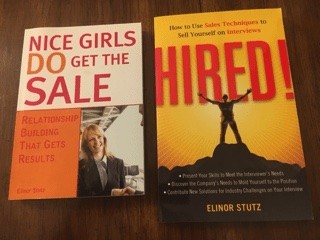 Be A Story-Teller
As the CEO of Smooth Sale, after her near-death experience, Stutz adapted the motto,
"Believe, Become, Empower."
"Nice Girls DO Get the Sale is an International Best-Selling and Evergreen Book – among the classics;
HIRED! Helped many to secure the job they desired.
Related Blog Stories:

Sales Tips: Could A Franchise Be A Good Option For You?
Contemplate the types of franchises that sound appealing.

Select an industry that you will enjoy during long working hours.

Compare the industry franchise opportunities you believe you will like.

Confirm with friends and peers which possibility appears to have the better brand recognition in place.

Visit an establishment nearby to experience the level.

Determine whether the level of service and offerings meet your requirements.

Realistically, come to terms with your financials and the request for getting started.

Have a lawyer review the legalities before purchasing a franchise.

Ask the attorney to explain the can's and cannot do's to you anything you do not understand.

Celebrate Success!
Today's insights are provided to help you achieve the Smooth Sale!
RESOURCES FOR PERSONAL AND BUSINESS GROWTH:
Advisorpedia Publishes information to help advisors build their practice, and those having interest in the markets choose investments, and find inspiration.
BizCatalyst360 Presents a life, culture, and biz new media digest serving as a hub of creative expression and personal growth
CatCat Build your future one skill at a time.
For Book Lovers Only For Book Lovers Only introduces you, the book lover, to new and exciting authors and works of fiction and non-fiction.
GetCiara Make remote your unfair advantage.
Greg Jenkins Consulting LLC – Helping organizations realize the value of diversity to build inclusive, evolving high-performing cultures.
Inclusion Allies Coalition "Everyone is welcome here." Learn more to train teams, and join the advocacy program.
Internet Advisor Find the internet service right for you among 2083 internet providers across 36,380 cities, plus Cellphonedeal compiles great deals on phones, plans, and prepaids to furnish you with the best options in your area.
Kred Connect with top-rated influencers to learn from and grow your networks.
LinktoEXPERT "It is not who you know – it is who knows you and what your expertise can do for them plus understands the value of hiring you."
Lotus Solution LLC Helps organizations create diversity and inclusion to ensure a fair and just workplace, through customized consulting, training, and keynote speeches.
SalesPop! Purveyors of Prosperity; how to compete against yourself to excel in your career.
Vengreso Provides easy-to-follow on-demand sales training for LinkedIn.
Vunela Provides a unique opportunity to view Videos and read articles by World Leaders.
WebTalk is the one-stop platform Build your marketplace and growing social connections.
Women's Information Network (WIN) An education-and-event-based Global Community of Women Helping Women Worldwide Live Their Best Lives through Celebration, Self-Improvement, and Service.