Photo by Bruno Thethe, Unsplash
Attract the Right Job Or Clientele:
Do You Flex The Freelance System?
NOTE: Terra L. Fletcher, Fletcher Consulting CEO, provides today's guest blog story, Do You Flex the Freelance System?
Terra L. Fletcher is the founder of Fletcher Consulting and author of "Flex Your Communication: 47 Tips for Every Day Success at Work." Terra has a decade of experience in business development. Her business and personal growth strategies have benefited individuals, nonprofits, public and private enterprises.
Terra was awarded Entrepreneur of the Year in 2012 by the Shawano Country Chamber of Commerce. Terra has spoken to the International Spa Association, Smart Customer Service 2018, the National Association of Broadcasters, and Bellin Health. She's currently searching for the world's best pecan pie. For more of her story, watch for Terra's next book, "Flex the Freelance: An Unconventional Guide to Quitting Your Day Job."
Terra's Story: Flex the Freelance System
It was October 8, 2009. I was on the edge of a breakdown. Deep down I knew that my desire was to flex the freelance system. I got up, closed the door to my office, and sat back down. I did what any self-respecting 20-something would do. I called my mom.
"Mom, I'm done. I just can't do this anymore. I have to quit."
I didn't know what I wanted to be "when I grew up." The only idea was to become a writer. From the time I was a preteen, I was continually scribbling poetry on scraps of paper. In my late teens, I realized how difficult it was to make money writing poetry. But deep down I knew that I wanted to flex the freelance system.
I wasn't likely to make the New York Times bestseller list. And I'm a perfect-or-nothing kind of girl. I wouldn't be a bestseller; I wouldn't sell at all. Upon graduating from high school, I worked.
The truth is, I had always worked. I was raised by serial entrepreneurs and grew up working. My parents had a business I could always fall back on. It was a successful service company that grew up with me. I didn't realize yet, however, how entrepreneurship had gotten into my blood. I took private time to figure out how I could flex the freelance system. Whether it was through DNA or osmosis, the idea was there, buried.
I got my first "real job" as an optimistic 21-year-old. I started entering daily production numbers for an interior door company. I wound up as a cost accountant five years later. But what was I doing in accounting? I'm a writer, a storyteller. I was the little girl who mentally scrambled words on cereal boxes and billboards for fun! The work was a long distance from being able to flex the freelance system.
Testing The Market and My Writing
Always below the surface was that entrepreneurial drive bubbling, and simmering. I so wanted to flex the freelance system. In September 2007, my thoughts came to the surface. I submitted a few articles to publishers and competed against other writers. I sold five of the ten pieces I wrote in the first two months. I thought, "Maybe I can make money via writing." My freelance journey began with the mission to flex the freelance system.
Selling what I wrote was an absolute thrill! Even if it wasn't enough to pay the bills yet.
I had to stay on my unfulfilling day job. Of course, there is nothing wrong with accounting. It's just not for me. I was pushed into a mold that I didn't create. I was depressed. It wasn't just the job. My passion was to flex the freelance system that I felt I could change. It would bring my life into a better balance.
Reaching the Make It Or Break It Point
I had drifted so far away from where I wanted to be. All the pressure piled up, and I was suffocating. Under the weight of one too many excel charts, this camel's back broke. I reached that point, that place in time, crossed that line, hit that wall. That was it. I was done! My thought was, 'if only I can flex the freelance system!'
It was October 8, 2009. I closed the door to my office, sat back down, and called my mom. She told me the best advice I ever heard. (She always does.) "Get out a calendar. Pick a day. Mark the day you're going to quit. It doesn't matter what day it is, just pick it! Put a big X on it. Now, work backward. What is the last thing you need to be able to do before you quit? And just before that?"
Setting Goals and Working to Achieve Them
It sounds simple, but she was right. It's easier to see yourself at your end goal and plan backward. I set the date, April 14, 2010. I knew how much money I needed to make and the cushion I wanted in savings. From that phone conversation onward, I worked harder than ever.
I joined the local Chamber of Commerce, the local writers' group, the statewide writers' group. I was attending meetings, networking events, and writing a lot.
In December 2009, the plant I worked at went into receivership (a fancy word that meant I was out of a job). I packed up my personal belongings, ran off a few copies of my resume, and gave everyone my freelance business card. Now what?
I had hoped to storm the boss's office in four months. I imagined what it would be like to quit my day job; how it would smell, taste, and feel. It was to change on my terms. Instead, I felt executed. There was no pomp or circumstance. Just cold snow blowing on my face, a lot of doubt, and fear. It was just me, alone, with a pen and a little more time. I knew what I had to do. Despite my nagging doubts that I was too young and didn't have enough education, I knew. I had to be an entrepreneur. The question in my mind was, how do I flex the freelance system?
The Start of My Entrepreneurship
Recognizing the need for local businesses to have effective advertising and website content, Fletcher Freelance gained traction.
It wasn't easy. I had plenty of hard days, weeks, months. But then I remembered how out of place I felt before, how unfulfilled I was in all my other jobs. And I remembered why I was doing this. Not just because I wanted to write, but because I wanted more time with my son. I tried to teach him the importance of keeping work in its place. My job had overrun me. I wanted to show him how to find more happiness at work by aligning the values in our career with those of our personal lives. My time arrived for me to flex the freelance system.
Today, I get to work with entrepreneurs who base their business on a mission and vision that genuinely mean something. Writing and communication aren't just my jobs; they are my passions. I'm passionate about the psychology of marketing, the healing power of teaching communication, and the ridiculous pace of social media. I want to get inside your head and touch all the areas.
The speaking side of my business came about by chance. Requests came my way to speak at the local chamber of commerce and tech schools. I was broke, so I had to say yes. But I'm glad I did! I discovered that I love teaching. There's something about the way someone's eyes light up when they've just had an epiphany. I don't want people to learn things the hard way, the way I did. I get to help people carve their unique career trajectory, communicate more effectively, and sell more of their thing.
When I speak, I learn new things because I also listen. I share the very best golden nuggets I've gathered thus far. People, in turn, share with me their finest gems. I make people cry because I have touched them so deeply. I've helped them uncover something within. I give my audience the boost in confidence and the motivation they need to ask for and get what they honestly want in life. I help them to believe they are worth it.
As you flex the freelance system, you'll find greater happiness, make more money, and enjoy more time with the most important people. If you're flexible and willing to freelance, it is possible to live the life you want. Stop staring out the window.
Stop daydreaming. You know what you want! Get after it!
" Communicate to Attract Interest"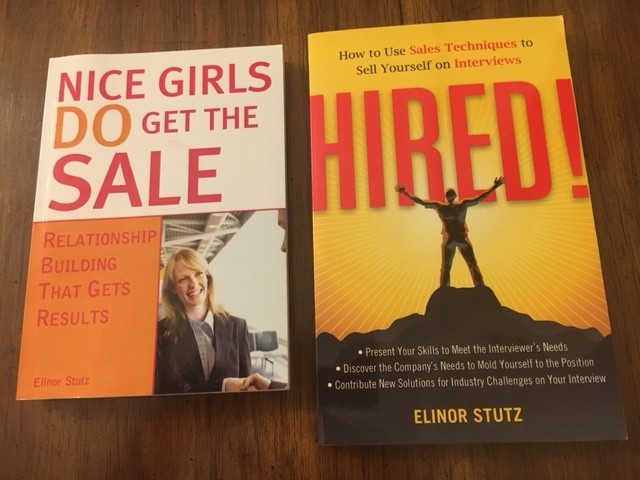 Be A Story-Teller
As the CEO of Smooth Sale, after her near-death experience, Stutz adapted the motto,
"Believe, Become, Empower"
Nice Girls DO Get the Sale is an International Best-Selling and Evergreen book – among the classics.
HIRED! Helped many to secure the job they desired.
Related Blog Stories:
Sales Tips: Flex The Freelance System
Be honest with yourself about what you want

Imagine what can be if and when you take action

Plan initial goals and milestones as they relate to your ultimate vision

Admit which subject matter you may need to conquer

Create a mastermind group to discuss essential matters

As you move forward, revise your goals, milestones and plan

Embrace new technology to be more productive and up to date

Seek out collaborative partners

Add branding and marketing strategies to your effort

Celebrate Success!
RESOURCES FOR PERSONAL AND BUSINESS GROWTH:
Advisorpedia Publishes information to help advisors build their practice, and those having interest in the markets choose investments, and find inspiration.
BizCatalyst360 Presents a life, culture, and biz new media digest serving as a hub of creative expression and personal growth.
CatCat Build your future one skill at a time.
For Book Lovers Only For Book Lovers Only introduces you, the book lover, to new and exciting authors and works of fiction and non-fiction.
GetCiara Make remote your unfair advantage.
Greg Jenkins Consulting LLC – Helping organizations realize the value of diversity to build inclusive, evolving high-performing cultures.
Growth Hackers – Helping businesses from all over the world grow with lead generation, growth marketing, conversion rate optimization, data analytics, user acquisition, retention and sales.
Inclusion Allies Coalition "Everyone is welcome here." Learn more to train teams, and join the advocacy program.
Internet Advisor Find the internet service right for you among 2083 internet providers across 36,380 cities, plus Cellphonedeal compiles great deals on phones, plans, and prepaids to furnish you with the best options in your area.
Kred Connect with top rated influencers to learn from and grow your networks.
LinktoEXPERT "It is not who you know – it is who knows you and what your expertise can do for them plus understands the value of hiring you."
Lotus Solution LLC Helps organizations create diversity and inclusion to ensure a fair and just workplace, through customized consulting, training, and keynote speeches.
SalesPop! Purveyors of Prosperity; how to compete against yourself to excel in your career.
Simma Lieberman "The Inclusionist" helps develop inclusive leaders from the inside-out, to champion diversity and build equitable inclusive cultures at every level.
Vunela Provides a unique opportunity to view Videos and read articles by World Leaders.
WebTalk is the one-stop platform Build your marketplace and grow social connections.
Women's Information Network (WIN) An education-and-event-based Global Community of Women Helping Women Worldwide Live Their Best Lives through Celebration, Self-Improvement, and Service.