Attract the Right Job or Clientele:

Deb Calvert, The Sales Experts Channel provides today's Blog Story and her Proven Resource!
Why I Created the Sales Experts Channel to Be A Proven Resource:
I launched The Sales Experts Channel in 2017 with this stated Mission: "to offer educational content for sales manager and sales professionals in a collaborative community."
I was serious about that mission! I strongly believe that there's a need for sellers and sales managers to have a reliable place where they can get free and easy access to content from people who don't have a hidden agenda.
Daily dedication to improvement differentiates the successful.
Designed to Motivate and Inspire
The Sales Experts Channel is a rapidly-expanding library of content that's designed to educate and inspire sales professionals at every level. No matter what you want to learn about, if it's related to sales, you'll find it here. It's all free, and it's easy to locate in a topic index on the website page
We make it an inclusive community. You will hear a variety of perspectives and advice. And it means you'll find someone from your industry (or similar) providing insights and tips that are directly relevant to you. It's an effective and efficient way of getting the results you want.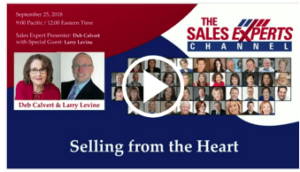 BrightTALK is the platform used to present content.
It is:
Easy to use

Proactive in listening to viewer desires

Dedicated to continually improving the User Experience

Home to over 7 million worldwide subscribers
Is the Channel for You?
The Sales Experts Channel is for those who sell or manage the sales function. Our subscriber base includes business owners and entrepreneurs, sales students, SDRs and BDRs, seasoned field sellers who are top performers, inside sellers who maximize existing accounts, hunters, sales managers and directors, CSOs, and everyone in between.
The Channel even has subscribers who come from other functions but want to build their sales proficiency and understanding. This resource is for those dedicated to learning and wanting to be inspired.
Sure, there are blogs and podcasts alongside paid membership sites and websites that sell you content. Many of those resources are good, too. But this one is FREE, and it always will be. These Sales Experts PAY to participate because they wholeheartedly believe in giving back and want to provide content for you!
Top users of the Channel have viewed over 200 webinars in the past two years. That's a lot of learning! You can sample one or an unlimited number.
You can see or listen to content on your computer or mobile device from anywhere. The Channel was designed with you — a busy professional who wants to keep learning — in mind.
Your Proven Resource Channel Offerings
What if you could have a FREE, practical resource for every seller and Sales Manager – would you take advantage of it?
Our Channel is unique and extraordinary. And it is the result of nearly 200 global sales authors, speakers, trainers, coaches, researchers, and thought leaders coming together to benefit the sales community.
The Channel adds new content every week. The Sales Experts are incredibly generous with their time and insights. Our experts provide bonus content. They will answer individual questions posted by viewers. Likewise, they welcome questions on the LinkedIn group for more in-depth discussions.
The Sales Experts Channel is not set up for anyone to make a profit. That's deliberate, too. It's a labor of love. After administrative and marketing expenses, I foot the bill and am happy to do that in service of the sales community.
Benefits for Viewers and Subscribers: It all begins with You!
See improved sales results when you take practical steps to use what you learn from The Sales Experts.

Never waste time trying to find what you need. On-demand webinars are arranged by topic so you can zero in quickly to view the content that's right for you.

Get a variety of perspectives and then find The Sales Expert who understands your unique challenges and industry best. There is no extra work trying to force fit something that's not quite right.

The information goes with you, anywhere you like. You can even download in advance to listen or watch when you don't have wifi. Or take The Sales Experts Channel with you to the gym or on a plane! 

Get all of your questions answered in your preferred communications style.

Most webinars and talks include bonus content. That means you also get tools, strategies, and additional learning on the topic.

It's all free. Save your money to spend on something else that will help you sell – a tool, app, extension, sales hack or deeper dive But start here to get high quality learning at no cost.
What You Can Expect in 2019:
Here's a sneak preview of five exciting changes for 2019. You heard it here first!
Presenters will be interacting with you in new ways including live video and screen sharing. We will also offer live, local workshops in a few select cities. Stay tuned!

Ada will be your new, personal AI assistant when you join a webinar or consider what content is going to be useful for you.

The whole platform is going to focus more on YOU and how to meet your needs for content. BrightTALK is committed to its viewers and subscribers

Coming soon will be "Replay Days." You can find material on critical themes all in one place on one day. It's to use this as a personal Master Class or as a team training session.

We have some exciting new presenters on board for the new year. It's an impressive roster of global Sales Experts. You will have opportunities to learn from all of them!
It's all free for the taking!  Here is how to get started today:
Subscribe to The Sales Experts Channel, so that you have immediate access.

Join our LinkedIn group for personal and in-depth discussions with The Sales Experts about their content on The Channel.

Visit our website for a look at all The Sales Experts and their content.
More than 320 webinars are arranged by topic so you can quickly find what you need. 
Today's 'Proven Resource' is provided to help you achieve The Smooth Sale!

Business Agility and Personal Development Are Requirements for Success
Whenever you believe a plateau is achieved, seek out help for getting your next climb in order!
We have partnered with the following companies to assist with your business growth and meeting your goals.  
Full Disclosure:  Fees may be applied and I may receive commission through the links.
            
Book Packages Available ~

email:

elinor@smoothsale.net  
Sales Hub – Direct OFFER: Inbound Selling Guide