Attract the Right Job or Clientele:
Throughout my career, I did occasionally feel as if I were moving backward. If only I was privy to today's tweet in the early years; I find it to hold profound insight. The tweet approximately said,
"The lowest you can sink becomes the firmest foundation."
My Story About Moving Backwards
It is very rare for a person to move forward in a perfectly straight line without setbacks. But for some reason, we erroneously believe others do not experience similar occurrences of obstacles.
During my career as a salesperson, each step forward quickly encountered the upheaval of moving backward. The better I did with my clientele, the worse the office atmosphere among the all-male management and otherwise sales staff became. I would question, 'why do I even bother showing up?'
But the answer to my question was and always will be; when we show up we prove to ourselves and others that yes, we can do it! The acknowledgment in our mind that we can find a better way is almost all we need to find the motivation necessary for continuing.
A common detractor is very often that of personal matters. The personal time removes the allotment we wish we would have to pursue our interests. Life and work become a balancing act. At times, we begin to question is the effort worthwhile? The answer resides in the level of importance the goal achievement holds for us.
At the point of pondering the significance of achieving our goal comes the question of, are we ready to quit? The problem is stopping seems like the simple solution, but quitting leads to a bigger issue. The regret that sets in later on is enormous as we imagine what we might have accomplished. My experience with regret is only that of hearing the stories of others.
As I reflect on the lowest points in my early personal life and later sales career, I realize that the circumstances were large gifts in disguise. Without those undesirable experiences, I would never have arrived where I am today.
It is with appreciation that the website, HavingTime, havingtime.com published my story. I shared the pitfalls to hopefully inspire others not to give up but pursue their heart desire with every ounce of energy. Take time to visit their site and garner ideas. We hold the same philosophy about the importance of sharing our stories with one another.
Meanwhile here is my story, "Dream is a wish your heart makes, so follow it."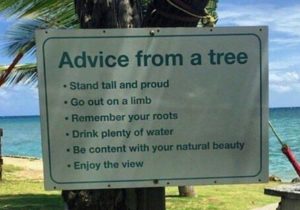 Blog Photo: advice from a tree previously on Twitter
Your Story About Feeling As If You Are Moving Backwards
Success is all about You! 
When you once again begin considering which direction to take, have a conversation with yourself in private. Elicit insights from your intuition and observations. Weigh the pros and cons of each idea to determine the better route. But if you aren't comfortable doing this alone, privately ask trusted peers their thought on the new possibilities.
Keep in mind that when you toss out ideas to the general crowd, many will sneer at your plan. However, the sneers aren't all bad. Take note of the one idea that receives the worst look or remarks. Most often, the shared thought that produces almost outrage among the crowd is the one you want to embrace. It is fear of you leaving the group behind that breeds the meanness, nothing else.
Whether you are employed or an entrepreneur, the trial and error plus lessons learned will put you ahead of your competition. Be fearless. When you ask yourself, 'what's the worst that can happen?' the answer is usually 'it doesn't work.'
When you come to recognize what does not work, you have the freedom to try another strategy. The lack of a workable idea allows you to put it to rest and move on to the next. Your persistence and not losing hope or sight of your dream is what will launch you forward and be ahead of the crowd.
The moving backward is only temporary when you are determined to succeed.
The following posts provide additional insights to consider: 
Sales Tips for Not Moving Backwards
Create a list of what is currently bothering you.

Prioritize the list of what you want to change.

Underneath each idea create a sub-list of plans for change.

Put your favorites on the sub-list in your preferred order.

Think about new possibilities every day and as ideas come, capture them on the list.

Listen to peers and their ideas while only selecting those that sound appealing

Smile when you hear a nasty remark and add it to your list

Create your task list and update it every day

Continue to monitor everything you try and make adjustments

Celebrate Success!
Today's blog is provided to help you achieve The Smooth Sale!

Click Here to Visit Elinor's Author Page
Book Packages Available ~ email: elinor@smoothsale.net  

Business Agility and Personal Development Are Requirements for Success
Whenever you believe a plateau is achieved, seek out help for getting your next climb in order!
We have partnered with the following companies to assist with your business growth and meeting your goals.  
Full Disclosure:  Fees may be applied and I may receive commission through the links.
Tony Robbins is a Proven Authority for Personal Development
  HubSpot Sales  "Sell More and Work Less!"
Sales Hub – Direct OFFER: Inbound Selling Guide
Today's blog is provided to help you achieve the Smooth Sale!