Attract the Right Job or Clientele: Qualify for Success
As I build my network, I continue to read the success insights and posts of many. And then I share the best of what I find with my connections. A side benefit is becoming familiar with those who I admire and share their work too.
The motivated spirit always catches attention.
Tony DiRico, Founder and CEO, ProfitHunters, provides today's list to help you qualify for success. And be sure to scroll to the bottom to see the collection of Entrepreneurial Icons and their motivating thoughts on success.
12 Characteristics of the World's Most Successful Entrepreneurs
Di Rico suggests you incorporate the following qualifiers for success into your daily routine. Your success just might exceed your wildest expectations.
Absolute clarity of purpose

They believe in themselves – totally

They are very good at finding needs and niches

Ability to focus on the essential things 1st

A contribution culture

An open mind 

Incredible networks, which they foster and participate in

Invest in themselves on all levels

They constantly challenge themselves

They believe in technology

Build resilience 

A millionaire mindset – having the right mindset, is one that embraces abundance. Opportunity is often the difference between a wealthy entrepreneur and a poor entrepreneur.
Continue Striving to Qualify for Success
All business is dependent upon sales and growth. Complementary to entrepreneurship is the profession of sales. Success in sales is due to entrepreneurial thinking plus creativity.
The motivated always strive to learn from the best and differentiate themselves from the crowd. Therefore, I encourage you to take a look at the latest book (click the picture) by Anthony Iannarino, "Eat Their Lunch." You will want to read his insights on winning customers away from your competition.
Iannarino is a bestselling author and internationally recognized speaker on sales, success, personal development, leadership, and entrepreneurship.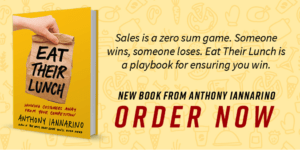 According to Innarino, Sales is a zero-sum game. To win deals, you need to beat your competition. Your win is someone else's loss. 
Most salespeople work in mature, overcrowded industries, with their offerings perceived (often unfairly) as commodities. Growth requires taking market share from your competitors, while they try to do the same to you. How else can you grow 12 percent a year in an industry that's only increasing by 3 percent? One way is to seriously consider his book. It just may help you qualify for success.  
"The critical ingredient is getting off your butt and doing something. It's as simple as that. A lot of people have ideas, but few decide to do something about them now. Not tomorrow. Not next week. But today. The true entrepreneur is a doer, not a dreamer" -Nolan Bushnell.
"Obstacles don't have to stop you.  If you run into a wall, don't turn around and give up.  Figure out how to climb it, go through it, or work around it." – Michael Jordan
Whether you are an entrepreneur or salesperson, read the following quotes of the highly successful to determine if you have the drive to qualify for success.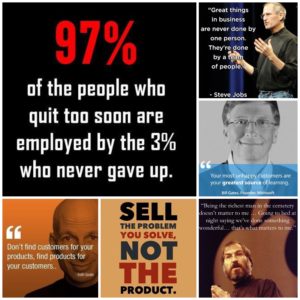 Sales Tips to Qualify for Success
Build credibility and trust

Always admit a lack of understanding for quick recovery and improvement

Learn from errors to leapfrog forward

Observe competitors realize what they do best

Huddle with trusted peers to encourage, promote and advise one another

Dedicate yourself to continued education

Changing times and technology require refining processes and overall plan

As goals are met, set a grander future vision

Help others following in your footstep

Celebrate and Qualify for Success!
Today's blog story is provided to help you achieve The Smooth Sale!

Business Agility and Personal Development Are Requirements for Success
Whenever you believe a plateau is achieved, seek out help for getting your next climb in order!
We have partnered with the following companies to assist with your business growth and meeting your goals.  
Full Disclosure:  Fees may be applied and I may receive commission through the links.
            
Book Packages Available ~

email:

elinor@smoothsale.net  
Sales Hub – Direct OFFER: Inbound Selling Guide