Attract the Right Job or Clientele:
It is always good to research the averages for your endeavors. But the error many sales trainers make is to suggest we strive for those numbers. Bad Idea!
My Story
Sports and sales strategy have much in common. Most notable is the strong desire to win the game. Therefore, having a goal of achieving the averages doesn't cut it.
One example comes from the days of knocking on doors in a territory, before the internet. A trainer suggested to the class that the average successful representative made fifty cold calls per day. Leaving the desire to be average behind, I set out to record sixty encounters per day. The effort paid off in the way of bonuses and recognition.
But my question is,
Who says to themselves, 'One day I want to be average!'?
Researching the numbers and recognizing how they are achieved gives informative insight. The knowledge you gain includes knowing what to avoid and which techniques to embrace. New ideas may come to mind and inject added enthusiasm for the new path ahead.
It is always wise to know what has gone before and takes place today. But, the goal is to improve tomorrow. Our higher target areas are achievable with the knowledge behind us and by holding our vision in front of us. Following the crowd and doing the 'same old' achieves little.
The brave few who are willing to take a chance of failing upfront, are the ones who succeed in the end.
For more insights, read:  "Do You Check Metrics?"    "Are You Deliberately Different?" 
Your Story for Studying the Averages 
Everyone encounters a struggle on occasion or many all at the same time. The differentiator is the motivation one has to move past. Most people excuse themselves with the lack of time for dedicating themselves to figuring out the next best move. But, the only way to see change is to prioritize it.
Should your results be in question, consider the following:
Does your process need enhancement

Are you varying your effort and measuring to see what works best

Are you continually educating yourself on the latest techniques?
Whether an entrepreneur or on a sales job, it is crucial to remain ahead of the curve. Continual learning that includes trial and error is a requirement to move past the averages.
With A Desire to Improve Sales:
Watch your competitors

Ask prospects who declined business why they decided on another vendor

Inquire what you might do to improve in the future
Create an online group to discuss a variety of related topics that benefit members. Privately, create a small peer mastermind group or a Board of Advisors. The purpose is to exchange insights regularly on new ideas of the day. By being open to varying perspectives, you are more likely to find the better path to take.
One added step is to join an organization where people are willing to discuss ideas and collaborate on projects. Another is to donate time helping communities that can use your expertise. It is the open environment where everyone is willing to learn and teach that moves people into leadership positions and past the averages.
Sales Tips for Reconciling the Averages
Study and remain abreast of the averages for your industry

Analyze how the numbers were formulated

Decide if the methods apply to your style

Consider how the numbers may increase with improvement

Confer with peers on their thoughts for moving past the norm

Experiment with new ideas for improving your results

Analyze which trials work best

Leverage the better tracks for greater gain

Share what you learn with peers and communities

Celebrate Success!
            

Book Packages Available ~

email:

elinor@smoothsale.net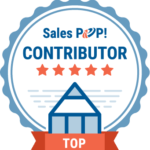 Visit EntrePerks for discounted proven services to assist with your business growth and meeting your goals.