Photo by Geralt via Pixabay
Attract the Right Job Or Clientele:
Do You Take Action Upon Receiving A Communication Upset?
Another email has me roiled due to my long-standing devotion to equality. Before incorporating AI, artificial intelligence, or any new strategy, it is wise to review the older methods to realize whether immediate deletion will be beneficial.! Moreover, below you will see the blogs I wrote concerning the topic and how we may improve our efforts.
What created today's uproar? An invitation to join a Zoom meeting with the exclusive word 'Man' made me wonder why I received the offer. I let the person know he will attract many more people to his effort should he be willing to swap the phrase, 'man' for 'human,' and 'mankind for 'humankind.' Continuing with the same focus on men will bring limiting results as time marches forward.
We are about to enter 2023, and much change is coming. Savvy businesspeople research to realize how new technology, communications, and strategies will serve a larger audience for more robust results.
My Story:
We are moving forward with technology, including artificial intelligence. Research reveals better ways to incorporate the new into our everyday efforts. Unless we change old habits, including rhetoric that today offends many, we will earn little and lose much in the failure to update. In sales, we refer to possibilities as our sales funnel or pipeline; offending people by being exclusive will have possibilities leak to someone else.
The beauty of AI is that it suggests connecting with people who think similarly to me. It enables a dynamic and strategic effort behind the scenes to reach more people and establish ourselves with authority. It is noticeable on popular social platforms that artificial intelligence offers suggestions for attracting a larger audience. Some of the notifications I receive include 'connect,' 'follow,' and 'submit new articles' – all of which extend our networks exponentially.
The honor of being featured in the media and receiving recognition of many kinds relate to the human kindness we show others. It serves no one to ignore our larger population or to omit segments. Moreover, our words must be valid and open to grow the business and sell well. It is far better to consider the exponential factor of the collaborative effort.
Should you desire to become a guest via interviews, it is necessary to witness that you are working on behalf of many.
In 2023, it will be wise to review current strategic habits and whether it's time to toss them for the new. Marketing and sales departments are slowly changing, and work-life balance is changing to include remote work. Leadership principles for many require an overhaul. The new system suggests welcoming ideas from everyone on the staff and implementing those that will benefit businesses, not just a few.
Your Story: Do You Take Action Upon Receiving A Communication Upset?
A google search provides the phrase, 'Hesitation kills dreams.' For those who have been ignored far too long, it gives momentum to making necessary changes. I immediately reached out to the person stating that he could reach for many more people if he were to change the word, 'Mankind' to Humankind.' But as expected, no response came my way. It will be curious how he proceeds.
It is always necessary to stand up to right a wrong, individually or for others. Although we may not hear the appreciation upfront, our audience will show their appreciation over time. And if you are seeking to build relationships and sales methodically, humor woven into story-sharing works remarkably well.
The good deeds are noticeable, encouraging more people to reach out to connect. In the long run, it's almost good to receive a communication upset so that we may demonstrate our stamina and desire to work on behalf of others.
It is essential to pledge to take action upon receiving a communication upset!
For More Insights: Visit Elinor's Amazon Author Page
"Communicate to Attract Interest"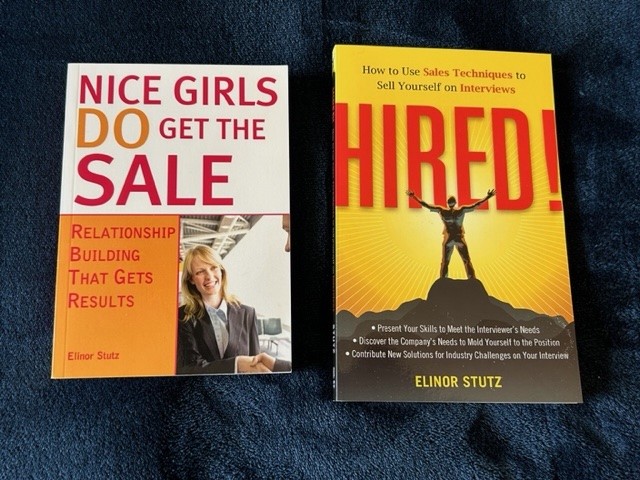 Authentic Relationships Are Essential
Be A Story-Teller
As the CEO of Smooth Sale, after her near-death experience, Stutz created the motto,
"Believe, Become, Empower"
" Nice Girls DO Get the Sale is an International Best-Selling and Evergreen Book – among the classics;
HIRED! Helped many to secure the job they desired.
Related Blog Stories: The Action You Take
Sales Tips: Take Action Upon Receiving A Communication Upset
Take action upon receiving a communication upset.
Hesitation can stop progress or twist a reputation before we know it.
But rather than using anger in your voice, inquire about the meaning behind the words.
Challenging another who believes they are superior will put them back on their heels.
Often the challenge will leave the perpetrator at a loss for words, realizing they need to retract their sentiments.
We can expand business exponentially by striving to include more people and listening to varying perspectives.
As communications and technology expand our thinking, it's wise to realize how we may incorporate the best of what we find.
Share the better strategies with your communities to empower more people.
Strangers, too, will be appreciative of the action you take upon receiving a communication upset.
Celebrate Success!
Today's insights are provided to help you achieve the Smooth Sale!
RESOURCES FOR PERSONAL AND BUSINESS GROWTH:
Advisorpedia Publishes information to help advisors build their practice, and those interested in the markets choose investments and find inspiration.
BizCatalyst360 Presents a life, culture, and biz new media digest serving as a hub of creative expression and personal growth.
CatCat Build your future one skill at a time.
ContactOut is a web-based platform that enables users to search for contact information and uncover contact details, including email addresses, phone numbers, and other personal data.
For Book Lovers Only For Book Lovers Only introduces you, the book lover, to new and exciting authors and works of fiction and non-fiction.
GetCiara Make remote your unfair advantage.
Greg Jenkins Consulting LLC – Helping organizations realize the value of diversity to build inclusive, evolving, high-performing cultures.
Growth Hackers – Helping businesses from all over the world grow with lead generation, growth marketing, conversion rate optimization, data analytics, user acquisition, retention, and sales.
Inclusion Allies Coalition "Everyone is welcome here." Learn more to train teams, and join the advocacy program.
Internet Advisor Find the internet service right for you among 2083 internet providers across 36,380 cities, plus Cellphonedeal compiles great deals on phones, plans, and prepaids to furnish you with the best options in your area.
Kred Connect with top-rated influencers to learn from and grow your networks.
LinktoEXPERT "It is not who you know – it is who knows you and what your expertise can do for them plus understands the value of hiring you."
Lotus Solution LLC Helps organizations create diversity and inclusion to ensure a fair and just work through customized consulting, training, and keynote speeches.
SalesPop! Purveyors of Prosperity; how to compete against yourself to excel in your career.
Simma Lieberman "The Inclusionist" helps develop inclusive leaders from the inside out to champion diversity and build equitable, inclusive cultures at every level.
Vunela Provides a unique opportunity to view Videos and read articles by World Leaders.
WebTalk is the one-stop platform To build your marketplace and grow social connections.
Women's Information Network (WIN) An education-and-event-based Global Community of Women Helping Women Worldwide Live Their Best Lives through Celebration, Self-Improvement, and Service.