Photo by Alexas Fotos Pixabay
Attract the Right Job Or Clientele:
Do You Use Spontaneity to Grow Networks?
Embracing spontaneity in your work and social presence can open doors wide for new opportunities and to see possibilities ahead. First and foremost, being spontaneous demonstrates that we are listening fully and that interest lies ahead for taking thought to the next level for the benefit of all. Moreover, it makes our encounters more joyful. The underlying theme is to show you enjoy your work and encourage others to see the positive.
My Story
A sales career is primarily viewed as serious business, literally. The sales representatives memorize questions to ask of their prospective clients without putting some 'skin in the game.' Yes, I always viewed aspects of sales as not only a game but a highly enjoyable one. There were days I couldn't believe I was earning commission for having fun-filled conversations with my clientele. Very few other representatives found the same due to the lack of spontaneity.
Examples of Spontaneity on Sales Calls
Be the train off the track.
Instead of asking routine questions, I would inquire whether a person enjoyed their work and how they decided to enter the field.

Our conversations became professionally personal, with an equal exchange to get to know one another. Comments on their end frequently brought previous experiences to mind that had us laughing out loud together. Laughter was my secret sales strategy, creating a tighter bond between us.

The offer of food is always well-received.
When people responded that they didn't have the time, I would reply, 'How about I bring in coffee with a treat to save you enough time to have an introductory conversation?' Upon receiving noteworthy business, I always treated the client to a relaxing, gourmet lunch.

Rarely is something 100%, but I cannot remember when my offer was ever turned down. The gesture develops a two-way appreciation and long-term business.

Humor on both sides of the table to earn what you want.
COVID shut down a vacuum cleaning service for a long while. Needing help, I visited the office. The gentleman said they have been short-handed since the pandemic, and he cannot help clean the vacuum. Instead, he gave me instructions and added that alcohol will add the finishing touch.
With a smile, I replied, 'Oh, that's great; you mean I can use Vodka to clean it!'
The man laughed aloud and said, forget what I just said. I'll do it for you!
Tasteful humor is one of the better ways to intrigue prospective clients, and most often in our social networks. People need a break from their everyday duties, and laughter does the trick. Even better, humor may provoke new ideas for partnering and extending introductions to grow your networks and business.
Examples of Spontaneity within Social Networks and Small Groups
A small group enjoyed one another's company while playing an actual game. Once the game was over, no one wanted to leave. So, we began sharing experiences plus more laughter. To my delight, two invitations came my way; one to visit a writer's group event. The next suggestion was to form a small lunch group with similar ideals and values.
When we express ourselves naturally, we are far more likely to find close friends who welcome our ideas and enjoy our companionship. Accordingly, our social networks grow how we desire. It serves us far better than doing our best to try to fit in doing things like everyone else but can't quite get it right.
Undoubtedly, a calm demeanor and being one's natural self with care about the others we meet contributes best to business growth than all the questions we can drum up and repeat. Experience shows we can use spontaneity to grow business and social networks for a more fulfilling lifestyle and bottom line.
Your Story: Do You Use Spontaneity to Grow Networks?
There is always pressure on sales representatives in companies to drum up more business. And if a representative does not accomplish doing so each month, regardless of all the factors, additional pressure is put on them to increase their stress levels further or risk their jobs. Should you be in a management capacity, consider how you train, reward, and promote the representatives in your charge. Otherwise, you may also face the forever costly need to hire, train, and re-hire all over again.
Most people first notice the demeanor of the other person or people in front of them. Memorization often has people looking up at the ceiling to recall the following words instead of directly at the person speaking. Accordingly, your new acquaintance of business prospect will notice you aren't listening and will soon bow out of the conversation.
The better approach is using a smile, being seen as seemingly energetic, and your curiosity will catch the attention of most, aligning with spontaneity. The same applies to social events, networking opportunities, and business development.
In Conclusion: Do You Use Spontaneity to Grow Networks?
Before any engagement, checking your smile in the mirror before you leave the premises or attend a Zoom meeting is best. Ensure you feel and sound energetic, along with the desire to learn from the people you meet to grow networks and business potential. It's a simple solution to use spontaneity to grow your networks.
For More Insights: Visit Elinor's Amazon Author Page
'Communicate to Attract Interest'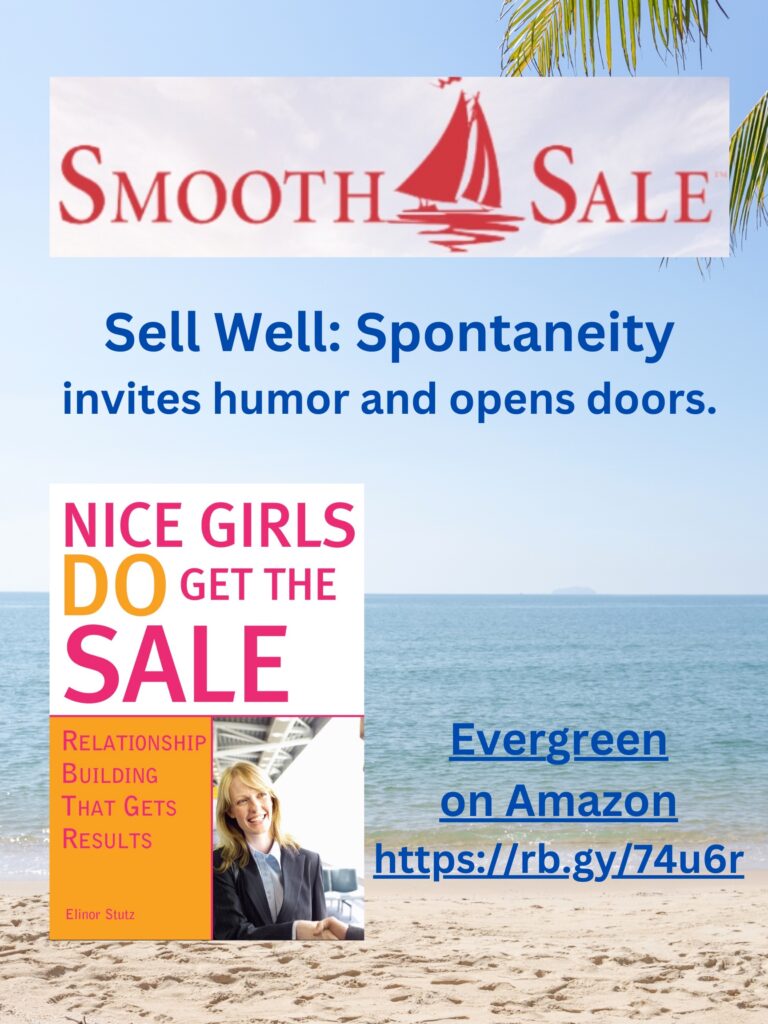 Authentic Relationships Are Essential
Be A Story-Teller
"Believe, Become, Empower"
Related Blog Stories:
Sales Tips: Do You Use Spontaneity to Grow Networks?
Instead of focusing on the need to recall questions, focus on the people in front of you to grow networks.
A relaxed nature with the desire to learn about the people you meet wins over more attention every time.
Sharing coffee and a snack relaxes the conversation and encourages a more engaging one with more than specific facts to share.
An additional goodwill gesture is to send an e-card thanking people for their time spent with you, which is always well-received.
When people come to mind on a holiday, send an e-card to wish them well.
Goodwill gestures go a long way to promoting you and your work, plus confirm trust in you.
Upon meeting with an introduction from another, send a positive note of thanks afterward.
Ask others what they are working on and aspire to achieve to connect on a deeper level.
Before ending a meeting of any type, ask if there are remaining questions or whether you may be of assistance now or down the road.
Celebrate Success!
Today's insights are provided to help you achieve the Smooth Sale!
RESOURCES FOR PERSONAL AND BUSINESS GROWTH:
Advisorpedia Publishes information to help advisors build their practice, and those interested in the markets choose investments and find inspiration.
BabyBoomer – A trusted media source that collects and curates all the news, resources, and shows of interest for the Baby Boomer generation.
BizCatalyst360 Presents a life, culture, and biz new media digest as a hub of creative expression and personal growth.
CatCat Build your future one skill at a time.
ContactOut is a web-based platform that enables users to search for contact information and uncover contact details, including email addresses, phone numbers, and other personal data.
Greg Jenkins Consulting LLC – Helping organizations realize the value of diversity to build inclusive, evolving, high-performing cultures.
Growth Hackers – Helping businesses globally grow with lead generation, growth marketing, conversion rate optimization, data analytics, user acquisition, retention, and sales.
Inclusion Allies Coalition "Everyone is welcome here." Learn more to train teams and join the advocacy program.
Internet Advisor Find the internet service right for you among 2083 internet providers across 36,380 cities; plus, Cellphonedeal compiles excellent deals on phones, plans, and prepaid to furnish you with the best options in your area.
Kred Connect with top-rated influencers to learn from and grow your networks.
LinktoEXPERT "It is not who you know – who knows you and what your expertise can do for them, plus understand the value of hiring you."
Lotus Solution LLC Helps organizations create diversity and inclusion to ensure fairness and work through customized consulting, training, and keynote speeches.
Onalytica Find relevant influencers for your brand.
SalesPop! Purveyors of Prosperity; how to Compete against Yourself to Excel in your career.
Simma Lieberman, "The Inclusionist," helps develop inclusive leaders from the inside out to champion diversity and build equitable, inclusive cultures at every level.
Vunela Provides a unique opportunity to view Videos and read articles by World Leaders.
WebTalk is the one-stop platform To build your marketplace and grow social connections.
Win Win Women is the world's only interactive network and an international community for women. Women WIN when they receive solutions + Experts WIN when they provide solutions = Win Win Women.