Attract the Right Job Or Clientele:
Are You Ready to Grow Your Business and Build A Remarkable Team?
It is nearly inevitable that without outstanding team efforts, businesses wouldn't exist and thrive like they used to. Strange but true! Our guest blog content asks and answers, Are You Ready to Grow Your Business And Build A Remarkable Team?
Every tiny contribution from every individual is significant because, as the team grows, the responsibilities increase, and the business finds ways to succeed. If the group is small, manual coordination would always be sufficient. As it grows beyond, automation comes into the picture for your team management and better outcomes.
Many software platforms make your job easy and negotiable – automation is critical as it helps you reduce manual stuff and step into the automated world where you need to configure it once. The rest is just a systematic process.
Growth becomes inevitable and is made possible with full-fledged support, motivation, and teamwork. From getting into the collaborative spirit, every business gets into the peaks of heights, and with their remarkable team, it is just amazing.
Always believe in change if you seek better progress to take your business to new heights. Believing in your team is vital because it is everything, enabling more significant success with teamwork. As your business expands, so does your team. Team management should be efficient and effective to experience success and be at its best. Below you will find tips for growing your business with a fantastic team.
__________________________________________________________________________________________________________________
Grow Your Business and Build A Remarkable Team
If you are looking for phenomenal business growth, you need to put in the effort and take a step ahead to calculate the growth patterns.
#1 Always Believe the Style of communication is vital!
Yes, you read it right. Communication and style are essential to drive your business in the right direction. Maintain transparency at every level, and it needs to give you some exciting experiences as it leads to successful growth levels. When remote working became the new normal, it was about creating connections in the digital workplace and coordinating with the team members and stakeholders to keep things under control. Always strive to manage and control the operations efficiently, as it will help you get better results in the long run.
The massive transformation from onsite to offsite was unprecedented, enabling businesses to understand better and run the company. Tracking the project's progress was commendable as it helped you to transform business communications. Relying on a no-code platform like Yoroflow simplified the process, and it helped them take the right chances to improve upon the ongoing challenges and updates. Digital workplace transformation was significant for businesses to settle upon the immediate changes that required firms to adapt to the changing situations.
#2 Selecting Project Management Software
Project management is one of the most daunting tasks every business needs to look carefully at. The right project management software for your business makes it easy to deal with timely deliverables and ensures you deliver the projects on time. It not only helps you to track the progress but also helps you to keep an eye on the metrics of the stakeholders. It allows you to identify the gap and help you to get adapted to the best environment that drives you toward business growth. Platforms like Yoroflow are a great fit as it is a no-code platform, and it does not require the user to be tech savvy and help you to drive the business in the right direction.
Always choose a system with better automation features that help you move around with the core business functionalities. Software platforms will ideally bring all the project stakeholders together and evaluate the performance based on their needs.
#3 Show Appreciation for Your Employees
Your employees are a great source of backbone for your business. The more you appreciate your employees, the more they will be motivated to do their best and remain for the long term. Boosting the morale of your employees will deliver more effective outcomes. Selection is essential as better picks can help you to get some of the best results with the executables for your business.
As business leaders, it is essential to handle customer service effectively. People deliver better results as they get more appreciation. Better service positively impacts the organization and helps you drive a favorable environment that syncs well with business ethics.
#4 Develop A Corporate Culture Embraced by All
Every business is unique in its way. A favorable corporate culture helps you align with better opportunities giving way to better exposure for your business. Culture is a common word in the corporate world, as it is the company's backbone. Ensure you pass on the best corporate values to the team, which helps keep the team's spirit high and motivated. Upon creating a corporate culture for your business, ensure that everyone follows it with the best practices, enabling you to define the brand as a whole.
#5 Effectively Deal with the Conflicts Within the Teams
Every team or every business will have conflicts that arise from within. Learning to deal with disputes is mandatory for every business to realize the correct curve. It will help you coordinate and efficiently evaluate the conflicts to encourage better team management.
Every team member may come from diverse backgrounds. Ideally, every individual will have their perspectives. Coordinating them in the best ways and easing the complications will enable alignment among team members. The best conflict management techniques will help you to step into some of the best process management, identifying the gaps and helping the business to streamline the entire process.
Wrapping Up!
Step into the world of phenomenal growth. Take the right action by researching the best [software platforms and start embracing automation. Have your team focus on the core business functionalities. Change is inevitable. Growing your business requires a change. Hiring and making the best talents work for you is crucial because that is how you grow as a team. Striving to encourage a remarkable team will help put your company in the spotlight. For example, Yoroflow is a no-code platform considered project management software. It can contribute to building a cohesive team to efficiently expand your business into new horizons with the best practices.
In Conclusion: Grow Your Business and Build A Remarkable Team
Project management software can empower teams, whether remote or in-house. Better results occur when we always strive for quality perspectives. It's time well spent researching how no-code platforms may empower your effort without the worry about the technical expertise of using the platform.
For More Insights: Visit Elinor's Amazon Author Page
'Communicate to Attract Interest'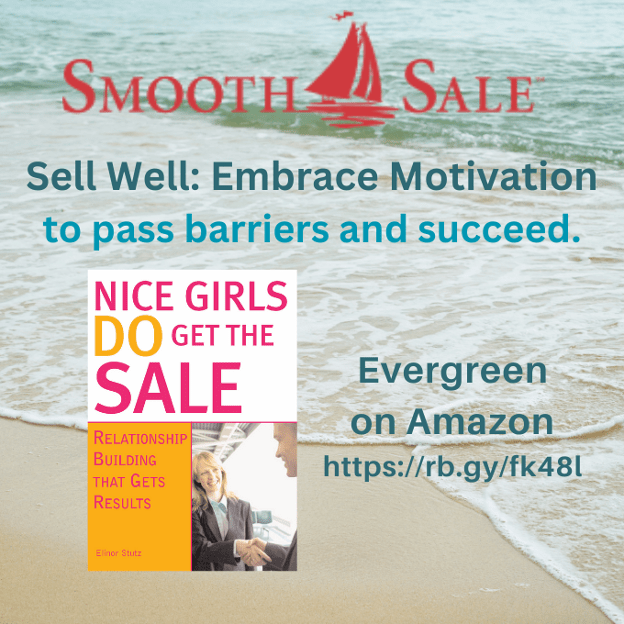 Authentic Relationships Are Essential
Be A Story-Teller
"Believe, Become, Empower"
Related Blog Stories:
Sales Tips: Grow Your Business and Build A Remarkable Team
Model the type of business you wish you had the privilege of working with in the past.
Encourage teamwork excellence to build a respected brand.
Be attentive to new ideas and feedback from your team members to continue enthusiasm for working for the company.
Reward employees who offer excellent suggestions.
After a big win, treat employees to a special outing for celebration.
Be attentive to diversity, equity, and inclusion to encourage camaraderie further.
Track the progress of your business as you increase awareness of building team spirit.
Take pride in realizing you are on the path to growing your business and building a remarkable team.
Create celebratory events upon learning outstanding achievements.
Celebrate Success!
Today's insights are provided to help you achieve the Smooth Sale!
RESOURCES FOR PERSONAL AND BUSINESS GROWTH:
Advisorpedia Publishes information to help advisors build their practice, and those interested in the markets choose investments and find inspiration.
BabyBoomer – A trusted media source that collects and curates all the news, resources, and shows of interest for the Baby Boomer generation.
BizCatalyst360 Presents a life, culture, and biz new media digest as a hub of creative expression and personal growth.
CatCat Build your future one skill at a time.
ContactOut is a web-based platform that enables users to search for contact information and uncover contact details, including email addresses, phone numbers, and other personal data.
Greg Jenkins Consulting LLC – Helping organizations realize the value of diversity to build inclusive, evolving, high-performing cultures.
Growth Hackers – Helping businesses globally grow with lead generation, growth marketing, conversion rate optimization, data analytics, user acquisition, retention, and sales.
Inclusion Allies Coalition "Everyone is welcome here." Learn more to train teams and join the advocacy program.
Internet Advisor Find the internet service right for you among 2083 internet providers across 36,380 cities; plus, Cellphonedeal compiles excellent deals on phones, plans, and prepaid to furnish you with the best options in your area.
Kred Connect with top-rated influencers to learn from and grow your networks.
LinktoEXPERT "It is not who you know – who knows you and what your expertise can do for them, plus understand the value of hiring you."
Lotus Solution LLC Helps organizations create diversity and inclusion to ensure fairness and work through customized consulting, training, and keynote speeches.
Onalytica Find relevant influencers for your brand.
SalesPop! Purveyors of Prosperity; how to Compete against Yourself to Excel in your career.
Simma Lieberman, "The Inclusionist," helps develop inclusive leaders from the inside out to champion diversity and build equitable, inclusive cultures at every level.
Vunela Provides a unique opportunity to view Videos and read articles by World Leaders.
WebTalk is the one-stop platform To build your marketplace and grow social connections.
Win Win Women is the world's only interactive network and an international community for women. Women WIN when they receive solutions + Experts WIN when they provide solutions = Win Win Women.