Photo via Pexels
Attract the Right Job Or Clientele:
Do You Want Seven Proven Strategies to Achieve Total Business Success?
No one disputes that running a successful business takes hard work and dedication, but working hard alone may not guarantee success. That's why we created this guide: to give enterprises proven strategies for ensuring total success. Our collaborative blog offers actionable tips to implement immediately to take your profits to new heights while increasing business success.
__________________________________________________________________________________________________________________
Proven Strategies to Achieve Total Business Success
1) Focus on Your Core Competencies
Focusing on your core competencies is vital to the long-term success of any business. We can define a core competency as any expertise or skill set unique to your company that gives it an edge against its competition and allows it to provide outstanding services or products to customers. Gaining an in-depth knowledge of these unique attributes is the cornerstone of sustaining success over the long term.
One proven approach to identifying core competencies is determining which activities distinguish you from competitors. For instance, web designers need to establish what distinguishes their work from others – such as which software or approach to customer service sets them apart. Doing so allows them to focus on strengthening these areas further and dedicate resources towards improving them.
One way to focus on your core competencies is by investing in technology that supports them. Advancements such as machine learning, artificial intelligence, and robotics make it easier for companies to become more efficient with operations while increasing productivity simultaneously. By acquiring new technologies, businesses can leverage existing skill sets while taking advantage of other opportunities that arise as a result.
Success lies in understanding what makes your business unique and capitalizing on that knowledge to generate value for customers, employees, and shareholders. The focus on core competencies while investing in new technologies where appropriate and striving toward excellence are surefire ways to secure long-term success for years to come.
2) Establish Strategic Alliances
Forming strategic partnerships is an essential strategy for business success. Partnerships enable businesses to utilize the expertise and resources of other organizations to increase competitiveness and uncover new opportunities. Companies gain access to new markets, target different customer segments, or develop cost-cutting solutions when joining forces with another company.
One fundamental way to ensure successful strategic partnerships is by setting clear goals and expectations upfront. Doing so ensures both parties know what each will contribute and why they benefit both. It is also crucial that both sides agree upon how to measure results so both can assess when things have succeeded or failed.
Communication is another essential factor of successful strategic partnerships. It's best to establish open lines of dialogue between both parties to ensure proper alignment and progress toward mutually beneficial objectives. Hold regular meetings to avoid miscommunication or misunderstanding among partners. Furthermore, companies must implement systems and processes which make tracking performance metrics easy to make necessary adjustments.
3) Employee Engagement
Engaging employees is vital to any business's success. Engaged workers tend to be more productive and motivated, which results in better customer service and higher profits for your organization. Employee engagement also facilitates improved working relationships, stronger morale among staff members, and higher job satisfaction overall.
Businesses must ensure a supportive work environment to keep employees engaged, including providing resources such as training opportunities and tools for staff to stay current with technology. Offering incentives like recognition awards or flexible hours show appreciation for hard work from employees.
Employers can engage their workers by regularly offering meaningful feedback. Doing this helps employees gauge their performance and identify any required changes. Furthermore, employers should ensure their workers' opinions are heard and valued in decision-making throughout the organization – this demonstrates respect for individual contributions and encourages employees to take pride in contributing to its success.
Employers should strive to foster open dialogue between management and staff regarding workplace issues or concerns to promote trust between both sides and allow for achieving common objectives more efficiently. Businesses that enable an environment of trust and respect will ensure employee engagement remains high over time, leading to improved productivity and profitability in the long run.
4) Operational Efficiency
Operational efficiency is integral to the success of any business, as it involves streamlining processes and procedures so a company can carry out its operations as cost-efficiently and profitably as possible. By adopting effective strategies to increase operational efficiency, businesses can maximize profits while decreasing expenses.
Automation can help enhance operational efficiency by relieving staff from mundane yet crucial tasks like payroll and customer service. Automated processes have many benefits, including:
Free the team up to focus on higher-priority work that boosts productivity overall
Decreasing human error risk and expenses associated with rectifying mistakes or delays in production or services.
Implementing lean manufacturing techniques is another strategy to maximize operational efficiency. Lean manufacturing strategies focus on eliminating waste, reducing complexity, and increasing value creation. You can accomplish it using tools such as process mapping to identify areas that exist in wasting resources. Lean manufacturing also enables businesses to identify production efficiencies by breaking processes into individual tasks, allowing easier time management and cost savings.
Businesses should invest in technology that will assist them with tracking performance and measuring results. Gaining data-driven insight into how effective their operations help identify areas for improvement so they can implement changes more swiftly.
5) Utilize IT Solutions
Modern businesses must utilize managed it solutions to increase operational efficiency, productivity, and profitability. Companies can automate mundane tasks using this technology so staff members can focus their energy on more important work; plus, IT provides data-driven insights that allow informed decisions.
Cloud computing services offer one of the best IT solutions to businesses today, enabling departments and teams to easily share data among themselves through cloud-based applications that store and share it. Cloud applications allow staff members to collaborate more easily while accessing information anytime from any device or location – eliminating upfront investments into hardware and software for your company.
Artificial Intelligence (AI) can give businesses an invaluable competitive edge with IT solutions. AI systems can automate complex tasks like customer service and analytics to reduce manual labor while increasing the accuracy and speed of task completion. Furthermore, AI algorithms help organizations quickly analyze large volumes of data for improved decision-making regarding marketing strategies, product development, or other business operations.
Implementing edge computing systems allows companies to gain real-time insight into customer behaviors and preferences to provide customers with an unforgettable experience. Businesses using edge computing systems can collect user engagement levels accurately by gathering data from devices like smartphones or wearables. By collecting this data, they can accurately measure user engagement levels to offer personalized services. Furthermore, edge computing reduces latency by processing data at its source rather than transmitting it around a network multiple times, reducing latency significantly and improving response times significantly.
6) Establish A Culture of Continuous Improvement
An organizational culture of continuous improvement is fundamental for any successful business. It involves regularly evaluating processes and making modifications that improve them over time. Companies should establish systems to collect feedback from employees, customers, suppliers, and other stakeholders, which can identify areas requiring improvement or optimization.
Businesses should go beyond collecting feedback to encourage staff members to make improvement suggestions. Doing so allows everyone to contribute ideas that foster innovation and collaboration between team members. Furthermore, having dedicated problem-solving teams ensure they can quickly and efficiently address issues without disrupting workflow too much.
Finally, it's essential to remember that cultivating a culture of continuous improvement is a constant journey. Companies should measure progress over time and strive to continuously improve processes, products, services, and customer experiences. Doing so will ensure they stay ahead of the competition while providing customers outstanding experiences.
7) Utilize Digital Marketing Strategies
Digital marketing strategies are essential to modern businesses to attract new customers and stay competitive in today's marketplace. By taking advantage of social media, search engine optimization (SEO), content marketing, email campaigns, analytics tools such as Google Analytics, etc., businesses can reach customers more effectively while adjusting accordingly.
Companies seeking to maximize digital marketing efforts must keep abreast of industry trends and technologies, such as video content. Utilizing this form of customer engagement is one-way businesses can distinguish themselves from competitors. At the same time, voice search optimization ensures users quickly find what they're searching for on mobile devices.
Digital marketing strategies are essential for businesses in today's marketplace, providing an edge against their rivals and increasing return on investment over time. Companies can effectively reach new customers by keeping up-to-date with emerging trends and technologies while increasing ROI.
In Conclusion: Proven Strategies to Achieve Total Business Success
The suggestions above allow you to review and revise your company strategies to achieve business success. Building a prosperous company is no easy task, but taking the above to heart and instilling them in your mind may be beneficial for you to achieve the goals you desire.
For More Insights: Visit Elinor's Amazon Author Page
'Communicate to Attract Interest'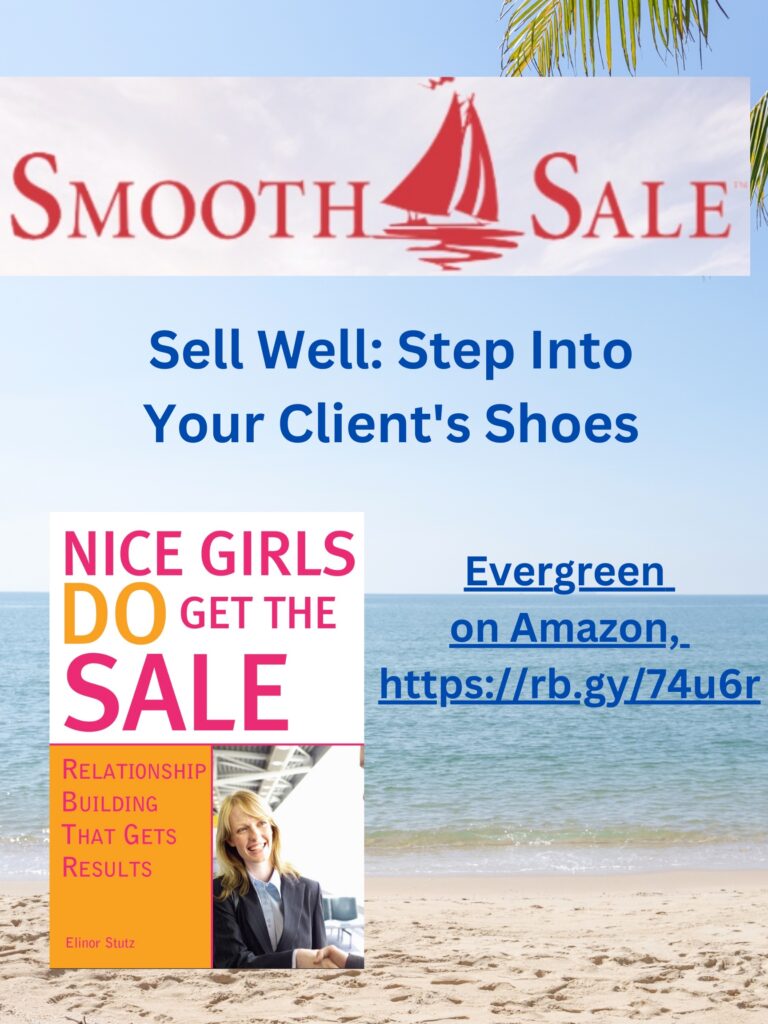 Authentic Relationships Are Essential
Be A Story-Teller
"Believe, Become, Empower"
Related Blog Stories:
Sales Tips: Proven Strategies to Achieve Total Business Success
Be willing to test and revise strategies to achieve total business success.
Experiment with sound ideas to see how you may improve upon them.
Realize that only some things work according to schedule.
Encourage staff to take participate in finding new methods that work well.
Exchange ideas with peers and partners, and the staff at team meetings.
Attempt what you hear and learn to implement it in your style.
Commit to ongoing learning and teach others in your care the same.
Celebrate those who contribute to your business's success.
Treat those in your employ to occasional meals and host events for team participation.
Celebrate Success!
Today's insights are provided to help you achieve the Smooth Sale!
RESOURCES FOR PERSONAL AND BUSINESS GROWTH:
Advisorpedia Publishes information to help advisors build their practice, and those interested in the markets choose investments and find inspiration.
BabyBoomer – A trusted media source that collects and curates all the news, resources, and shows of interest for the Baby Boomer generation.
BizCatalyst360 Presents a life, culture, and biz new media digest as a hub of creative expression and personal growth.
CatCat Build your future one skill at a time.
ContactOut is a web-based platform that enables users to search for contact information and uncover contact details, including email addresses, phone numbers, and other personal data.
Greg Jenkins Consulting LLC – Helping organizations realize the value of diversity to build inclusive, evolving, high-performing cultures.
Growth Hackers – Helping businesses globally grow with lead generation, growth marketing, conversion rate optimization, data analytics, user acquisition, retention, and sales.
Inclusion Allies Coalition "Everyone is welcome here." Learn more to train teams and join the advocacy program.
Internet Advisor Find the internet service right for you among 2083 internet providers across 36,380 cities; plus, Cellphonedeal compiles excellent deals on phones, plans, and prepaid to furnish you with the best options in your area.
Kred Connect with top-rated influencers to learn from and grow your networks.
LinktoEXPERT "It is not who you know – who knows you and what your expertise can do for them, plus understand the value of hiring you."
Lotus Solution LLC Helps organizations create diversity and inclusion to ensure fairness and work through customized consulting, training, and keynote speeches.
Onalytica Find relevant influencers for your brand.
SalesPop! Purveyors of Prosperity; offer how to Compete against Yourself to Excel in your career.
Simma Lieberman, "The Inclusionist," helps develop inclusive leaders from the inside out to champion diversity and build equitable, inclusive cultures at every level.
Vunela Provides a unique opportunity to view Videos and read articles by World Leaders.
WebTalk is the one-stop platform To build your marketplace and grow social connections.
Win Win Women is the world's only interactive network and an international community for women. Women WIN when they receive solutions + Experts WIN when they provide solutions = Win Win Women.