Attract the Right Job Or Clientele:
Do You Want To Win Over More Clients?
The amount of success you achieve in business depends upon your ability to secure a book of loyal clients. You risk not meeting your goals and losing money over time without properly appreciating customers who return in the future. It also entails establishing a marketing strategy and taking actions that consistently get you in front of and noticed by your target audience.
You not only need to pay attention to your returning customers but also need to work on expanding your business over time. These tips below will help you win over more clients so you can have a prosperous future and a stable business to show for it. Accordingly, our collaborative Blog offers you 'Tips to help you win over more clients.'
__________________________________________________________________
Win Over More Clients
Brush up on your Sales & Presentation Skills
You will need to let people know what you do and what you're selling clearly and convincingly. Therefore, it's worth your effort to take the time to brush up on your sales and presentation skills. You must know how to secure a meeting with potential leads and get them to bite and commit once you're in front of them. Win over more clients by ensuring you are confident and knowledgeable about what you are selling and how to best present the information. Also, ensure your employees interacting with customers, and potential clients are well-knowledgeable and well-informed to give a great impression.
Make Them Feel Special
To win over more clients, you must find ways to make them feel special. Work hard to impress and wow them, and ensure they know you value them. For instance, it's wise to use a corporate catering company for meetings and events so that you can wine and dine them appropriately. It may mean the difference between them choosing to go with your company over the competition. Find ways to go above and beyond not just to meet but exceed their expectations.
Build & Nurture Relationships
Your clients don't want to feel like another number or sale. Instead, focus on building and nurturing relationships with your customers. Get to know them as people and individuals and learn their interests and what they like or don't like about your company. Treat them like human beings and show them your authentic side as well. They'll appreciate this approach and will likely think of you first when they need solutions that you provide. Tell them they can call you to talk business and that you're always happy to answer any questions. You're more likely to achieve client loyalty in the long run when you build relationships.
Be A Good Listener
Another tip to help you win over more clients is to be a good and active listener. It's not about always doing the talking but also lending an open ear. Take in the information your potential clients share and then confirm that you heard them right. You want to ensure that you provide solutions tailored to their specific needs that address their unique business model and approach. You can learn a lot by simply being willing to listen more and not make judgments or assumptions right from the start. You can earn their trust by figuring out their pain points and then properly addressing these.
Go Where They Are
To be a successful business owner, you need to know your target audience and where they spend their time. It's all about being in the right place at the right time and having a polished message to share. Win over more clients by going where they are to get in front of them without fail. It may require that you speak at a particular conference or sponsor a specific event in your area. Do what you must to ensure you can connect with potential leads and clients and share your vision about what makes your company a good fit for them.
Collect and Share Testimonials
You don't always want to appear strong and bold when selling your services or products to clients. Instead, it may be better to have past and current customers talk for you. In this case, be diligent and proactive about sharing testimonials about what it's like to do business with you and why your customers are satisfied. You can win over more clients when you show them the results they can expect and that other people are pleased with your business. You can post them to your website and print them in your marketing brochures so that they get noticed.
Follow-up and be Persistent
You can also win over new and more clients by being persistent. Follow up with leads and those who you've had conversations with previously. You never know when someone may be ready to jump in and work with you. If nothing else, it'll show you care and that you remember who they are, and you will develop a relationship with them. Use these conversations to highlight and sell your services or products and get to know them better as individuals and what they're looking for. You may miss out on opportunities to close more deals if you forget to or aren't consistent about following up with those you meet and interact with.
In Conclusion: Win Over More Clients
You can't wish and hope you'll secure new business and continue growing your company. Instead, you must be prepared to put in the hard work and effort to get in front of the right people with a strong and memorable message. These tips are some of the best ways to ensure you win over more clients and can continue progressing with your business. It's about attracting more customers and ensuring you speak to the right ones. Be willing to upgrade your strategy, sales, and marketing approach to reach your full potential and find long-term success.
For More Insights: Visit Elinor's Amazon Author Page
"Communicate to Attract Interest"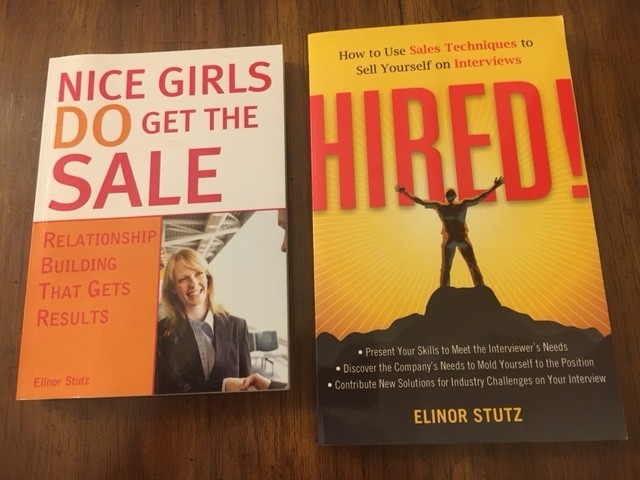 Authentic Relationships Are Essential
Be A Story-Teller
As the CEO of Smooth Sale, after her near-death experience, Stutz created the motto,
"Believe, Become, Empower"
" Nice Girls DO Get the Sale is an International Best-Selling and Evergreen Book – among the classics;
HIRED! Helped many to secure the job they desired.
Related Blog Stories:
Sales Tips: Win Over More Clients
These tips are some of the best ways to ensure you win over more clients and can continue your business.
Customer attraction is vital for growth, but more essential is knowing the precise qualifications for better clients.
Observe that you are speaking to the appropriate prospects to avoid wasting time.
Should the conversation be too trying, diplomatically end the conversation for your time to be better spent elsewhere.
Always be on guard to upgrade your marketing and sales approaches, plus strategies.
Consider providing a questionnaire for your clientele to learn more and offer them a bonus should they participate.
Review all suggestions your clientele provides to select the best.
Reward the people who provide the idea you like the most and will use.
Our tips to win over more clients are to help you reach your full potential and be in business for the long term.
Celebrate Success!
Today's insights are provided to help you achieve the Smooth Sale!
RESOURCES FOR PERSONAL AND BUSINESS GROWTH:
Advisorpedia Publishes information to help advisors build their practice, and those interested in the markets choose investments and find inspiration.
BizCatalyst360 Presents a life, culture, and biz new media digest serving as a hub of creative expression and personal growth.
CatCat Build your future one skill at a time.
For Book Lovers Only For Book Lovers Only introduces you, the book lover, to new and exciting authors and works of fiction and non-fiction.
Greg Jenkins Consulting LLC – Helping organizations realize the value of diversity to build inclusive, evolving, high-performing cultures.
Growth Hackers – Helping businesses globally grow with lead generation, growth marketing, conversion rate optimization, data analytics, user acquisition, retention, and sales.
Inclusion Allies Coalition "Everyone is welcome here." Learn more to train teams, and join the advocacy program.
Internet Advisor Find the internet service right for you among 2083 internet providers across 36,380 cities, plus Cellphonedeal compiles great deals on phones, plans, and prepaids to furnish you with the best options in your area.
Kred Connect with top-rated influencers to learn from and grow your networks.
LinktoEXPERT "It is not who you know – it is who knows you and what your expertise can do for them, plus understands the value of hiring you."
Lotus Solution LLC Helps organizations create diversity and inclusion to ensure a fair and just workplace through customized consulting, training, and keynote speeches.
SalesPop! Purveyors of Prosperity; how to compete against yourself to excel in your career.
Simma Lieberman "The Inclusionist" helps develop inclusive leaders from the inside out to champion diversity and build equitable, inclusive cultures at every level.
Vunela Provides a unique opportunity to view Videos and read articles by World Leaders.
WebTalk is the one-stop platform. Build your marketplace and grow social connections.
Women's Information Network (WIN) An education-and-event-based Global Community of Women Helping Women Worldwide Live Their Best Lives through Celebration, Self-Improvement, and Service.