Photo Source (CC0)
Attract the Right Job Or Clientele:
Effective Ways To Improve Recruiting and Talent for Your Business
Businesses thrive when they hire well. From brilliant new ideas to hard-working individuals, these are the employees you want in your business because they can bring new productivity levels into your business. But most likely, most of those you hire won't be workers going the extra mile.
On the one hand, most people join smaller companies to build up their resume so they can apply for more credible and better-paying jobs. However, there are still many ways you can improve your recruiting efforts and find incredible talent for your business. The bonus is in attracting longer-term staff. The topic prompts our collaborative blog, effective ways to improve recruiting and talent for your business.
_____________________________________________________________________________________________________________________________
Improve Recruiting and Talent for Your Business
Networking Is An Excellent Starting Point
Whether you are networking as a small business at a trade event or using social media, getting the message out there that you're recruiting is essential. It is a great way to kick off your recruitment drive, as it can help you find qualified candidates right from the beginning. It narrows down the talent pool to people who have heard of or even interacted with your business, meaning they'll understand what it stands for.
What Kind of Brand Are You?
It's important to realize that your brand plays a huge role in finding the right recruits. How your company speaks to the world, your reputation and the message you want to send to others can all make a difference. Different company cultures and brand identities will attract different kinds of employees, so don't overlook the importance of using your brand to the fullest when finding strong talent. Play into your strengths, and don't overlook the importance of including your brand and its messages in your recruitment efforts.
When In Doubt, Seek Professional Advice and Assistance
Another great way to find strong talent is to use a headhunter. These talent recruitment experts can help you find the perfect employee for your business. Whether you're looking for fresh new talent to bring a different perspective to your company or a replacement for someone who intends to leave your business, a talent recruiter can help you fill those gaps. It is one of the better ways to find qualified talent for your business, but remember that finding the right person can take a while–mainly if you're recruiting locally!
Avoid Making Your Job Description the 'End All'
It's common for businesses to include an extremely detailed description in their job listings. They often detail everything the recruit should do and the qualifications and certifications they expect them to have. Unfortunately, this can quickly turn off potential talent because the truth is, most talent won't have experience in a particular field or job role. Instead, it would be best to focus on the recruit's potential, which reveals itself in an interview or by speaking with the candidate. If they have a great personality that fits your company culture and can show initiative, they may well be a better fit for your company than someone with just experience.
In Conclusion: Improve Recruiting and Talent for Your Business
Everyone has a unique identity. The better recruiting approach is identifying those willing to learn, working collaboratively within the organization, and being personable during the conversation. An excellent indicator is to realize which candidates are asking pertinent questions to relay how they may fit in and best contribute to the business. Keeping the company's goals in mind and using the suggestions above will help you improve recruiting and talent for your business.
For More Insights: Visit Elinor's Amazon Author Page
'Communicate to Attract Interest'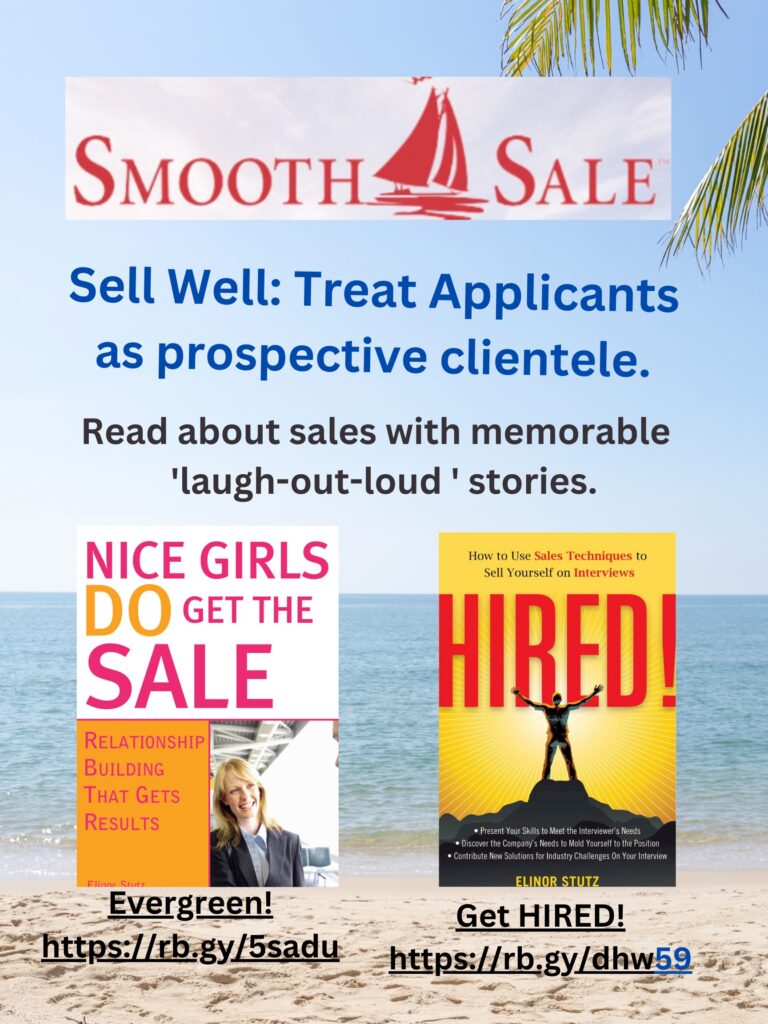 Authentic Relationships Are Essential
Be A Story-Teller
Believe, Become, Empower"
Related Blog Stories:
Sales Tips: Improve Recruiting and Talent for Your Business
Ensure that the people doing the recruiting are welcoming to all candidates.
Present questions that encourage an open dialogue for experience sharing.
Use questions to realize whether the person did their homework about your company and the industry before the interview.
Realize that the person having the most experience is not necessarily the better candidate.
Seek out people with the desire to learn in every way possible.
Strive for diversity to gain a more comprehensive array of experiences Design questions to determine whether the candidate will move past barriers and improve.
Request questions of the candidate to hear their communication style and determine whether they will be the right fit.
Realize whether each applicant reciprocates with a welcoming attitude.
Focus on talent plus an inclusive personality.
Celebrate Success!
Today's insights are provided to help you achieve the Smooth Sale!
RESOURCES FOR PERSONAL AND BUSINESS GROWTH:
Advisorpedia Publishes information to help advisors build their practice, and those interested in the markets choose investments and find inspiration.
BabyBoomer – A trusted media source that collects and curates all the news, resources, and shows of interest for the Baby Boomer generation.
BizCatalyst360 Presents a life, culture, and biz new media digest as a hub of creative expression and personal growth.
CatCat Build your future one skill at a time.
ContactOut is a web-based platform that enables users to search for contact information and uncover contact details, including email addresses, phone numbers, and other personal data.
Greg Jenkins Consulting LLC – Helping organizations realize the value of diversity to build inclusive, evolving, high-performing cultures.
Growth Hackers – Helping businesses globally grow with lead generation, growth marketing, conversion rate optimization, data analytics, user acquisition, retention, and sales.
Inclusion Allies Coalition "Everyone is welcome here." Learn more to train teams and join the advocacy program.
Internet Advisor Find the internet service right for you among 2083 internet providers across 36,380 cities; plus, Cellphonedeal compiles excellent deals on phones, plans, and prepaid to furnish you with the best options in your area.
Kred Connect with top-rated influencers to learn from and grow your networks.
LinktoEXPERT "It is not who you know – who knows you and what your expertise can do for them, plus understand the value of hiring you."
Lotus Solution LLC Helps organizations create diversity and inclusion to ensure fairness and work through customized consulting, training, and keynote speeches.
Onalytica Find relevant influencers for your brand.
SalesPop! Purveyors of Prosperity; How to Compete against Yourself to Excel in your career.
Simma Lieberman, "The Inclusionist," helps develop inclusive leaders from the inside out to champion diversity and build equitable, inclusive cultures at every level.
Yoroflow offers a comprehensive suite of digital workplace platforms to help you streamline your day-to-day operations, manage your finances, and grow your business.
Vunela Provides a unique opportunity to view Videos and read articles by World Leaders.
WebTalk is the one-stop platform To build your marketplace and grow social connections.
Win Win Women is the world's only interactive network and an international community for women. Women WIN when they receive solutions + Experts WIN when they provide solutions = Win Win Women.