Photo by Geralt via Pixabay
Attract the Right Job Or Clientele:
How to Encourage Continuing Education In The Workplace and Succeed
Our collaborative Blog provides insights on 'How to encourage continuing education in the workplace and succeed.' Everybody is a lifelong learner, and, indeed, you are never too old to learn something new. Learning allows you to expand your horizons, evolve, and help carve out a successful professional and personal life.
Career advancement depends upon the commitment to encourage continuing education in the workplace. Just because your employee is now receiving a salary to sit at their office desk rather than behind their school desk, they are to continue learning and equipping themselves with new skills, thoughts, and ideas. Additional new opportunities are more likely to arise as employees become more proficient in multiple areas.
Underlying the education, the initial encouragement, ongoing education, and helping lead employees to new levels in their careers will produce a loyal staff. They will likely remain for the longer term and devote their employment to the growth of the business.
________________
Encourage Continuing Education In The Workplace and Succeed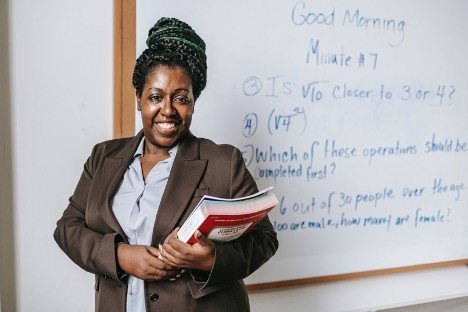 Photo credit Katerina Holmes from Pexels
What Is Continuing Education in The Workplace?
Continuing education in the workplace is the ongoing training and development of workers to improve relevant professional and or personal skills that will advance them in their careers. Continuing education allows someone to develop the skills and knowledge to excel in their role or strive toward a new and improved position.
Continuing Education in the Workplace can have the following benefits:
Motivates and values employees. Where an employer invests in the development of staff, it can result in improved staff morale and employees feeling more valued. In turn, it makes them more motivated in their role. It will also serve to improve the efficiency and reputation of your company.
Improve performance. Continuing education in the workplace improves staff skills, develops new skills, and helps them perform to their ability. It will ultimately enhance your company's performance and efficiency.
Improves employee retention rates. You benefit from the staff's productivity you have for a more extended time. Another byproduct of the staff feeling appreciated and valued in the workplace is increased staff retention. It can help overall performance and costs as you are not continually hiring and retaining new staff.
How Can You Encourage Continuing Education In The Workplace?
Incentivize learning. A great way to encourage people to do something is to provide them with an incentive for doing it. A great way to incentivize staff is to offer financial rewards. It could be by way of bonuses or salary increases should they attain a particular certification or award. Whichever way you decide to encourage continuing education in the workplace, everyone benefits.
Cover the cost of learning. Funding the ongoing training and development of staff is an essential tool to help encourage continuing education in the workplace.
Certification. Make it clear how completing a particular certification will improve their performance and opportunities within the company. Ensure that staff is aware of a specific course's importance, relevance, and connection to their job role. Staff should fully understand how a potential instruction will improve their current performance and future opportunities.
Career mapping. Career mapping with your staff aids in planning out the future career goals of employees. It aims explicitly toward how they might achieve the goals they hold in esteem. Take the time to have one-to-ones with staff and help discuss and map out a career path. It may allow you and them to undertake professional development courses to help them achieve their goals. Career mapping is the overall plan to encourage continuing education in the workplace.
In Conclusion: The encouragement of advocating for continuing education in the workplace will help employees further their careers and have them remain for the longer term, adding positively to the bottom line.
For More Insights: Visit Elinor's Amazon Author Page
"Communicate to Attract Interest"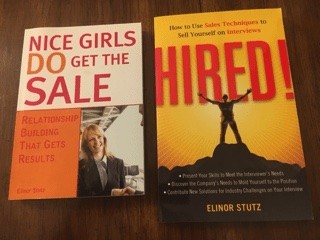 Be A Story-Teller
As the CEO of Smooth Sale, after her near-death experience, Stutz adapted the motto,
"Believe, Become, Empower.
"Nice Girls DO Get the Sale is an International Best-Selling and Evergreen Book – among the classics;
HIRED! Helped many to secure the job they desired.
Related Blog Stories:
Sales Tips: Encourage Continuing Education In The Workplace
When you encourage continuing education in the workplace and succeed, employees realize that you care.
Many employees want to know how they may advance their careers at their current place of employment.
The help you provide in mapping out a career advancement for employee appreciation returns the favor multiple ways.
Create a schedule to meet with individuals as they advance halfway and complete each course.
Revise career advancement plans as each person reaches new heights upon realizing what they want to achieve.
In team meetings, have employees share their most meaningful lessons to encourage their teammates.
As profits increase due to the continuing education and devotion to business, reward employees with annual bonuses.
Create varying celebrations for the staff as the company achieves more robust goals.
Before year-end, ensure that you meet with each employee to revisit their career expectations and revise continuing education in the workplace to comply with new technology.
Celebrate Success!
Today's insights are provided to help you achieve the Smooth Sale!
RESOURCES FOR PERSONAL AND BUSINESS GROWTH:
Advisorpedia Publishes information to help advisors build their practice, and those having an interest in the markets choose investments and find inspiration.
BizCatalyst360 Presents a life, culture, and biz new media digest serving as a hub of creative expression and personal growth.
CatCat Build your future one skill at a time.
For Book Lovers Only For Book Lovers Only introduces you, the book lover, to new and exciting authors and works of fiction and non-fiction.
GetCiara Make remote your unfair advantage.
Greg Jenkins Consulting LLC – Helping organizations realize the value of diversity to build inclusive, evolving, high-performing cultures.
Growth Hackers – Helping businesses worldwide grow with lead generation, growth marketing, conversion rate optimization, data analytics, user acquisition, retention, and sales.
Inclusion Allies Coalition "Everyone is welcome here." Learn more to train teams, and join the advocacy program.
Internet Advisor Find the internet service right for you among 2083 internet providers across 36,380 cities, plus Cellphonedeal compiles great deals on phones, plans, and prepaids to furnish you with the best options in your area.
Kred Connect with top-rated influencers to learn from and grow your networks.
LinktoEXPERT "It is not who you know – it is who knows you and what your expertise can do for them plus understands the value of hiring you."
Lotus Solution LLC Helps organizations create diversity and inclusion to ensure a fair and a just workplace through customized consulting, training, and keynote speeches.
SalesPop! Purveyors of Prosperity; how to compete against yourself to excel in your career.
Simma Lieberman "The Inclusionist" helps develop inclusive leaders from the inside out to champion diversity and build equitable, inclusive cultures at every level.
Vengreso Provides easy-to-follow on-demand sales training for LinkedIn.
Vunela Provides a unique opportunity to view Videos and read articles by World Leaders.
WebTalk is the one-stop platform. Build your marketplace and grow social connections.
Women's Information Network (WIN) An education-and-event-based Global Community of Women Helping Women Worldwide Live Their Best Lives through Celebration, Self-Improvement, and Service.