Photo by Geralt via Pixabay
Attract the Right Job Or Clientele
Five Ways to Increase Sales for Your Small Business
NOTE: Konrad Jasinski provides today's guest blog, 'Five ways to increase sales for your small business.'
Konrad Jasinski is a passionate writer and blogger with a soft spot for nature, travel, and all things tech. When he is not working on his blog or writing articles for Husky Hamster, he enjoys cooking, hiking, and spending time outdoors.
Although the content speaks to small businesses, it would be a rarity for any to say they have all they can handle. Large companies may likely realize a tip or two they may also incorporate into their repertoire.
Optimizing sales is always a top priority regardless of your small business type. Unfortunately, as every company is unique, there is no one silver bullet for this. One may benefit from offering cut-price deals, while another may find that providing a more customized service helps them to attract higher-paying customers.
Each business can use many strategies to boost sales. The best approach for your business will likely depend on many factors, including your industry, target market, and product or service you offer.
However, some basic sales-boosting strategies can be effective for any small business.
Providing outstanding customer service has become a key differentiator in recent years. Focusing on your buyers' needs and behavior and ensuring that they have a great experience with your brand at every touchpoint will increase loyalty and, in turn, sales.
Below, we have listed five effective ways to increase sales for your small business.
______________________________________________________________
Five Ways to Increase Sales
Increase Your Online Presence
To reach more customers and boost sales, you need to be visible online so people can find you.
To reach new potential customers, you'll have to make sure that you optimize your website for search engines. The best part is that there aren't as many limitations as with ad platforms, so you can use, for example, adult link-building services to promote products that might otherwise be considered taboo.
So, start by auditing your website to determine where it needs improvement. It should be easy to navigate, with clear calls to action encouraging visitors to buy from you or at least leave their contact information. Moreover, remember to optimize your site for mobile devices, as more and more people are using their smartphones and tablets to browse the web and make purchases.
Social media platforms are also excellent places to connect with potential customers and promote your brand. Post quality content that will interest your target audience. Use hashtags and other tools to make your posts more discoverable. You can also use social media platforms to run promotional campaigns or offer discounts.
2. Develop A Sales Strategy
Next, developing a sales strategy that considers your target market, product, and desired outcomes is vital.
Your sales strategy is to include a plan for how you will generate leads and convert them into customers. You can use content marketing, search engine optimization, or social media advertising to generate leads. Of course, other possibilities exist but do best with research to ensure it fits your model. Once a lead comes your way, initially consider the entire sales cycle and what it may take to continue to the end. Communication upfront may be via a phone call, email, or meeting in person.
Implement a system for tracking your leads and customers to measure your success and ROI. Doing so will help you to identify any areas that need improvement.
3. Offer Discounts and Deals
Discounts and deals can effectively boost sales, especially if you're starting or launching a new product. Value upfront plus the offer of a discount to new customers can help you to acquire them. Then you can work on retaining them with excellent customer service.
You can also offer discounts for loyalty, such as giving a percentage off to customers who make a certain number of purchases within a specific period. The offer type will encourage people to keep coming back.
Ensure that your discounts and deals appeal to your target market. Otherwise, you'll just be giving away your margin without actually increasing sales.
Moreover, be careful not to discount your products or services too much, as this can erode your brand's perceived value. If possible, test other deals, such as free shipping or buy-one-get-one-free offers.
4. Listen to Customer Feedback
Listening to your customers' feedback is essential if you want to address their needs and solve existing issues. Listening provides insights on connecting the dots for them concerning your products or services. The best way to do that is by taking advantage of various customer interaction channels, such as social media platforms (Facebook and Twitter are great for that), live chat, or online forums.
You can also use surveys or customer feedback forms to collect data on your customers' thoughts about your brand, product, or service. However, you have to act on the feedback you receive so that your customers know that you are listening and care about their experience.
Customer feedback will help you improve your products or services and prevent potential problems and issues. And, of course, happy customers are more likely to come back and recommend you to others.
Email marketing can be an effective way to boost sales. One caution is to implement it correctly.
It is essential to build a quality email list. You can do this by offering something of value in exchange for people's email addresses, such as a free report or e-book. Next, create email campaigns that will be of interest to your audience. Offer them something that they will find valuable, such as discounts, exclusive content, and, most of all, helpful tips.
5. Utilize Email Marketing
Email marketing can do wonders for your business, but avoiding coming across as spammy is vital. That's why it's important to personalize your emails, segment your list, and make sure that the emails you send are relevant to your customers.
Final Thoughts
Numerous strategies are available to boost sales for a small company. But the best approach will likely vary from business to business. It's best to select what will match your style of doing business.
Some general tips include:
Additionally, offering discounts and deals can be an effective way to attract new customers and encourage loyalty. Finally, listening to customer feedback is crucial for addressing any issues and ensuring that your products or services meet their needs.
In Conclusion: Five Ways to Increase Sales
The above suggestions may not make you the next Amazon overnight. However, if you implement them successfully and focus on refining your business operations, you will be on an excellent way to ensuring a prosperous future for your business. It will be well worthwhile to consider the suggestions of five ways to increase sales.
For More Insights: Visit Elinor's Amazon Author Page
"Communicate to Attract Interest"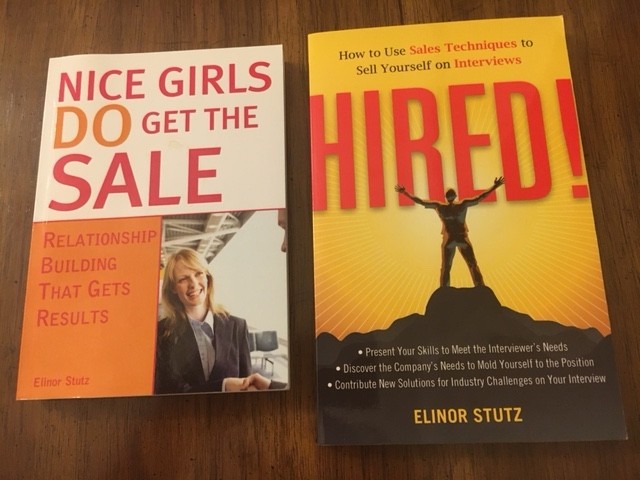 Authentic Relationships Are Essential
Be A Story-Teller
As the CEO of Smooth Sale, after her near-death experience, Stutz adapted the motto,
"Believe, Become, Empower"
" Nice Girls DO Get the Sale is an International Best-Selling and Evergreen Book – among the classics;
HIRED! Helped many to secure the job they desired.
Related Blog Stories:
Sales Tips: Five Ways to Increase Sales for Your Small Business
Research, observe, and determine the better ways to increase sales for your small business.
Upon purchasing an item, take note of all the interactions to realize what you admire plus will not do in the future.
Observe your competitors and realize what they may be doing differently and successfully.
Only adopt ideas that match your authentic way of conducting business.
Be willing to test a new idea, revise it, and try again.
Ask loyal clients what they like most about your service so that you will continue.
Consider expanding upon the venues that clients find favorable.
Respond immediately to negative commentary to realize if a change is in order.
Commit to continuous learning to include more modern ways to increase sales.
Celebrate Success!
Today's insights are provided to help you achieve the Smooth Sale!
RESOURCES FOR PERSONAL AND BUSINESS GROWTH:
Advisorpedia Publishes information to help advisors build their practice, and those interested in the markets choose investments and find inspiration.
BizCatalyst360 Presents a life, culture, and biz new media digest serving as a hub of creative expression and personal growth.
CatCat Build your future one skill at a time.
For Book Lovers Only For Book Lovers Only introduces you, the book lover, to new and exciting authors and works of fiction and non-fiction.
GetCiara Make remote your unfair advantage.
Greg Jenkins Consulting LLC – Helping organizations realize the value of diversity to build inclusive, evolving, high-performing cultures.
Growth Hackers – Helping businesses from all over the world grow with lead generation, growth marketing, conversion rate optimization, data analytics, user acquisition, retention, and sales.
Inclusion Allies Coalition "Everyone is welcome here." Learn more to train teams, and join the advocacy program.
Internet Advisor Find the internet service right for you among 2083 internet providers across 36,380 cities, plus Cellphonedeal compiles great deals on phones, plans, and prepaids to furnish you with the best options in your area.
Kred Connect with top-rated influencers to learn from and grow your networks.
LinktoEXPERT "It is not who you know – it is who knows you and what your expertise can do for them plus understands the value of hiring you."
Lotus Solution LLC Helps organizations create diversity and inclusion to ensure a fair and just work through customized consulting, training, and keynote speeches.
SalesPop! Purveyors of Prosperity; how to compete against yourself to excel in your career.
Simma Lieberman "The Inclusionist" helps develop inclusive leaders from the inside out to champion diversity and build equitable, inclusive cultures at every level.
Vunela Provides a unique opportunity to view Videos and read articles by World Leaders.
WebTalk is the one-stop platform To build your marketplace and grow social connections.
Women's Information Network (WIN) An education-and-event-based Global Community of Women Helping Women Worldwide Live Their Best Lives through Celebration, Self-Improvement, and Service.