Photo by Geralt via Pixabay
Attract the Right Job Or Clientele:
Do You Realize Focus Can Contribute to SEO Success?
Search Engine Optimization, or SEO, is the one factor that can heavily contribute to building name recognition both individually and for business. The automation tools available help handsomely for casting a wide net in gaining additional traction for building our brand.
Some may wonder how it's possible to compare search engine technology with a personal focus. Connecting new ideas with previous experiences and putting those we know in the mix can lead us to exceptional results, but we must be willing. Our brains are similar to computers when we allow them to make the connections and pay attention to those thoughts.
It was conveyed to me long ago that the concept refers to 'attraction marketing.' Having been actively involved in sales for many years, the idea of attracting interest instead of actively pursuing it sounded highly appealing, so I gave it a try. The initial attempts grew to find more ways to discover how our focus can grow brand recognition. Better yet, our focus can contribute to SEO success.
As we establish our careers, we sometimes think, 'success is for others.' However, when this type of thought arises, it's best to regain hope by enjoying the lyrics to the song, 'When You Wish Upon A Star,' from the movie, Pinocchio, sung by Julie Andrews:
'When you wish upon a star,
Makes no difference who you are
Anything your heart desires will come to you…'
First and foremost, the lyrics confirm that we are to embrace our unique identity and to work 'our way.' Imagination is what enables our ability to leapfrog over where we are today. My daily habit is to visualize my fondest outcome imaginable and follow-up with baby-steps. My mantra is, focus can contribute to SEO success.
Concentrating on my wishes for improving where I am today often brings the names of others to mind. And the moment the thought of an individual comes to me, I reach out to them. Is it worth the time to make an effort? Nothing remains stagnant; we all change by choice or otherwise. Accordingly, opportunities continue to surprise us. As the process continues, my network grows and enhances the collaborative possibilities. New offers of many types further build out networks and traction for business. We may regard this as our authentic style for SEO.
While it may seem strange to showcase two interviews in one Blog, the styles are different but complement one another and extend the storyline. Again, the unique approach helps us stand out – and contribute to SEO success.
The magic begins with the collaborative effort. Why? The exponential factor weighs in to make all the difference. An introduction by Greg B. Jenkins, the Committee Chair for Inclusion Allies Coalition, gave way to the first interview:
The show credit belongs to Marlon James Dulnuan, Podcast Host Co-ordinator, and Christa Atwood, the Show Host.
Our journey is a never-ending winding road, but there is always a theme underlying the effort. The reading of Robert Frost's poem at my high school graduation described and confirmed where I was going:
'I took the one (road) least traveled, and that made all the difference.'
As one who stood alone, it was a relief to come to an understanding of my destiny. Coincidence and fortuitously, Jessica Dugas graciously invited me to be a guest on her show entitled 'My Way.'
In Conclusion, there is little doubt that our focused thinking can contribute to SEO and empower our results endlessly when we allow it to occur.
Related Blog Stories:
'Anything is possible with Passion, Purpose, and Persistence!'
For More Insights: Visit Elinor's Amazon Author Page
"Communicate to Attract Interest'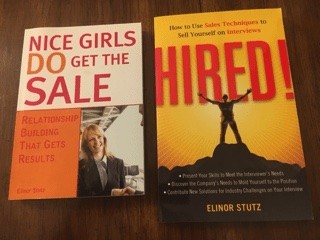 Be A Story-Teller
As the CEO of Smooth Sale, after her near-death experience, Stutz adapted the motto,
"Believe, Become, Empower.
"Nice Girls DO Get the Sale is an International Best-Selling and Evergreen Book – among the classics;
HIRED! Helped many to secure the job they desired.
Your Story
Everyday annoyances can get you down, making the personal focus essential for your success. Your focused thinking takes considerable practice until it becomes a habit. Attempt to make it a daily ritual during breaks from your routine, as it can contribute to SEO success.
Instead of asking the traditional question of 'why me?" transform it into inviting the answer, 'what are my takeaways to improve my journey forward?' Flexibility is necessary to revise our approach and customary practices.
On the more frustrating days, ask yourself:
Why am I so upset, and what needs to change?
HOW WILL MY SITUATION IMPROVE once I have what I need in place?
How can I take control to enjoy a better outcome?
Upon realizing a smile, create a plan of action via goal-setting to make your vision a reality. Remember that it's rare for any project to work out perfectly. Use the same strategies to fix whatever isn't quite right. But the essential element is to continue moving forward no matter the obstacles.
'Our mindset that dictates our outcome.
In Summary: It's necessary to believe in ourselves; otherwise, no one else will. Our focus can contribute to SEO success and much more!
Sales Tips: Focus Can Contribute To SEO Success
Make the question, 'Why?' your first destination for finding answers.
Reflect daily on what you ultimately want to accomplish.
Each day, practice associating an experience with someone you know.
Contact each person that comes to mind to exchange updates.
Upon hearing news of interest, delve into the topic for clarity.
Attempt to find collaborative efforts among trusted peers.
Seek insights from those in complementary roles and expand your knowledge.
Commit to ongoing learning that will enhance where you are today.
Be open to testing new ideas and revising current practices as your focus can contribute to SEO success.
Celebrate Success!
Today's insights are provided to help you achieve the Smooth Sale!
RESOURCES FOR PERSONAL AND BUSINESS GROWTH:
Advisorpedia Publishes information to help advisors build their practice, and those having an interest in the markets choose investments and find inspiration.
BizCatalyst360 Presents a life, culture, and biz new media digest serving as a hub of creative expression and personal growth.
CatCat Build your future one skill at a time.
For Book Lovers Only For Book Lovers Only introduces you, the book lover, to new and exciting authors and works of fiction and non-fiction.
GetCiara Make remote your unfair advantage.
Greg Jenkins Consulting LLC – Helping organizations realize the value of diversity to build inclusive, evolving high-performing cultures.
Growth Hackers – Helping businesses from all over the world grow with lead generation, growth marketing, conversion rate optimization, data analytics, user acquisition, retention, and sales.
Inclusion Allies Coalition "Everyone is welcome here." Learn more to train teams, and join the advocacy program.
Internet Advisor Find the internet service right for you among 2083 internet providers across 36,380 cities, plus Cellphonedeal compiles great deals on phones, plans, and prepaids to furnish you with the best options in your area.
Kred Connect with top-rated influencers to learn from and grow your networks.
LinktoEXPERT "It is not who you know – it is who knows you and what your expertise can do for them plus understands the value of hiring you."
Lotus Solution LLC Helps organizations create diversity and inclusion to ensure a fair and just workplace, through customized consulting, training, and keynote speeches.
SalesPop! Purveyors of Prosperity; how to compete against yourself to excel in your career.
Simma Lieberman "The Inclusionist" helps develop inclusive leaders from the inside-out, out to champion diversity and build equitable inclusive cultures at every level.
Vengreso Provides easy-to-follow on-demand sales training for LinkedIn.
Vunela Provides a unique opportunity to view Videos and read articles by World Leaders.
WebTalk is the one-stop platform Build your marketplace and growing social connections.
Women's Information Network (WIN) An education-and-event-based Global Community of Women Helping Women Worldwide Live Their Best Lives through Celebration, Self-Improvement, and Service.