Photo by Blizniak
Attract the Right Job Or Clientele:
How Can Team Building Activities Improve Company Success?
Whether it involves a week-long retreat or a few hours of fun, team-building activities can positively impact employees and a company's success. The positive results occur because planned events enable workers to make genuine connections with colleagues, problem-solve together and have deeper discussions.
A harmonious and close-knit team can improve productivity, communication, and a positive work environment. Our guest blog offers insights on how team-building activities can improve company success.
_____________________________________________________________________________________________________________________________
What Does Team Building Entail?
Team building is an excellent investment for all types and sizes of organizations. It involves an activity where team members collaborate and work together toward a common goal. Activities include icebreakers, scavenger hunts, escape rooms, charitable events, trivia, indoor and outdoor activities, and fun game shows.
These exercises, done well, can and will promote collaboration and camaraderie. Aside from the competition, fun, and bragging rights, team members can develop skills, test their strengths, address weaknesses, make memories, and more.
Benefits of Team Building Events
The following are various ways team-building activities can benefit organizations and their employees:
Boosts employee morale: The company's staff often measures its success by its people. When employees are happy and thriving, they do their best work. Team building exercises help boost employee morale and create one harmonious, effective team. Additionally, workers can experience less stress and burnout and may be more likely to stay in their current positions.

Encourages creativity and innovation: Online and in-person team building activities often let participants flex their creative muscles. They may feel comfortable to bounce ideas off one another, share ideas, and even inspire others. It can lead to enhanced creativity in the office.

Enhances company culture: Companies that invest in team-building resources show new prospects that they value their employees and want to cultivate a positive work environment. It can help attract top talent, as positive company culture is a top priority for many job seekers. What's more, employees can get a deeper understanding of company values and may experience a better sense of belonging.

Builds trust: Team-building games require participants to work together and rely on one another. The activities help build trust and communication between team members. It can also translate to better interpersonal relations in the office or remotely.

Identifies strengths and weaknesses: Team members can discover their strengths and weaknesses depending on the activity. The activities let employees understand one another better and can boost team performance. These challenging activities can also help undercover leadership qualities. For example, leaders can step up during difficult game moments.

Breaks up the monotony: Team building events give staff members a fun event to look forward to. Employees can enjoy the game and return to work refreshed and ready to be productive.
In Conclusion: Team Building Activities Improve Company Success
Team building is essential for all aspects of a business. It's an investment that can go a long way in helping to motivate employees and create a healthy and positive work environment, the better and more significant outcomes. It is a proven fact that team building activities improve company success.
For More Insights: Visit Elinor's Amazon Author Page
'Communicate to Attract Interest'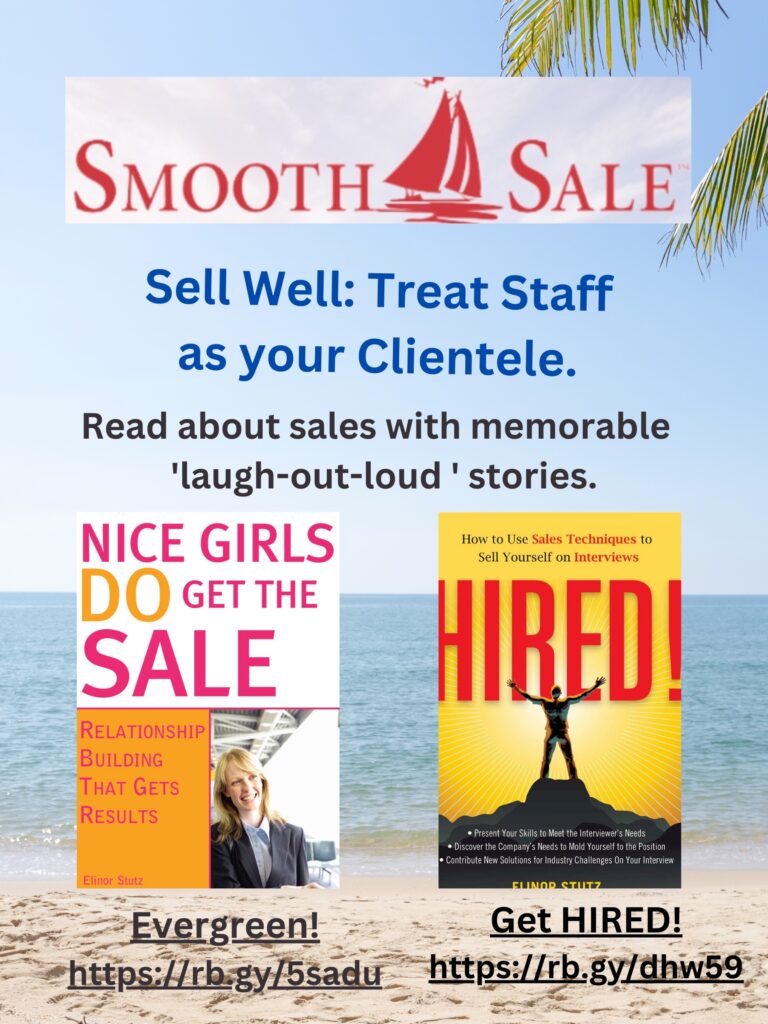 Authentic Relationships Are Essential
Be A Story-Teller
"Believe, Become, Empower"
Related Blog Stories:
Sales Tips: Team Building Activities Improve Company Success
Before creating team building activities, it is essential to establish an inclusive environment.
Before arranging an activity, consider whether any employees have disabilities and how you may best accommodate them.
First, host a team meeting in-house to discuss varying types of activities that meet the satisfaction of all.
If one activity is sports-driven, ensure that everyone they do not need to be a superb athlete.
Non-athletic activities may include improv, crafts, or a cooking class.
Mid-way through an event, provide tasty treats to boost up the camaraderie and team spirit.
At the next team meeting, encourage discussion about the enjoyment of an event, and give recognition to the person providing the idea; emphasize that team building activities improve company success.
Before year-end, request that the team presents new ideas for team events in the new year.
As the year completes, thank all staff for contributing on all levels.
Celebrate Success!
Today's insights are provided to help you achieve the Smooth Sale!
RESOURCES FOR PERSONAL AND BUSINESS GROWTH:
Advisorpedia Publishes information to help advisors build their practice, and those interested in the markets choose investments and find inspiration.
BabyBoomer – A trusted media source that collects and curates all the news, resources, and shows of interest for the Baby Boomer generation.
BizCatalyst360 Presents a life, culture, and biz new media digest as a hub of creative expression and personal growth.
CatCat Build your future one skill at a time.
ContactOut is a web-based platform that enables users to search for contact information and uncover contact details, including email addresses, phone numbers, and other personal data.
Greg Jenkins Consulting LLC – Helping organizations realize the value of diversity to build inclusive, evolving, high-performing cultures.
Growth Hackers – Helping businesses globally grow with lead generation, growth marketing, conversion rate optimization, data analytics, user acquisition, retention, and sales.
Inclusion Allies Coalition "Everyone is welcome here." Learn more to train teams and join the advocacy program.
Internet Advisor Find the internet service right for you among 2083 internet providers across 36,380 cities; plus, Cellphonedeal compiles excellent deals on phones, plans, and prepaid to furnish you with the best options in your area.
Kred Connect with top-rated influencers to learn from and grow your networks.
LinktoEXPERT "It is not who you know – who knows you and what your expertise can do for them, plus understand the value of hiring you."
Lotus Solution LLC Helps organizations create diversity and inclusion to ensure fairness and work through customized consulting, training, and keynote speeches.
Onalytica Find relevant influencers for your brand.
SalesPop! Purveyors of Prosperity; How to Compete against Yourself to Excel in your career.
Simma Lieberman, "The Inclusionist," helps develop inclusive leaders from the inside out to champion diversity and build equitable, inclusive cultures at every level.
Yoroflow offers a comprehensive suite of digital workplace platforms to help you streamline your day-to-day operations, manage your finances, and grow your business.
Vunela Provides a unique opportunity to view Videos and read articles by World Leaders.
WebTalk is the one-stop platform To build your marketplace and grow social connections.
Win Win Women is the world's only interactive network and an international community for women. Women WIN when they receive solutions + Experts WIN when they provide solutions = Win Win Women.