Photo by Briana Tozour on Unsplash
Attract the Right Job Or Clientele:
How to Help Your Employees Stay Productive On The Road
As a business owner, you always look for ways to enhance productivity. For traveling employees, this can be a challenge. There are many distractions when traveling, and staying focused on work tasks can be difficult. Our collaborative Blog offers insights below on how to help your employees stay productive on the road.
_____________________________________________________________________
Productive On the Road
The following tips will help motivate employees to be productive on the road. Encouragement and understanding the perspective of the employee traveling on your behalf will help enormously from them to continue.
1. Encourage Regular Communications
Keeping in touch with traveling employees is crucial for maintaining productivity. By staying in contact, you can provide Support and ensure that employees are on track with their work goals. Regular communication will allow you to resolve any issues that may arise quickly.
2. Set Clear Expectations
Before employees begin their travels, clearly set expectations for their work tasks, employees should know your expectations of them and how you will evaluate their work. The set goals will help them stay focused and on track.
3. Provide Resources
To help traveling employees stay productive, provide them with the necessary resources to complete their work tasks. Possibilities include access to an iPhone 14 rental, a laptop, a printer, or specific software programs. By ensuring that employees have the tools they need, you can help them work more efficiently.
4. Offer Flexibility
When possible, offer flexible work hours to traveling employees. Flexibility can be a great way to accommodate different time zones and allow employees to work when they are most productive. Additionally, flexible work hours can help reduce stress and promote a healthy work-life balance.
5. Use technology
Many helpful technologies can assist traveling employees in staying productive. For example, specific apps can track work tasks and help employees stay organized. You and your employees can also use video conferencing to hold virtual meetings or provide training sessions.
6. Encourage Breaks
Traveling employees need to take breaks throughout the day. A short time for relaxation can help reduce stress and promote a healthy work-life balance. Additionally, time-outs allow employees to recharge and refocus on their work tasks.
7. Promote Healthy Habits
To help traveling employees maintain productivity, encourage them to adopt healthy habits. It may include exercise, eating a balanced diet, and getting enough sleep. By taking care of their health, employees will be better able to stay focused and productive.
8. Recognize Achievements
Be sure to recognize and celebrate the achievements of your traveling employees. It will help them feel appreciated and motivated to continue working hard. Additionally, recognition can be a great way to boost morale and promote a positive work environment.
9. Offer Support
If traveling employees are struggling to stay productive, offer your Support. You may include providing additional resources or offering flexible work hours. Additionally, you can give encouragement and guidance to help employees overcome challenges.
10. Plan Ahead
To avoid last-minute delays or cancellations, plan when possible. The list includes making reservations for flights and hotels well in advance. Additionally, it is vital to have a backup plan in case of unexpected changes.
11. Stay Organized
Maintaining a well-organized schedule can help traveling employees stay productive. Include creating a daily or weekly action plan and setting reminders for upcoming deadlines. Additionally, it is helpful to keep track of important documents and contact information.
12. Take Advantage of Downtime
When traveling, there will inevitably be some downtime. Rather than allowing this time to go to waste, encourage employees to use it wisely. It may include catching up on work tasks or completing training modules. Additionally, employees can use this time to brainstorm new ideas or plan future projects.
13. Set Boundaries
To maintain a healthy work-life balance, set boundaries for traveling employees between work and personal life. It may include scheduling specific times for work tasks and refraining from working during personal time. Additionally, taking breaks throughout the day and disconnecting from work will lessen stress.
14. Delegate Tasks
When possible, delegate tasks to other members of your team. It can help traveling employees stay focused on their most important work tasks. Additionally, delegation can promote a sense of teamwork and collaboration within your organization.
15. Communicate Effectively
It is essential to communicate effectively with traveling employees to avoid misunderstandings. Include being clear and concise when giving instructions or providing feedback. Additionally, regular check-ins can help ensure everyone is on the same page.
In Conclusion: Employees Stay Productive On the Road
The above tips can help you enhance productivity for traveling employees. Consistent communication, setting clear expectations, and providing resources will contribute to helping your employees stay on track with their work tasks. Additionally, promoting healthy habits and recognizing achievements can help traveling employees stay productive on the road.
For More Insights: Visit Elinor's Amazon Author Page
"Communicate to Attract Interest"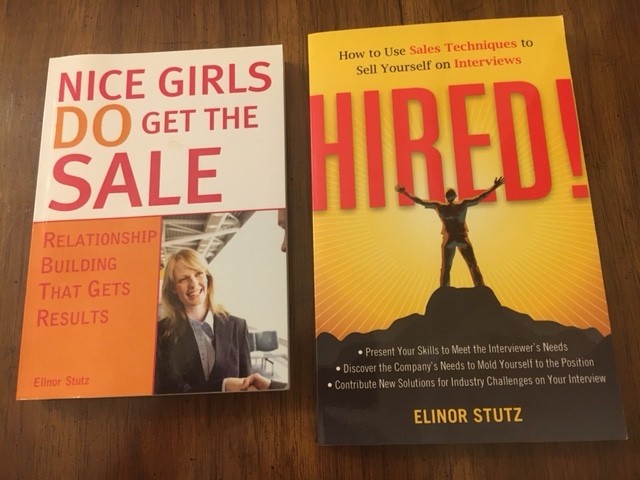 Authentic Relationships Are Essential
Be A Story-Teller
As the CEO of Smooth Sale, after her near-death experience, Stutz created the motto,
"Believe, Become, Empower"
" Nice Girls DO Get the Sale is an International Best-Selling and Evergreen Book – among the classics;
HIRED! Helped many to secure the job they desired.
Related Blog Stories:
Sales Tips: Help Employees Stay Productive On the Road
Advising employees before travel begins will help them to stay productive on the road.
Listen closely to concerns each employee may have before they begin to travel.
Throughout the travel period, have an open communication policy to prevent mishaps.
Promote breaks and enjoy the areas your employees will visit to encourage more business travel.
Ensure traveling employees have the latest tools and gear for timely communications with you and your clientele.
Provide a travel budget to include meals, transportation, hospitality stays, and the extras you can afford to give.
Be available to discuss challenging client conversations to quickly resolve for your employee to stay productive on the road.
Upon the traveling employee's return to the offer, host a team meeting to have the person share their experiences and encourage more employees to travel for business.
Ask each traveling employee how their experiences in the future may improve.
Celebrate Success!
Today's insights are provided to help you achieve the Smooth Sale!
RESOURCES FOR PERSONAL AND BUSINESS GROWTH:
Advisorpedia Publishes information to help advisors build their practice, and those interested in the markets choose investments and find inspiration.
BizCatalyst360 Presents a life, culture, and biz new media digest serving as a hub of creative expression and personal growth.
CatCat Build your future one skill at a time.
For Book Lovers Only For Book Lovers Only introduces you, the book lover, to new and exciting authors and works of fiction and non-fiction.
Greg Jenkins Consulting LLC – Helping organizations realize the value of diversity to build inclusive, evolving, high-performing cultures.
Growth Hackers – Helping businesses globally grow with lead generation, growth marketing, conversion rate optimization, data analytics, user acquisition, retention, and sales.
Inclusion Allies Coalition "Everyone is welcome here." Learn more to train teams, and join the advocacy program.
Internet Advisor Find the internet service right for you among 2083 internet providers across 36,380 cities, plus Cellphonedeal compiles great deals on phones, plans, and prepaids to furnish you with the best options in your area.
Kred Connect with top-rated influencers to learn from and grow your networks.
LinktoEXPERT "It is not who you know – it is who knows you and what your expertise can do for them, plus understands the value of hiring you."
Lotus Solution LLC Helps organizations create diversity and inclusion to ensure a fair and just workplace through customized consulting, training, and keynote speeches.
SalesPop! Purveyors of Prosperity; how to compete against yourself to excel in your career.
Simma Lieberman "The Inclusionist" helps develop inclusive leaders from the inside out to champion diversity and build equitable, inclusive cultures at every level.
Vunela Provides a unique opportunity to view Videos and read articles by World Leaders.
WebTalk is the one-stop platform. Build your marketplace and grow social connections.
Women's Information Network (WIN) An education-and-event-based Global Community of Women Helping Women Worldwide Live Their Best Lives through Celebration, Self-Improvement, and Service.