Attract the Right Job Or Clientele:
Ideas For Using Images In Your Marketing to Increase Interest
Images are an essential marketing tool for grabbing people's attention. While text can provide important details, images are necessary for pulling people in and keeping them engaged. You may maximize the effort by observing a few rules for using images that are critical for ensuring your marketing is successful.
Our collaborative blog post provides insights and 'Ideas For Using Images In Your Marketing to Increase Interest.
____________________________________________________
7 Ideas for Using Images In Your Marketing
Request Permission Upfront To Use The Images of Others
First and foremost, know that you must do more than take any photo from Google Images and use it in your marketing. Every picture shared online is copyright protected. If you want to use an image for commercial purposes, you must get permission from the copyright holder first. Failure to do this can get you sued!
It's worth looking out for stock photos with usage rights. These are photos found online that the copyright holder has permitted users to use freely. There are convenient libraries of these photos that you can access online. Visiting these sites saves you from reaching out to individual copyright holders whenever you want to use a third-party photo. Always credit the person who created the image – even if it's royalty-free.
Know When to Create Your Unique Images
When using free stock photos, there's always a danger that you may use an image with which consumers are already familiar. While popular visuals are typically okay for content such as blog posts, it's better to use original photos for adverts and promotional website pages (particularly your homepage). Using unique images within your marketing can increase the chance of standing out.
You can pay a professional photographer to take photographs for you. Images of your product or your team typically qualify for being unique. It's best to create a sense of consistency between photos so your marketing conveys continuity. For example, if you sell an array of products on your site, try photographing each product with the same lighting from a similar angle to maintain consistency.
Consider Images Beyond Photos
Photos are one of many image styles you can use in your marketing. Digital illustrations are another popular option that can be great for visualizing slightly more abstract ideas. You can find free stock digital illustrations with usage rights online. Or, consider hiring a graphic designer to produce original illustrations for your marketing.
Graphs are another form of imagery that can be useful within your marketing. Graphs can help to represent stats and complex data. These can even be combined with digital illustrations to create engaging infographics.
Post images regularly on social media
Social media posts containing images typically perform 4.4 times better than text-based content. For this reason, it is best to include pictures in your social media posts regularly. Even when it comes to general updates or facts, it can be worth accompanying them with an image. One caution is to ensure that images are relevant and that you're not using the same image repeatedly.
Verify Upfront that Images Are the Right Size
Images must be the right size so they can be stretched or compressed less. Photos need to come across professionally, which means getting the dimensions correct. Think carefully about where you will use images when sourcing or creating them. Varying sites can help you to format images to the correct size depending on where you plan to use them.
Learn How to Optimise Your Images for Search Engines
Regarding content on your website, it's not just the text that will impact your search rankings. Images can also have an impact – particularly the file name. Rather than uploading an image as 'IMG-456.jpg', consider the type of content it will display and add keywords into the file name. One example is using 'beige leather sofa.jpg.' The description can help you to increase traffic to these pages.
Know How to Layer Text Over Images
Layering text over images can be helpful in advertisements, slideshows, or large images on your homepage. When done incorrectly, however, the phrasing can end up being unreadable. There are a few different tricks that you can use to make sure that the image and text are distinct. Be attentive to making the image black and white, adding a transparent layer beneath the text, or using specific fonts and text colors. This guide offers some great hacks for layering text on images.
In Conclusion: Ideas For Using Images In Your Marketing to Increase Interest
Business requires we combine multiple disciplines and strategies to enjoy dynamic growth. Using images in your marketing is an effective strategy for attracting a larger audience to your website. The result is likely to be an increase in sales which may trend toward new opportunities awaiting.
For More Insights: Visit Elinor's Amazon Author Page
"Communicate to Attract Interest"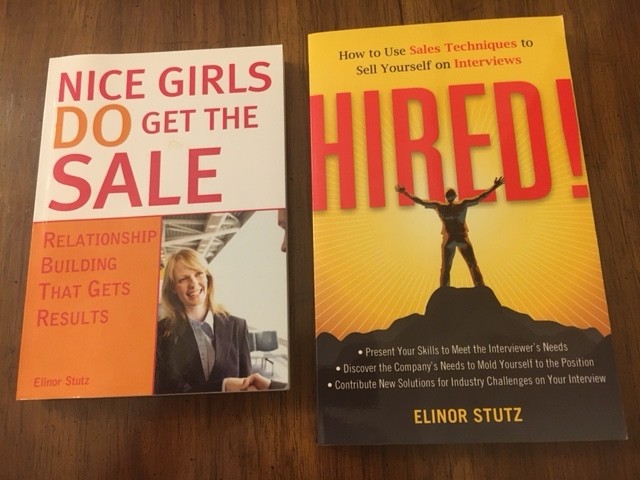 Authentic Relationships Are Essential
Be A Story-Teller
As the CEO of Smooth Sale, after her near-death experience, Stutz created the motto,
"Believe, Become, Empower"
" Nice Girls DO Get the Sale is an International Best-Selling and Evergreen Book – among the classics;
HIRED! Helped many to secure the job they desired.
Related Blog Stories:
Sales Tips: Ideas For Using Images In Your Marketing to Increase Interest
Statistics indicate that using images in your marketing will increase interest.
If budgets are tight, consider researching online sites providing images to share.
Upon using a site image, give credit to the site and the photographer.
Ensure that the image you use complements the messaging in your postings.
Experiment with posting imagery in varying types of posts and frequency.
Monitor which types of posts and imagery receive the most attention.
Confirm that the inclusion of photos improves overall visits to your site.
Research similar sites to see how they handle photo postings.
As business increases, consider the benefits of posting your pictures, those of a professional photographer, or remaining steady with website imagery.
Celebrate Success!
Today's insights are provided to help you achieve the Smooth Sale!
RESOURCES FOR PERSONAL AND BUSINESS GROWTH:
Advisorpedia Publishes information to help advisors build their practice, and those interested in the markets choose investments and find inspiration.
BizCatalyst360 Presents a life, culture, and biz new media digest serving as a hub of creative expression and personal growth.
CatCat Build your future one skill at a time.
For Book Lovers Only For Book Lovers Only introduces you, the book lover, to new and exciting authors and works of fiction and non-fiction.
Greg Jenkins Consulting LLC – Helping organizations realize the value of diversity to build inclusive, evolving, high-performing cultures.
Growth Hackers – Helping businesses globally grow with lead generation, growth marketing, conversion rate optimization, data analytics, user acquisition, retention, and sales.
Inclusion Allies Coalition "Everyone is welcome here." Learn more to train teams, and join the advocacy program.
Internet Advisor Find the internet service right for you among 2083 internet providers across 36,380 cities, plus Cellphonedeal compiles great deals on phones, plans, and prepaids to furnish you with the best options in your area.
Kred Connect with top-rated influencers to learn from and grow your networks.
LinktoEXPERT "It is not who you know – it is who knows you and what your expertise can do for them, plus understands the value of hiring you."
Lotus Solution LLC Helps organizations create diversity and inclusion to ensure a fair and just workplace through customized consulting, training, and keynote speeches.
SalesPop! Purveyors of Prosperity; how to compete against yourself to excel in your career.
Simma Lieberman "The Inclusionist" helps develop inclusive leaders from the inside out to champion diversity and build equitable, inclusive cultures at every level.
Vunela Provides a unique opportunity to view Videos and read articles by World Leaders.
WebTalk is the one-stop platform. Build your marketplace and grow social connections.
Women's Information Network (WIN) An education-and-event-based Global Community of Women Helping Women Worldwide Live Their Best Lives through Celebration, Self-Improvement, and Service.