Photo by Geralt via Pixabay
Attract the Right Job Or Clientele:
Selling Is To Focus On Possibilities For All
Former salespeople who can claim top-of-the-chart success typically agree that selling is to focus on possibilities for all. The 'for all' refers to prospective and current clientele. In the entrepreneurial world, the mindset is to work toward a collaborative effort that benefits everyone within reach. The idea may seem beyond possible, but with proper planning and a collaborative effort with those sharing similar values and ideals, it is all possible, plus more than initially envisioned.
My Story
A gentleman conveyed earlier today that he wonders why many salespeople need to grasp the idea of a win for all or working toward possibilities for all. We agree that when people box themselves in a superior corner of the world, little contact, few connections, and far fewer sales will materialize.
We agree that the sale is never about the representative; instead, it is about the prospective client. Sadly, only a few realize this and will focus on making the sale. Sales training must include our reality that deals increase upon developing the relationship first to discover similarities and how to connect best. Sharing experiences is a connection methodology that typically increases trust, credibility, and the willingness to listen further.
Most of all, the intended client needs to witness the salesperson omitting cutthroat tactics to earn business but instead striving to understand the perspective of others up front. Only then can a bridge be built between all parties in the conversation. When we seriously consider possibilities for all, we open the floodgates for business ideas for all. Ultimately everyone comes out feeling as if they have won. Accordingly, we refer to the outcome as a win-win when a conversation occurs between two people.
Sales Story Example
Some things never change, and one item is being respectful of all. Today's conversation brings the story to mind. My first sales job required selling an unknown copier brand against the biggest and best. Many attempts to speak to someone in charge of the company equipment went nowhere. So I carved out time to visit the people in the warehouse repairing their equipment. I was the first sales representative to give those people the time of day, let alone be friendly, and hear their stories about working for the company.
The result was my earning the business of the entire campus, a Fortune 500 company, due to the one visit and a follow-up conversation with a seemingly lower-level manager. My story illustrates that we must eliminate the notion that low-level and high-level people exist at companies. Respect builds trust, loyalty, and the business we desire when focusing on possibilities for all.
Entrepreneurs
More than ever, it is necessary for entrepreneurs to be inviting, engaging, and open in their conversations. Doing so allows for more in-depth discussions, collaborative thought to appear, and introductions to follow. The entrepreneurial style for business creates a larger playing field to offer more wins for all those involved. It's an excellent example for salespeople to consider seriously.
Your Story
Frustration encompasses the sales cycle due to the number of calls, contacts, and in-person meetings necessary to enable one sale. Toning down the urgency in your voice and respecting each 'no' as it arrives is the beginning of a more successful process. For example, by asking if the 'no' is forever or whether a better time will work down the road, you are far more likely to hear a 'yes!' Scheduling the appointment and following up the day before to inquire whether the date is still good will bring surprise to the other person's voice and typically, agreement to meet.
Startups typically begin with one person formulating their idea. But future growth depends upon teamwork to build the company's presence. Moving forward, successful companies entertain the thoughts of anyone who wants theirs up for serious consideration. Apple and Google are excellent examples of companies that welcome ideas from employees, and the results are evident. Moving forward, consider improvements you may make during conversations with clientele and the follow-up steps that may be missing, but that can add to further business potential.
In Conclusion: Selling Is To Focus On Possibilities For All
Adjusting our approach is a necessity and ongoing as times change. The one constant is that people want your respect and for you to demonstrate such by listening, asking questions, and following up with more when necessary. Most of all, they need to see you following up on promises in the timeline you say you will do upfront.
For More Insights: Visit Elinor's Amazon Author Page
'Communicate to Attract Interest'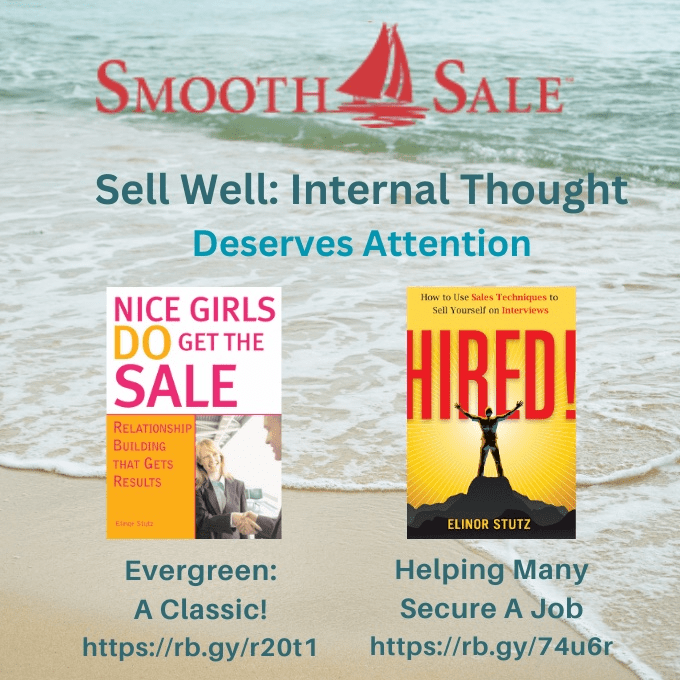 Authentic Relationships Are Essential
Be A Story-Teller
As the CEO of Smooth Sale, after her near-death experience, Stutz created the motto,
"Believe, Become, Empower"
Related Blog Stories:
Sales Tips: Selling Is To Focus On Possibilities For All
Eliminate the notion of achieving sales numbers during a client meeting; instead, focus on possibilities for all.
Allow the other people in the conversation at least 60% of the time to talk as you listen.
Request explanations for any word or statement you need help understanding.
Explain that your questions enable you to serve your clientele to the best of your ability.
Upon hearing something not doable, explain why you cannot proceed with it and inquire if that will be a show stopper.
Honesty typically encourages further conversation to embolden the initial offer.
Sometimes it is necessary to explain what you can and cannot do to ask permission to continue.
A give-and-take dialogue allows you to focus on possibilities for all.
By the end of the meeting, ask the prospective client to prioritize their goals and the timeframe they have in mind.
Celebrate Success!
Today's insights are provided to help you achieve the Smooth Sale!
RESOURCES FOR PERSONAL AND BUSINESS GROWTH:
Advisorpedia Publishes information to help advisors build their practice, and those interested in the markets choose investments and find inspiration.
BabyBoomer – A trusted media source that collects and curates all the news, resources, and shows of interest for the Baby Boomer generation.
BizCatalyst360 Presents a life, culture, and biz new media digest as a hub of creative expression and personal growth.
CatCat Build your future one skill at a time.
ContactOut is a web-based platform that enables users to search for contact information and uncover contact details, including email addresses, phone numbers, and other personal data.
Greg Jenkins Consulting LLC – Helping organizations realize the value of diversity to build inclusive, evolving, high-performing cultures.
Growth Hackers – Helping businesses globally grow with lead generation, growth marketing, conversion rate optimization, data analytics, user acquisition, retention, and sales.
Inclusion Allies Coalition "Everyone is welcome here." Learn more to train teams and join the advocacy program.
Internet Advisor Find the internet service right for you among 2083 internet providers across 36,380 cities; plus, Cellphonedeal compiles excellent deals on phones, plans, and prepaid to furnish you with the best options in your area.
Kred Connect with top-rated influencers to learn from and grow your networks.
LinktoEXPERT "It is not who you know – who knows you and what your expertise can do for them, plus understand the value of hiring you."
Lotus Solution LLC Helps organizations create diversity and inclusion to ensure fairness and work through customized consulting, training, and keynote speeches.
Onalytica Find relevant influencers for your brand.
SalesPop! Purveyors of Prosperity; how to Compete against yourself to Excel in your career.
Simma Lieberman, "The Inclusionist," helps develop inclusive leaders from the inside out to champion diversity and build equitable, inclusive cultures at every level.
Vunela Provides a unique opportunity to view Videos and read articles by World Leaders.
WebTalk is the one-stop platform To build your marketplace and grow social connections.
Win Win Women is the world's only interactive network and an international community for women. Women WIN when they receive solutions + Experts WIN when they provide solutions = Win Win Women.