Attract the Right Job Or Clientele:
Note:  Kayla Montgomery, Digital Content Market, Mint, provides today's guest story, Use Reward Setting to Improve Your Achievements.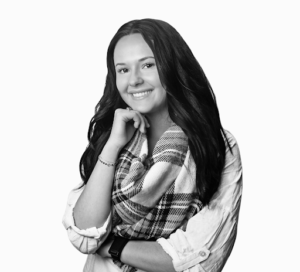 Kayla Montgomery is a digital content marketer who helps Mint create helpful and compelling stories worth sharing. Her background in digital marketing and creative writing has led her to cover unique topics ranging from business to lifestyle. In her spare time, she enjoys working out, writing for her own blog, traveling, and exploring all the in's and out's Austin, TX has to offer. To learn more, connect with Kayla on LinkedIn.
________________________
Setting Goals To Improve Your Achievements
Most of us want to live our dreams, but there are some hardships we have to tackle to get there. For instance, if we're going to buy a house, we have to work extremely hard to establish a steady career. Next, the pressure is on to save up enough to make the monthly payments.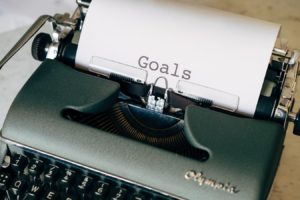 In my case, I wanted to go to college, and I was determined to make it happen. I was never a big fan of high school. One day, I decided that I would graduate as a junior. I set goals that summer to take various online courses to ensure I could graduate as a junior. Afterward, I quickly enrolled myself in college to get my four-year degree.
Fast forward to graduation. I got myself where I wanted, ready to board the stage and hold my diploma in my hand. But, I knew I had many more goals to reach, even more than I did in college. Looking back, each week, I was setting a new goal. Upon working two jobs and going to college full-time, I had to stay sane during my studies. I used to call my planner and notebook my bible. Planning was essential at every step. I took into consideration:
How I planned my week

Where I would schedule in self-care

Set time aside to work toward my goals.
During that time, I was the most productive I had ever been. I knew every moment was so valuable. I would sometimes wake up at 4:00 am to write my papers. I'd sneak in a little "me time" sipping coffee before having to jump into my day full of back-to-back classes, work, more work, and more homework.
Reward Setting to Improve Your Achievements
Now that I am out of college, my goals never stop. I have learned that we should consistently be setting and striving for goals. We are to make a habit always to hold ourselves accountable no matter how hard that may seem. If you're like me, you may also enjoy the reward that some may earn. That feeling of instant gratification can be addicting within itself.  Using reward setting to improve your achievements makes a very big difference.
If you're ready to start, build, or push yourself a little more in your career, goal-setting may be the better move. Even today, I still wake up at 4:45 am to get started on my productive morning routine (which includes goal-setting). I will get up, get a little motion in, and sit down to write out my daily goals. And I review my weekly and monthly goals to ensure I am on the right track to success.
Getting Started and Set Far-Reaching Goals
Establishing your dream life and career doesn't always happen overnight. It's a continual cycle, having to figure out your goals continually. Then there is a need to break the larger goals into smaller ones while keeping your eye on the prize. Even though reaching your goals can sound rather straightforward, distractions and sudden changes can happen just as quickly, especially when it comes to your budget.
The strategy of reward setting to improve your achievements works remarkably well. When setting goals and attaching each to a reward, your actions more easily become habits. Some sources say that it only takes 66 days to create, or break, a habit. For example, instead of only going to the gym once a week for a few hours, start going to the gym every day, even if it's only to stretch out. Over time, you may get comfortable enough with going to the gym that you may want to stay and workout for a longer time than you usually do.
Create Your Reward System and Enjoy Rewards Bingo!
Either way, setting your goals isn't the hard part. The difficulty is staying consistent with them. Typically, you begin eagerly to reach your goals. Then, you may experience some slight temptations and want to give in once things get a little uncomfortable. This is when rewards come into play to help improve your achievements.
Reward yourself once you've completed a job well done. Celebrate your achievements and feel a sense of delayed gratification. Once you have experienced the positive effects of checking off your goals, you will be more likely to set far-reaching goals.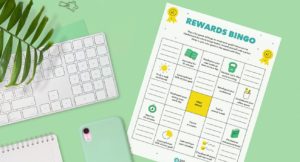 Play Rewards Bingo!
  Click This Link
To embark on your goal-setting (and achieving) journey, Download Mint's reward setting printables to track and celebrate your significant achievements. For more ideas, check out our budget-friendly self-care ideas for a relaxing day after checking everything off your to-do list. Your reward system will motivate and inspire you to continue setting new goals and achieving new records!
For Additional Insights:
Visit Elinor's Amazon Author Page by clicking this link.
Blog and Article Posts by Elinor:
Today's Guest Blog is provided to help you achieve

The Smooth Sale!




RESOURCES FOR PERSONAL AND BUSINESS GROWTH: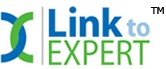 "It is not who you know – it is who knows you and what your expertise can do for them plus understands the value of hiring you." Visit LinktoEXPERT.
Women's Information Network (WIN) is an education-and-event-based Global Community of Women Helping Women Live Their Best Lives through Celebration, Self-Improvement, and Service.
Women's Information Network (WIN) is an education-and-event-based Global Community of Women Helping Women Live Their Best Lives through Celebration, Self-Improvement, and Service.

Visit Webtalk

:
Stuck at home like everyone else?  Check out the WebTalk one-stop platform to build your marketplace and grow social connections.  Sync and syndicate your apps.  Showcase your talent, brand, and offerings; connect, and earn money. The platform is in beta format so now is a great time to join!  Click this link ~  earn.webtalk.co/6790675 No cost to join!


Powered by Intellum, providing expertly curated content on the most sought after topics.