Image via Pixabay
Attract The Right Job Or Clientele:
Are You Ready To Optimize
Your Website to Increase Traffic and Sales?
Note: Our collaborative Blog asks and provides insights on 'Are You Ready to Optimize Your Website to Increase Traffic and Sales?'
Although a previously successful salesperson, it was alarming to realize the learning ahead necessary to make it as an entrepreneur. For most, the effort begins with creating a website to tell the world who we are and what we may provide regarding products and services. But I quickly learned that more is needed. 
There is so much more behind the effort, such as developing a reputable brand. The next step is branding coupled with effective communication. You can see that it is essential to optimize your website to increase sales and traffic.
As a business owner, ensuring that your website runs as efficiently as possible is essential to maximize sales and traffic. You can significantly improve your website's performance by following the simple tips below! Additionally, it can sometimes be beneficial to outsource specific tasks. After all, as a business owner, you can't do it all. In some cases, you could offer this work out to freelancers instead of having to hire staff. That way, you can give them tasks as and when needed. You could also research companies that offer virtual assistant services. The assignments shared below are paramount to help you optimize your website to increase traffic and sales, so if you can't fulfill them yourself, then outsourcing could be a big help.
________________________________________________________________________________________________
Four Tips To Optimize Your Website
To Increase Traffic and Sales
Use Keyword-Rich Titles and Descriptions
One of the essential aspects of optimizing your website to increase traffic and sales is to use keywords throughout your site. It includes using keywords in your titles and descriptions so that search engines can easily find your site. In addition, using keywords will also help improve your click-through rate, as users will be able to see what your site is about before they even visit it.
Research which keywords are most relevant to your business and target them accordingly. There's no point in using keywords for which no one is searching! Avoid stuffing your titles and descriptions with too many keywords, as doing so will lower search engine rankings. Instead, a few strategically placed keywords will do the trick!
Use High-Quality Images: Attract An Increase In Traffic and Sales
Another vital tip for optimizing your website is to use high-quality images. It is because users are likelier to stay on a visually appealing website. In addition, using high-quality images will also help improve your search engine ranking. Take note that Google places much importance on visual content.
Use relevant and keyword-rich alt text for all your images so search engines can easily find them. Also, avoid using stock photos, as these can often look cheesy and fake. Instead, use real photographs that capture the essence of your business.
Improve Your Website's Speed
One of the most important aspects of a website is its speed. Users are likely to leave a site that takes too long to load. In addition, search engines also take website speed into account when ranking sites. Therefore, ensuring that your website is as fast as possible Is vital.
There are a few ways you can improve your website's speed, such as using:
Cache plugins

Image optimization

A content delivery network
Test your site's speed regularly to identify and address all potential issues quickly.
Ensure Your Website Is Mobile-Friendly
Another critical tip for optimizing your website is to ensure it's mobile-friendly. More and more people use their smartphones and tablets to browse the internet. Google now ranks websites based on mobile-friendliness. Therefore, it is essential to optimize your site for smaller screens. 
Another critical factor is making your payment software efficient and customer-friendly. Have your developer utilize the payment integration hub for developers to streamline the process to ensure a seamless experience for customers.
You can significantly improve your website's performance by embracing these simple tips. Optimizing your site to increase sales and traffic plus conversions is essential for any business owner, so consider implementing these tips today!
Implementing the above suggestions to optimize traffic and sales will lead you to the Smooth Sale!
For More Insights:  Visit Elinor's Amazon Author Page
"Communicate to Attract Interest"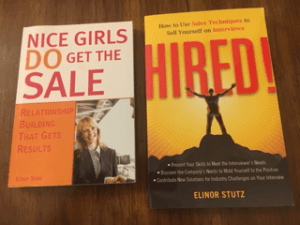 Be A Story-Teller
As the CEO of Smooth Sale, after her near-death experience, Stutz adapted the motto, "Believe, Become, Empower."Nice Girls DO Get the Sale is an International Best-Selling and Evergreen book – among the classics; HIRED! Helped many to secure the job they desired. 
Related Blog Stories:
SALES TIPS: Optimize Your Website to Increase Traffic and Sales
As efforts and times change, update your profile accordingly.

Should you need help, seek technical expertise that provides value you can see upfront.

Confer with marketing and branding strategists about how they increase traffic and sales.

Review whether you are casting the widest net possible for attracting people to your website.

Confirm there is money in the budget to hire help as needed

Create a collaborative effort to extend your reach to complementary audiences.

Consider subscribing to a media service that helps get the word out about your company.

Include community service giving insights to others so they may further their careers.

Research online documentation and how others optimize their website for increased sales and traffic.

Celebrate Success!



Today's insights are provided to help you achieve the Smooth Sale!

RESOURCES FOR PERSONAL AND BUSINESS GROWTH: 

Advisorpedia  Publishes information to help advisors build their practice, and those interested in the markets choose investments and find inspiration.

BabyBoomer – A trusted media source that collects and curates all the news and resources, plus offers a wide variety of excellent courses for the Baby Boomer generation.

BizCatalyst360  Presents a life, culture, and biz new media digest as a hub of creative expression and personal growth.

CatCat: Build your future one skill at a time.

ContactOut is a web-based platform that enables users to search for contact information and uncover contact details, including email addresses, phone numbers, and other personal data.

Fedica, Realize your followers' interests to create tailored content to encourage a returning and referring clientele.

Greg Jenkins Consulting LLC  – Helping organizations realize the value of diversity to build inclusive, evolving, high-performing cultures.

Growth Hackers – Helping businesses globally grow with lead generation, growth marketing, conversion rate optimization, data analytics, user acquisition, retention, and sales.

Inclusion Allies Coalition: "Everyone is welcome here." Learn more to train teams and join the advocacy program.

Internet Advisor Find the internet service right for you among 2083 internet providers across 36,380 cities; plus, Cellphonedeal compiles excellent deals on phones, plans, and prepaid to furnish you with the best options in your area.

Kred  Connect with top-rated influencers to learn from and grow your networks.

LinktoEXPERT  "It is not who you know – who knows you and what your expertise can do for them, plus understand the value of hiring you."

Lotus Solution LLC Helps organizations create diversity and inclusion to ensure fairness and work through customized consulting, training, and keynote speeches.

Onalytica: Find relevant influencers for your brand.

SalesPop!   Purveyors of Prosperity; How to Compete against Yourself to Excel in Your Career.

Simma Lieberman, "The Inclusionist," helps develop inclusive leaders from the inside out to champion diversity and build equitable, inclusive cultures at every level.

Yoroflow offers a comprehensive suite of digital workplace platforms to help you streamline your day-to-day operations, manage your finances, and grow your business.

Vunela  Provides a unique opportunity to view Videos and read articles by World Leaders.

WebTalk is the one-stop platform To build your marketplace and grow social connections.

Win Win Women is the world's only interactive network and an international community for women. Women WIN when they receive solutions + Experts WIN when they provide solutions = Win Win Women.