Photo by ArtsyBee via Pixabay
Attract the Right Job or Clientele:
What Can History Teach Us?
Growing up, I couldn't grasp the forever motto, 'History Repeats Itself.' As a child, it didn't make sense to me, as I would wonder why anyone would want to repeat what doesn't correctly end well, personally, professionally, and within society.
When we realize what isn't working from any stance, we must figure out the 'why' to take the correct action to fix it. Doing the same old never produces the desired results and can sometimes take an organization down the drain. The question becomes, what can history teach us?
My Story
A news story prompts today's post, 'What can history teach us?' It is sad to read the same news continually about the abuse of children without a strategy in place to halt it once and for all. 'Cover up' is the term that comes to mind repeatedly. Today, there was news about abuse within the Boy Scout organization.
The action and the numbers of those involved are beyond comprehension, so I did a Google fact check: According to court testimony, 'More than 7,800 individuals allegedly abused 12,254 victims.'
History Can Teach Us to Take Proper Action!
We find many types of abuse in the corporate environment, but the realizations have not yet resolved the situations. People fear speaking up, but being silent permits the abuse to continue.
Years ago, I began advocating for women's rights in the workplace. Writing my first book that broke many records was a proud achievement, including quickly becoming an International Best-seller and then Evergreen, forever lasting. However, the downside gives way to the reason for the recognition: In all these years, not much has changed:
Discrimination among people of varying heritage and skin tones continues.
Gender identity discrimination continues.
Pay equality for the same job description is almost nonexistent.
It's doubtful that contributions in team meetings are welcome among all.
Respected Leaders Commit to Fixing the Situation(s)
Ignoring any situation accomplishes nothing except to increase the poor word of mouth and dissuade clientele from doing business. Doing 'business as usual' may work upfront, but eventually, lacking alignment with ethics for all can cause the entity's demise. We read about organizations and companies facing multi-million-dollar lawsuits draining any possibility of salvation.
Vision and Goals
Focus, perseverance, and goal setting are necessary for achieving better outcomes. Should the current situation present dire warnings to the business, put an immediate hold on all related activities. Gather your thoughts, and then request your entire staff meet to discuss the primary issues needing resolution and help formulate a plan for moving past.
Your Story: Commit to Fixing the Situation(s)
Review Your Leadership Style
Improvement on many levels requires we review our approach, responses, and communications. It's necessary to admit where statements or reactions were not welcome, or strategies did not work out well. Honesty begins with us accepting errors in the way we operate. It is the only way genuine improvements can take hold.
Be the Leader People Admire
Be the model for diversity, equity, and inclusion and host a welcoming atmosphere for everyone. Require that recruiters mirror the same to recruit those who contribute appropriately to your desired business culture in addition to their expertise.
Conduct meetings with staff to hear their input about improvements with reasoning included. After the meeting, discuss the suggestions with company executives to listen to their thoughts. Ultimately, the decision is yours regarding how to incorporate better ideas for proceeding into the future.
And as either an entrepreneur or a small business owner. Incorporate a welcoming attitude toward all. The mindset affects everyone you encounter, whether messaging online, networking, or in meetings with clientele and peers.
In Conclusion: What Can History Teach Us?
Your decisions will affect your reputation and business, so ensure every step is examined and undertaken to implement the best you may—examples of what works well and what does not reside in front of us daily. History of the past and our personal history can teach us much when we are willing to pay attention. Moreover, we can make a significant impact by modeling what is fair, right, and just for others to follow suit.
For More Insights, Visit Elinor's Amazon Author Page
Communicate to Attract Interest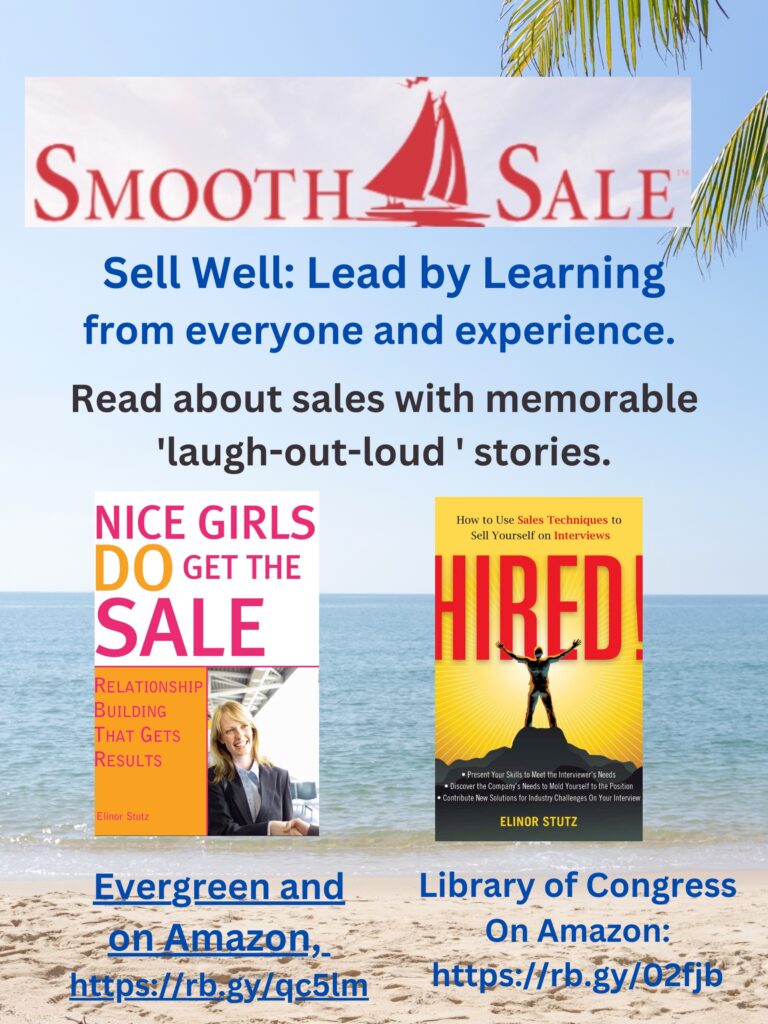 Be A Story-Teller
"Believe, Become, Empower"
Related Blog Stories:
Sales Tips: What Can History Teach Us?
Lessons reside everywhere we turn regarding improving our personal and professional lives.
It is wise to consult with those we trust for a critical decision.
Companies will do well to conduct confidential meetings with all levels of employees to gain their trust and input.
After the company meeting, create a plan of action to discuss with teams and again with the entire staff.
As individuals, it is best to reflect on changes and improvements necessary for advancements.
The critical step is eliminating any element of 'business as usual' objectional to others.
Ensure you are developing a credible and admirable brand all the while.
Communicate what you stand for and how you assist your clientele.
Hire people who are willing to work collaboratively and for the greater good.
Celebrate Success!
Today's insights are provided to help you achieve the Smooth Sale!
RESOURCES FOR PERSONAL AND BUSINESS GROWTH:
Advisorpedia Publishes information to help advisors build their practice, and those interested in the markets choose investments and find inspiration.
BabyBoomer – A trusted media source that collects and curates all the news and resources, plus offers a wide variety of excellent courses for the Baby Boomer generation.
BizCatalyst360 Presents a life, culture, and biz new media digest as a hub of creative expression and personal growth.
CatCat: Build your future one skill at a time.
ContactOut is a web-based platform that enables users to search for contact information and uncover contact details, including email addresses, phone numbers, and other personal data.
Fedica Realize your followers' interests to create tailored content to encourage a returning and referring clientele.
Greg Jenkins Consulting LLC – Helping organizations realize the value of diversity to build inclusive, evolving, high-performing cultures.
Growth Hackers – Helping businesses globally grow with lead generation, growth marketing, conversion rate optimization, data analytics, user acquisition, retention, and sales.
Inclusion Allies Coalition: "Everyone is welcome here." Learn more to train teams and join the advocacy program.
Internet Advisor Find the internet service right for you among 2083 internet providers across 36,380 cities; plus, Cellphonedeal compiles excellent deals on phones, plans, and prepaid to furnish you with the best options in your area.
Kred Connect with top-rated influencers to learn from and grow your networks.
LinktoEXPERT "It is not who you know – who knows you and what your expertise can do for them, plus understand the value of hiring you."
Lotus Solution LLC Helps organizations create diversity and inclusion to ensure fairness and work through customized consulting, training, and keynote speeches.
Onalytica: Find relevant influencers for your brand.
SalesPop! Purveyors of Prosperity; How to Compete against Yourself to Excel in Your Career.
Simma Lieberman, "The Inclusionist," helps develop inclusive leaders from the inside out to champion diversity and build equitable, inclusive cultures at every level.
Yoroflow offers a comprehensive suite of digital workplace platforms to help you streamline your day-to-day operations, manage your finances, and grow your business.
Vunela Provides a unique opportunity to view Videos and read articles by World Leaders.
WebTalk is the one-stop platform To build your marketplace and grow social connections.
Win Win Women is the world's only interactive network and an international community for women. Women WIN when they receive solutions + Experts WIN when they provide solutions = Win Win Women.