Attract the Right Job Or Clientele:
Who Needs To Have Your Business's Back?
Our collaborative Blog asks, 'Who needs to have your business's back?' and provides insights to help with growth. Every entrepreneur asks themselves when they are about to launch a business: How do I create a successful venture?
The beginning phase of a new business can be highly overwhelming due to the realization of what we do not know. Moreover, the need to educate oneself, hire help, collaborate, create a sought-after product line with services, and be up-to-date on technology encourages many to quit almost before they dig in to begin. The insights below will help you to build a team specifically to have your business's back.
____________________
Have Your Business's Back
Statistics over the years have shown that most startups fail within the first five years. A Google search confirms that the statistics may have worsened:
"About 90% of startups fail. 10% of startups fail within the first year. Across all industries, startup failure rates seem to be close to the same. Failure is most common for startups during years two through five, with 70% falling into this category."
The questions below are serious considerations before throwing money at ideas that may or may not work. It is vital systems are in place, that they function in unison, and that you wholeheartedly believe you can succeed.
A feasible and strategic business plan?
Innovative products and services?
Experienced and talented staff?
Dedicated market research?
Sufficient business capital to finance growth?
There is no denying that all these elements are necessary to make your venture dream come true. However, they are not enough to create the success you aspire to. The last piece of the jigsaw is inspired by Steve Jobs himself, who came back to Apple in 1997 to revive the company.
Jobs came back initially as an advisor, but he was quick to land the role of CEO and build one of the world's most valuable companies. How did he do it? His public presentations remain a source of inspiration for many public speakers and marketers. Indeed, Jobs utilized his public appearances to inform, inspire, and excite the audience, getting their backing for the brand's new strategy and products. The systematic effort was the key to the revival of Apple under Jobs's tenure.
As a small business owner, you may not be in a position where you can stand in front of thousands of people to introduce your next tech gadget. But, you can undoubtedly find someone who will have your business's back. So who should have your back when you launch a venture?
Your Business Insurance
Finding the right business insurance for your venture is no easy task. Entrepreneurs can often find it stressful and time-consuming to do the research and find the quality protection they need. It's no surprise that platforms such as coterie, which make insurance purchases fast, effective, and data-driven, are backed by A-rated licensed insurers. As a small company, you want to make sure you can find the best protection to include your:
If your insurer doesn't provide the proper protection for you, you risk losing more than a few compensations. So find yourself an insurer that's got your back! Undoubtedly, you will want all of the above at the best price and in the shortest possible time.
Your Community
The bond between a business and its local community is one of the most significant relationships for a company. Your local community can act as a supportive network for a new business. The support may include:
Spreading the word about your activities.
Becoming an advocate for your products.
Increasing brand awareness.
So, it is essential to embrace the community spirit and build your presence accordingly. Whether you choose to give back through charitable contributions or by joining local schemes such as Bike to Work, you will experience significant advantages for your business presence.
Your Employees
Ultimately, your employees are your most significant assets. When employees share the business culture and values, they can help promote the brand and deliver exceptional customer service. The only way you can get employees on your side is to become an employer who meets their needs by providing:
Fair wages
Professional training opportunities
Chance to build a meaningful career
Personal recognition
Fair work-life balance
Inspiring leadership
Do you have the backing of your insurer, community, and employees? Do not miss your chance to find your support. Just as it takes a village to raise a child, it takes a whole community to build a sustainable and successful business.
For More Insights: Visit Elinor's Amazon Author Page
"Communicate to Attract Interest"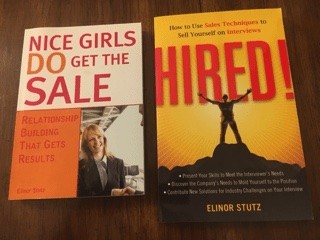 Be A Story-Teller
As the CEO of Smooth Sale, after her near-death experience, Stutz adapted the motto,
"Believe, Become, Empower.
"Nice Girls DO Get the Sale is an International Best-Selling and Evergreen Book – among the classics;
HIRED! Helped many to secure the job they desired.
Related Blog Stories:
Sales Tips: Have Your Business's Back
Join a business group to learn from those ahead in the growth process.
Question ideas you do not understand to gain their importance.
Before accepting a suggestion, consider how it may benefit your business style.
Politely say thank you for tips that do not align with your style as you note not to implement.
Seek out people who can use your expertise and desire a collaborative effort.
The minute you realize someone does not have your business's back, disconnect the relationship.
Develop a more robust output by contributing to a community of your choice.
Inquire of everyone you meet about the type of help they may need to enhance your services.
Be faithful to research, collaboration, community spirit, and perseverance.
Celebrate Success!
Today's insights are provided to help you achieve the Smooth Sale!
RESOURCES FOR PERSONAL AND BUSINESS GROWTH:
Advisorpedia Publishes information to help advisors build their practice, and those having an interest in the markets choose investments and find inspiration.
BizCatalyst360 Presents a life, culture, and biz new media digest serving as a hub of creative expression and personal growth.
CatCat Build your future one skill at a time.
For Book Lovers Only   For Book Lovers Only introduces you, the book lover, to new and exciting authors and works of fiction and non-fiction.   
GetCiara  Make remote your unfair advantage.
Greg Jenkins Consulting LLC – Helping organizations realize the value of diversity to build inclusive, evolving, high-performing cultures.
Growth Hackers – Helping businesses worldwide grow with lead generation, growth marketing, conversion rate optimization, data analytics, user acquisition, retention, and sales.
Inclusion Allies Coalition "Everyone is welcome here." Learn more to train teams, and join the advocacy program.
Internet Advisor Find the internet service right for you among 2083 internet providers across 36,380 cities, plus Cellphonedeal compiles great deals on phones, plans, and prepaids to furnish you with the best options in your area.
Kred Connect with top-rated influencers to learn from and grow your networks.
LinktoEXPERT "It is not who you know – it is who knows you and what your expertise can do for them plus understands the value of hiring you."
Lotus Solution LLC Helps organizations create diversity and inclusion to ensure a fair and a just workplace through customized consulting, training, and keynote speeches.
SalesPop! Purveyors of Prosperity; how to compete against yourself to excel in your career.
Simma Lieberman "The Inclusionist" helps develop inclusive leaders from the inside out to champion diversity and build equitable, inclusive cultures at every level.
Vengreso Provides easy-to-follow on-demand sales training for LinkedIn.
Vunela Provides a unique opportunity to view Videos and read articles by World Leaders.
WebTalk is the one-stop platform. Build your marketplace and grow social connections.
Women's Information Network (WIN) An education-and-event-based Global Community of Women Helping Women Worldwide Live Their Best Lives through Celebration, Self-Improvement, and Service.