Image by John Hain via PixabayI
Attract The Right Job Or Clientele:
Are You Enthusiastic About Work?
Today's question, 'Are you enthusiastic about work?', may sound a bit strange. We are typically excited about vacation but not about work. Many people dread their daily occupations. They find the work tedious, but for some, getting food on the table is the priority. But for those who are able plus motivated, it just may be time to seek new work or begin an entrepreneurial adventure of a lifetime.
Imagination is everything, so imagine what work might be like if you were to study for a higher-level position or begin your own business. Just thinking about it, you may feel a surge of enthusiasm. Should this be the case, no doubt, you may be charting out a new course of action tonight!
My Story
It is no secret that negative commentary can get us down. I eventually concluded that the not-so-nice remarks arise because others feel they compete with us. They either don't want us to leave their corner of the world or admit our ideas will put us seemingly ahead. I learned to embrace the negativity as it signifies that I am onto something that holds potential.
I believe that boredom is to be eliminated for those motivated to achieve more. It is better to strive for one or more levels over our heads so that we may advance. Just thinking about the idea can bring a smile and have us feel more enthusiastic about work.
Accordingly, we begin creating new goals, planning projects, and creating the right program for us. The follow-on is an increase in energy and seeing ourselves as enthusiastic about work.
But working alone can be difficult as entrepreneurship is a long journey forward. There are times when quitting may enter our minds. Of course, we are all aware that we will be back to square one, facing a mediocre job at best if we stop. The better answer is to find peers who have the same desire and determination to build something special. Another possibility for maintaining momentum is contributing to a community that dedicates itself to a cause in which we believe.
Again, there is a need to select our community with care. The people, events, and messaging are to align with what we believe as individuals. Once we verify everything is in order, the momentum will pick up, assuming that we are carefully connecting with those with similar interests. One side benefit is that our social connections can increase by sharing the individuals' insights alongside the organization.
One community I find impressive is that of Vengreso; they are a premiere trainer for how to sell well on the LinkedIn platform. Upon taking their training, I was duly impressed and made their suggested tweaks for my profile. New connections picked up at a solid rate as did partnering opportunities. Reciprocity is everything in the business environment. Upon seeing my praise, Vengreso asked to interview me to ask for my insights about selling. I was happily surprised by the video they created on my behalf – enjoy!
As we move toward a happier outlook, ideas for new projects and collaborative efforts come about. The turning point arrives to answer, Yes, we are enthusiastic about work!
"Communicate to Attract Interest"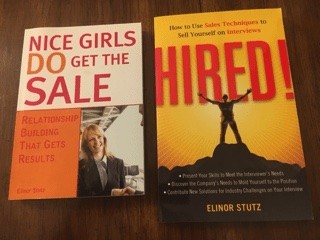 Be A Story-Teller
As the CEO of Smooth Sale, after her near-death experience, Stutz adapted the motto,
"Believe, Become, Empower."
"Nice Girls DO Get the Sale is an International Best-Selling and Evergreen Book – among the classics;
HIRED! Helped many to secure the job they desired.
Your Story: Are You Enthusiastic About Work?
Several essential indicators exist about whether or not you are enthusiastic about work.
Do You:
Look forward to or dread beginning the new day?

Possess a negative or positive mindset?

Rapidly dismiss ideas or take time to consider them?

Continue envisioning how to get to the next level?

Contribute to communities as a service to others and possibly collaborative efforts?
Should your answer be no, you don't look forward to the next day's work; consider what you may improve. If you are an employee, will you be happier on another team or in a higher-level position? Do you have the motivation to learn what it will take to remain an employee plus move up the ladder? If you feel a tinge of excitement answering these questions, begin charting out your course of action today. Surprisingly, you might feel enthusiasm tomorrow morning!
As an entrepreneur, are you tired of facing the same old every day and primarily by yourself? The situation can be a dilemma for solo entrepreneurs. However, the commitment to learning stirs ideas for new products and services, which can assist both your mood and effort. Listen to the views of associates and accept conversations about potential collaborative efforts. You never know what may unfold.
Upon reading articles about those who inspire you, check out the social profiles to see if it may be someone with whom you want to connect. Should you realize they are active within a community, inquire about it as it may be what you seek.
In summary, instead of letting life get you down, seek out what may motivate and inspire you to do more. We put needless limits on ourselves, thinking we don't have the talent. Surprisingly, when we are enthusiastic about work, the motivation to learn more and advance to new levels takes hold. And then we become more.
'Be Inspired!'
Related Blog Story:
Sales Tips: Are You Enthusiastic About Work?
Know what you enjoy doing.

Maximize the enjoyable pieces of your work.

Create new products or services related to what you like doing.

Collaborate with those whose work complements yours.

Promote the work of those who share similar values and goals.

As an employee, figure out what your next steps are to climb the career ladder.

As an employee, decide if you wish to remain or if it is beneficial to interview elsewhere.

Join a community that can use your talent and helps more people.

Feel the motivation and inspiration to charter new programs.

Celebrate Success!
Today's insights are provided to help you achieve the Smooth Sale!
RESOURCES FOR PERSONAL AND BUSINESS GROWTH:
Advisorpedia Publishes information to help advisors build their practice, and those having an interest in the markets choose investments and find inspiration.
BizCatalyst360 Presents a life, culture, and biz new media digest serving as a hub of creative expression and personal growth.
CatCat Build your future one skill at a time.
For Book Lovers Only For Book Lovers Only introduces you, the book lover, to new and exciting authors and works of fiction and non-fiction.
GetCiara Make remote your unfair advantage.
Greg Jenkins Consulting LLC – Helping organizations realize the value of diversity to build inclusive, evolving, high-performing cultures.
Growth Hackers – Helping businesses worldwide grow with lead generation, growth marketing, conversion rate optimization, data analytics, user acquisition, retention, and sales.
Inclusion Allies Coalition "Everyone is welcome here." Learn more to train teams, and join the advocacy program.
Internet Advisor Find the internet service right for you among 2083 internet providers across 36,380 cities, plus Cellphonedeal compiles great deals on phones, plans, and prepaids to furnish you with the best options in your area.
Kred Connect with top-rated influencers to learn from and grow your networks.
LinktoEXPERT "It is not who you know – it is who knows you and what your expertise can do for them plus understands the value of hiring you."
Lotus Solution LLC Helps organizations create diversity and inclusion to ensure a fair and a just workplace through customized consulting, training, and keynote speeches.
SalesPop! Purveyors of Prosperity; how to compete against yourself to excel in your career.
Simma Lieberman "The Inclusionist" helps develop inclusive leaders from the inside out to champion diversity and build equitable, inclusive cultures at every level.
Vengreso Provides easy-to-follow on-demand sales training for LinkedIn.
Vunela Provides a unique opportunity to view Videos and read articles by World Leaders.
WebTalk is the one-stop platform. Build your marketplace and grow social connections.
Women's Information Network (WIN) An education-and-event-based Global Community of Women Helping Women Worldwide Live Their Best Lives through Celebration, Self-Improvement, and Service.