Image by PublicDomainPictures from Pixabay 
Jeff Morrill
Note: Jeff Morrill, Author, and highly successful Serial Entrepreneur provides today's guest blog, Are You Financially Prepared To Start A Business?
His article is excellent and lengthy. Today's entry is part two, with one more segment to follow next week. The focus today is whether your authentic personality can handle many of the surprising challenges about to unfold.
____________________
Attract The Right Job Or Clientele:
Before You Start A Business
Note: Morrill's content will be provided in three parts.
Last week's edition focused on personality and the essential questions to answer up front. Today we speak to financial matters, asking are you financially prepared to start? Unless we take our personal finances seriously and the cost of doing business with equal consideration, survival will be unlikely. It is necessary to set the framework for approaching and conducting business and maintaining the willingness to revise as necessary.
Financial Questions
Entrepreneurs reputedly enjoy taking risks. It's essential to come to terms with the question, are you financially prepared to start? Some do thrive on the adrenaline of working without a net. When I hear about the people who have won and lost multiple fortunes, I think they must enjoy the thrill of rolling the dice. But the majority of the business owners I know prefer to manage risks by minimizing them or bypassing them entirely.
Army combat veteran Colonel David Hackworth said, "If you find yourself in a fair fight, you didn't plan your mission properly." Most successful entrepreneurs seek deals where the odds of success significantly outweigh the potential for failure.
For many years, I bought our used cars at the auctions. By specializing exclusively in Subarus and obsessively immersing myself in that world, I gained a modest competitive advantage over most other country buyers. I thoroughly understood all the factors that influenced the value of the cars, and I was on the showroom floor every day interacting with the customers who were buying them.
Every time I bought a car, I took a bet. Each bet was small enough that even a big mistake would hardly put us out of business. I piled up the small winnings from all these bets every month until we bought 100 used cars a month at auctions. I developed a strategy that generated much revenue with minimal risk, although it took a lot of time and effort. You could say I liked to roll the dice, but only when they were loaded in my favor.
Now, imagine you're the player in an imaginary casino where you can bet on red or black. You are right consistently more often than you are wrong. If you never bet too much to go bust, and you play long enough, you'll do well. (This happens to be the way a real casino makes money from the players.)
· Can Betting On Yourself Be Considered A Wise Investment?
For example, my brother John and I both had appropriate experience in the car business. We had a track record of completing complex tasks. A sensible investor would have looked at us and handicapped our odds favorably. However, that confidence would have shrunk considerably had we chosen a much bigger business or an industry where we had little or no experience.
· Do You Have Savings To Invest In Your Business?
Losing savings can be devastating. However, it's generally easier to handle losing one's own savings than losing borrowed money where creditors pursue your remaining assets.
· Do You Have A Reasonable Backup Plan If You Lose Everything?
Suppose your spouse has a good job, and your business doesn't work out. In that case, it's reasonable to think you could survive such a failure. You could go back to work for somebody else and rely on your partner's income to cover the bills during the transition period. However, if you mortgaged your house and lost all your money, that would cause much bigger problems that you would need to address.
· Can You Survive Losing Whatever You Invested In The Business?
John and I were young enough that a total loss would have hurt quite a bit, but it wouldn't have wiped us out forever. We would have needed to repay the few hundred thousand dollars in loans, but that sum wasn't so big for us that we couldn't have paid it back over time. We could do it after we were to work for somebody else and earn an income.
· Are You Young Enough To Lose Everything And Regain Your Footing Before Retirement?
I knew a couple who closed a business after several years and hundreds of thousands of dollars in losses. The nightmare occurred right before they retired. Just before retirement is the worst time in your life to fail because you have no more working years left to recover. Their "golden years" are now the "social security check" years. The older and less wealthy you are, the more pressure you will face to succeed financially in business.
· What Kind Of Psychological Relationship Do You Have With Money?
Are you a disciplined saver and responsible investor? If you aren't already savvy with small sums of money, do you have a realistic expectation that you'll do better when the stakes are higher? My brother and I were raised in a home with frugal values. We were accustomed to postponing our immediate desires to pursue future rewards. We saw money primarily to give us the freedom to help others, and do the things we wanted instead of as way to buy lots of stuff. It was ironic that we didn't consider how long we would be confined inside the four walls of a dealership before we would begin to enjoy some of that freedom!
· Is Your Personal Financial House In Order?
Are you financially prepared requires answering, can you move past the lean times without causing serious strife or difficulty? And are you currently living below your means so that you could survive a reduction in income?
· Consider The Costs And Benefits Of Owning A Business
Is starting a business the best way to accomplish your goals? You can achieve financial independence by working hard to build a successful business over several years or decades. I chose that adventure, but I have the scars to show for it. You can also find much freedom by significantly scaling back your lifestyle and living very modestly on a smaller income. Learn more about this by researching the F.I.R.E. (Financial Independence, Retire Early) movement. The Mr. Money Mustache blog is an excellent place to start.
· Due To The Shortcuts To Wealth, Sacrifices Are Necessary —is it worth it to you?
In an interview, music producer Russell Simmons marveled at the abundance that he found all around him. It dawned on him that he had scores of chairs in his lavish residence but could never sit in more than one at a time. How many moments of your life are you willing to trade for money?
Answers to all of the above questions will provide the answer to are you financially prepared to start?
More insight is available regarding PBOD in the book "Profit Wise: How to Make More Money in Business by Doing The Right Thing."
For More Insights: Visit Elinor's Amazon Author Page
"Communicate to Attract Interest"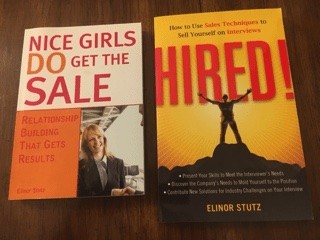 Be A Story-Teller
As the CEO of Smooth Sale, after her near-death experience, Stutz adapted the motto,
"Believe, Become, Empower.
"Nice Girls DO Get the Sale is an International Best-Selling and Evergreen Book – among the classics;
HIRED! Helped many to secure the job they desired.
Related Blog Stories:
Sales Tips: Financially Prepared To Start A Business
Speak with your accountant and financial advisor first.

Review all accounts, both cash and cared to confirm amounts.

Coordinate financials with your life partner.

Create a backup system in case the business does not work to expectations.

Coordinate financials with potential partners and investors.

Create a detailed plan for how to spend money and receive income.

Agree to pay bills on time to avoid penalties.

Set a limit to losses so that you know when to close the business if need be.

Create an exit plan for a just-in-case scenario.

Celebrate Success!
Today's insights are provided to help you achieve the Smooth Sale!
RESOURCES FOR PERSONAL AND BUSINESS GROWTH:
Advisorpedia Publishes information to help advisors build their practice, and those having an interest in the markets choose investments and find inspiration.
BizCatalyst360 Presents a life, culture, and biz new media digest serving as a hub of creative expression and personal growth.
CatCat Build your future one skill at a time.
For Book Lovers Only For Book Lovers Only introduces you, the book lover, to new and exciting authors and works of fiction and non-fiction.
GetCiara Make remote your unfair advantage.
Greg Jenkins Consulting LLC – Helping organizations realize the value of diversity to build inclusive, evolving, high-performing cultures.
Growth Hackers – Helping businesses worldwide grow with lead generation, growth marketing, conversion rate optimization, data analytics, user acquisition, retention, and sales.
Inclusion Allies Coalition "Everyone is welcome here." Learn more to train teams, and join the advocacy program.
Internet Advisor Find the internet service right for you among 2083 internet providers across 36,380 cities, plus Cellphonedeal compiles great deals on phones, plans, and prepaids to furnish you with the best options in your area.
Kred Connect with top-rated influencers to learn from and grow your networks.
LinktoEXPERT "It is not who you know – it is who knows you and what your expertise can do for them plus understands the value of hiring you."
Lotus Solution LLC Helps organizations create diversity and inclusion to ensure a fair and a just workplace through customized consulting, training, and keynote speeches.
SalesPop! Purveyors of Prosperity; how to compete against yourself to excel in your career.
Simma Lieberman "The Inclusionist" helps develop inclusive leaders from the inside out to champion diversity and build equitable, inclusive cultures at every level.
Vengreso Provides easy-to-follow on-demand sales training for LinkedIn.
Vunela Provides a unique opportunity to view Videos and read articles by World Leaders.
WebTalk is the one-stop platform. Build your marketplace and grow social connections.
Women's Information Network (WIN) An education-and-event-based Global Community of Women Helping Women Worldwide Live Their Best Lives through Celebration, Self-Improvement, and Service.