Photo by vsalgado23 via Pixabay
Attract the Right Job Or Clientele:
Are You Leading Like A Coach?
Today's sports news is the perfect tie-in for business, asking, 'Are you leading like a coach?' Companies willing to invest in their employees generally establish a loyal staff, reducing the costly turnover. But there comes a time when salary, recognition, and promotion can raise serious questions about the overall 'team' experience.
My Story
Frequently, I write about taking in the news to learn varying lessons. Today's valuable lesson is from the sports section (admittedly, I do not read it) and the 180-degree approach between two coaches and their players.
According to the Washington Post, both the coach for the Washington Commanders and the Pittsburgh Steelers teams faced a challenging decision. A star player was injured on each team, becoming necessary to replace them with players sitting on the sideline for the most part.
Both teams have rookies sitting on the bench watching the games in progress but with little experience to their names. And they each have those on the sideline with some experience. The challenge is to decide who will replace each team's star to play in the upcoming games; will it be a novice or a more experienced player? Surprised, my husband asked me,
'What would you do?'
Corporate sales experience, the news, and my thought, admittedly, not sports, gave way to my answer. Experience plus the continual actions of companies always highlighting star performers but rarely allowing anyone else attention is always with me.
To improve staff loyalty and growth, companies will do their best with proper training and encouragement for everyone. Moreover, success rarely comes quickly. Practice is the number one technique and strategy to improve one's game no matter their endeavor. The practice is a forever ongoing habit. And incorporating new techniques, testing them, and figuring out the best strategy for the individual approach will lead one to success.
My response to the question, 'what would you do,' applies to corporate employees and sports figures destined to sit on the sideline watching each game. It will be a rarity for anyone to improve if they are never allowed the opportunity to begin trying. Instead of allowing the next best player to replace the injured star player, it's time to train the rookie.
'Teams do best when management and coaches can train, promote, and enable more star players for both business and sports.
Husbands and wives are known to have varying perspectives. But I proudly scored well! My husband smiled to say, that would be my exact answer!
In summary, inclusion applies in varying ways to the team effort. Establishing more star players in business and sports is necessary to find the window of opportunity and grab it for all it's worth! Excuses never fly.
Your Story: Are You Leading Like A Coach?
Should you manage a team, consider which members may benefit from additional training or private coaching. It's always best to develop an environment to inspire those struggling with performing per the desire of the company or team. The investment, in all regards, is likely to pay off well. Otherwise, trading players or interviewing, hiring, firing, and repeating the process will be non-ending plus costly.
Only a tiny percentage of people begin their careers or sports with confidence and the knowledge to quickly become the top performer. Admitting to a similar experience will help each person in a management position to consider how they may improve the effort of those they are to lead. Otherwise, it is an uphill battle for those employed to continue and remain in good stead.
Consider:
Can you be more inclusive when acknowledging people on your team?
Do you take questions from everyone or just the top performers?
Is there a lack of training that another person or service may contribute?
Are you open to asking your reports about the mentoring they may like to experience?
Will you take action to improve?
The better approach is always to use self-reflection to figure out how to improve, no matter the task, project, or long-term goal.
In Conclusion: Are You Leading Like A Coach?
It is rare for a person to believe that difficulties were never theirs in rising to star status. Those who do climb the mountain of uncertainty are the ones who become the top achievers and then can take on leading like a coach!
For More Insights: Visit Elinor's Amazon Author Page
"Communicate to Attract Interest"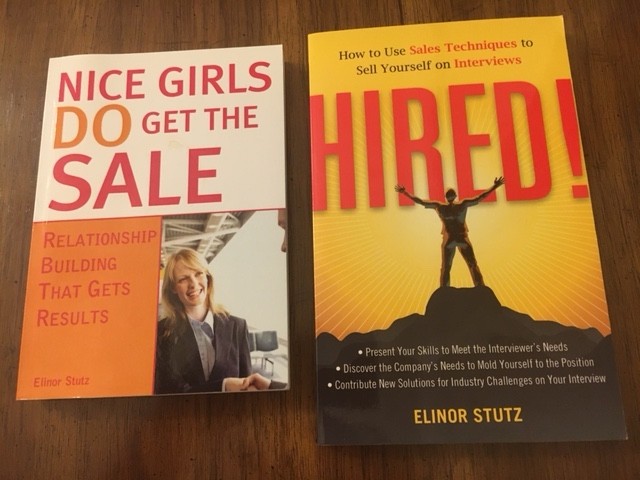 Authentic Relationships Are Essential
Be A Story-Teller
As the CEO of Smooth Sale, after her near-death experience, Stutz created the motto,
"Believe, Become, Empower"
" Nice Girls DO Get the Sale is an International Best-Selling and Evergreen Book – among the classics;
HIRED! Helped many to secure the job they desired.
Related Blog Stories:
Sales Tips: Are You Leading Like A Coach?
Should you be in charge of one or more employees, consider the positive and negative effects of leading like a coach.
Encourage members to do better without using embarrassing verbiage.
Ask those you manage how they prefer training, e.g., mentoring or a classroom.
If you outsource training, ensure everyone is good with the service or research other possibilities.
Seek out moments of opportunity to highlight those sitting in the shadow of top performers.
Encourage your team stars to mentor their teammates who can use advice.
In team meetings, allow everyone to ask questions of the trainer and the top performer.
Create a welcoming and inclusive team environment for all.
Do all you can for others to recognize that you are leading like a coach.
Celebrate Success!
Today's insights are provided to help you achieve the Smooth Sale!
RESOURCES FOR PERSONAL AND BUSINESS GROWTH:
Advisorpedia Publishes information to help advisors build their practice, and those interested in the markets choose investments and find inspiration.
BizCatalyst360 Presents a life, culture, and biz new media digest serving as a hub of creative expression and personal growth.
CatCat Build your future one skill at a time.
For Book Lovers Only For Book Lovers Only introduces you, the book lover, to new and exciting authors and works of fiction and non-fiction.
GetCiara Make remote your unfair advantage.
Greg Jenkins Consulting LLC – Helping organizations realize the value of diversity to build inclusive, evolving, high-performing cultures.
Growth Hackers – Helping businesses globally grow with lead generation, growth marketing, conversion rate optimization, data analytics, user acquisition, retention, and sales.
Inclusion Allies Coalition "Everyone is welcome here." Learn more to train teams, and join the advocacy program.
Internet Advisor Find the internet service right for you among 2083 internet providers across 36,380 cities, plus Cellphonedeal compiles great deals on phones, plans, and prepaids to furnish you with the best options in your area.
Kred Connect with top-rated influencers to learn from and grow your networks.
LinktoEXPERT "It is not who you know – it is who knows you and what your expertise can do for them, plus understands the value of hiring you."
Lotus Solution LLC Helps organizations create diversity and inclusion to ensure a fair and just workplace through customized consulting, training, and keynote speeches.
SalesPop! Purveyors of Prosperity; how to compete against yourself to excel in your career.
Simma Lieberman "The Inclusionist" helps develop inclusive leaders from the inside out to champion diversity and build equitable, inclusive cultures at every level.
Vunela Provides a unique opportunity to view Videos and read articles by World Leaders.
WebTalk is the one-stop platform. Build your marketplace and grow social connections.
Women's Information Network (WIN) An education-and-event-based Global Community of Women Helping Women Worldwide Live Their Best Lives through Celebration, Self-Improvement, and Service.