Photo by
Attract the Right Job Or Clientele:
How to Create A Positive Workplace Environment
Our collaborative Blog offers insights on how to create a positive workplace environment. We are learning that communications are often less than desirable due to the mix of remote workers and in-house staff. Moreover, some believe the other group has unfair advantages. Once a positive atmosphere takes over, it is easier to entice employees to remain for the long term, which will positively impact the company's bottom line.
Working daily in a toxic environment can significantly impact employee well-being, both physically and mentally. Moreover, this hostile atmosphere is visible to all. Worse, clients or customers may recognize something is amiss. A manager must know how to avoid a toxic atmosphere and create a positive work environment.
Continue reading for suggestions on creating a positive workplace environment and transforming your company's fortunes.
__________________________________________________
Create A Positive Workplace Environment
Ensure Preparation for All
Preparation is vital in the workplace. Encouraging preparation and providing thorough onboarding and additional training is ideal for attracting the top talent necessary for business success. An adequately prepared team is more capable than one that starts the work day without knowing what's on the agenda.
You may discover that some employees do not always adequately prepare according to expectations. Instead of disciplining them, opt to show them the benefits of preparation to help them achieve their professional targets and reach goals. Accordingly, they will become more effective team members.
Establish A Culture of Accountability
Accountability is another vital aspect of a successful and positive working environment. It may not seem true on the surface, but trusting everyone to speak up and get involved with suitable projects will keep things moving and ensure the work gets done.
Too many businesses waste too much time debating who is taking charge of the latest client project or who will lead meetings. If you streamline your admin approach, you'll find everyone is happier and more productive.
Give the Workplace Atmosphere
If you have worked in sales before, you know how crucial the atmosphere is to get people in the mood for a good day. But the atmosphere is not solely restricted to the sales culture and can be a positive addition to any workplace in any industry.
You can use a reliable music streaming service for business use in the office or store to overpower the chattering of office staff and customers. Or provide on-brand colors and designs that immediately make your company and mission statement noticeable. By embracing the power of the atmosphere, you offer a beneficial distraction without veering too close to losing productivity.
Encourage Learning and Growth
Ambitious employees are always looking for better opportunities. They will search elsewhere if you do not offer them at your business. This possibility is why employee development programs are vital to a successful business with a positive workplace environment.
Many managers worry it will create a cruel and competitive nature, but this is far from reality. Instead, it gives your employees (at least those interested) the chance to thrive and improve their skills, making them more dependable and possessing the knowledge essential for inspiring the next generation of employees in your workplace. The encouragement serves to build a positive workplace environment.
Positive Vibes
A positive work environment will make people look forward to coming to work. It will make your business more appealing and helps you push towards the next step and achieve crucial growth. However, be careful you do not allow complacency to set in, as this can create a culture that lacks the vital skills and attitudes required for further success.
In Conclusion: Create A Positive Workplace Environment
The above suggestions will contribute to establishing a notable business model with a positive workplace environment. Recruits will favorably notice the office environment, becoming more likely to accept an offer. Those who work remotely may visit the premises more regularly upon creating a positive workplace environment. And doing so will encourage the employees already in-house to remain for a long while.
For More Insights: Visit Elinor's Amazon Author Page
"Communicate to Attract Interest"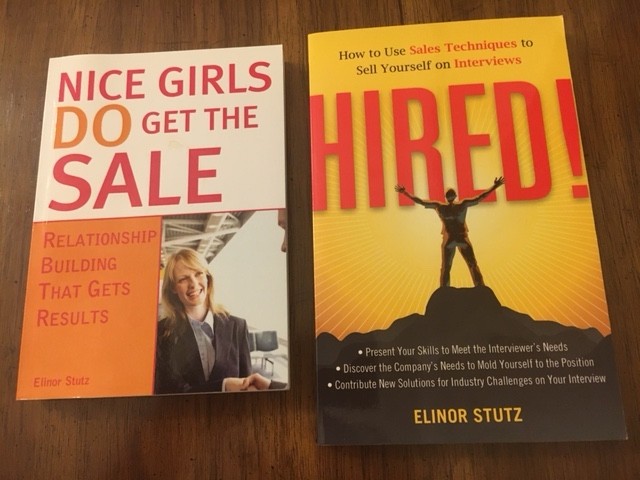 Authentic Relationships Are Essential
Be A Story-Teller
As the CEO of Smooth Sale, after her near-death experience, Stutz adapted the motto,
"Believe, Become, Empower"
" Nice Girls DO Get the Sale is an International Best-Selling and Evergreen Book – among the classics;
HIRED! Helped many to secure the job they desired.
Related Blog Stories:
Sales Tips: Create A Positive Workplace Environment
Establishing a policy of inclusion for all contributes to a positive workplace environment.
Ask employees for their input on improving the workplace's ambiance.
Ensure that you hear out everyone's ideas when they speak and take their ideas taken into consideration.
Reassess the benefits to confirm you are treating everyone equally.
Consider offering sports options and craft projects for employee breaks.
Decorate the office space invitingly.
Create contests for all to participate.
Offer rewards and recognition for the winners of each contest.
Provide occasional meals for everyone to enjoy.
Celebrate Success!
Today's insights are provided to help you achieve the Smooth Sale!
RESOURCES FOR PERSONAL AND BUSINESS GROWTH:
Advisorpedia Publishes information to help advisors build their practice, and those interested in the markets choose investments and find inspiration.
BizCatalyst360 Presents a life, culture, and biz new media digest serving as a hub of creative expression and personal growth.
CatCat Build your future one skill at a time.
For Book Lovers Only For Book Lovers Only introduces you, the book lover, to new and exciting authors and works of fiction and non-fiction.
GetCiara Make remote your unfair advantage.
Greg Jenkins Consulting LLC – Helping organizations realize the value of diversity to build inclusive, evolving, high-performing cultures.
Growth Hackers – Helping businesses from all over the world grow with lead generation, growth marketing, conversion rate optimization, data analytics, user acquisition, retention, and sales.
Inclusion Coalition "Everyone is welcome here." Learn more to train teams, and join the advocacy program.
Internet Advisor Find the internet service right for you among 2083 internet providers across 36,380 cities, plus Cellphonedeal compiles great deals on phones, plans, and prepaids to furnish you with the best options in your area.
Kred Connect with top-rated influencers to learn from and grow your networks.
LinktoEXPERT "It is not who you know – it is who knows you and what your expertise can do for them plus understands the value of hiring you."
Lotus Solution LLC Helps organizations create diversity and inclusion to ensure a fair and just work through customized consulting, training, and keynote speeches.
SalesPop! Purveyors of Prosperity; how to compete against yourself to excel in your career.
Simma Lieberman "The Inclusionist" helps develop inclusive leaders from the inside out to champion diversity and build equitable, inclusive cultures at every level.
Vunela Provides a unique opportunity to view Videos and read articles by World Leaders.
WebTalk is the one-stop platform To build your marketplace and grow social connections.
Women's Information Network (WIN) An education-and-event-based Global Community of Women Helping Women Worldwide Live Their Best Lives through Celebration, Self-Improvement, and Service.