Photo by Geralt via Pixabay
Attract The Right Job Or Clientele:
Are You Preparing for Change?
Change is relentless, so we need to be persistent as we consider preparing for change. The beginning of the pandemic had most of us stopped in our tracks. Slowly but surely, we began to adapt to the new normalcy. As restrictions start to ease, many need to consider what was done before versus what we do today and will do tomorrow. Preparing for change affects everyone as we contemplate the new tomorrow.
My Story
Entrepreneurship is far more tasking on a person from my perspective than a corporate job. The reason is we are responsible for everything. And should we take on partners or hire people, when all is said and done, we are still the ones in charge of the decisions that were made and are in process.
The entrepreneurial journey has significantly changed over time. Years ago, the only way to connect and build a business was to attend events in person. But attending wasn't enough. To be noticed, there was an underlying promoted effort to pay to be a vendor, sell products and services, and be a speaker at conferences. All of it was very time-consuming and potentially expensive. Some people had difficulty balancing expenditures vs. revenue and were soon out of business.
And then social media came into being. Internet usage pared down the cost of travel and social interactions substantially. It was and still is a treat to meet people from all over the world. I believe social media will remain popular for a long time to come. However, now that restrictions are easing, we will need to weigh the time and cost factors of travel for business vs. working from a home office.
Similarly, employees will soon be facing the dilemma of whether to return to a formal workspace or work from home. Some will have the opportunity to do both during the workweek depending upon the requirements of the job.
What intrigues me is the conversations online about whether sales will return to the in-person format or if it is still possible to work remotely. My perspective is that either approach works. What matters most and will never change is the ability to develop relationships wherever we are.
I have fond memories of meeting new people and visiting their place of employment as a sales conversation was about to begin. On the other hand, video technology provides us with a visual component. It may not be 100% the same, but it is far better than just using the telephone. On the other hand, after the in-person or video approach, picking up the phone to check in with a client is the second-best method. It is the personal touch that further develops the relationships. When people hear, 'I was thinking about you!' they stop to listen.
There very well may be adjustments to the selling environment and how we conduct business. Nevertheless, the sales approach will not change much. Being professionally friendly with prospects and clients will never go out of style. The piece that may change is the approach being up to us versus a formulaic agenda. Although long ago, I did well because I chose the friendship route, which worked exceptionally well.
However, I am taking one new route. In the past, everything was dependent upon my effort; slowly but surely, it grew into a collaborative one. But now, I'm taking steps to exponentially expand items of importance to me by joining two organizations with similar values. To get a message out to more people, we need a cohesive group that champions what we hold necessary. Not only will it help each of us, but it also adds to the marketing and branding effort for all and stands a better chance of making a significant impact.
Communicate to Attract Interest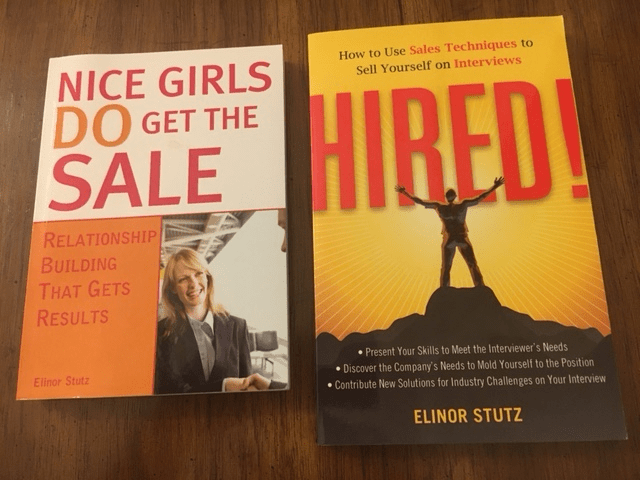 Be A Story-Teller
As the CEO of Smooth Sale, after her near-death experience, Stutz adapted the motto,
"Believe, Become, Empower.
" Nice Girls DO Get the Sale is an International Best-Selling and Evergreen Book – among the classics;
HIRED! Helped many to secure the job they desired.
Related Blog Stories:
Your Story: Are You Preparing For Change?
The better question is, how are you preparing for change? Should you be considering a new job, much thought and research will help you move on a steadier course. Usual questions include, are you thinking about changing industries, job title, or moving up the executive ladder? The next piece is to research the top three players in the industry that appeals to you. Include examining the executives, goals, financials, and the top clients. It will give you a platform for starting the conversations with hiring managers and recruiters if nothing else.
If you are an entrepreneur, reflect on your past successes and the highlights of your career. Is there an element on which you might like to either expand or eliminate? Is there an organization that represents what you have privately wished you could do? In either case, list out which elements are the most important and what you might do to activate the change. Be sure to balance prior obligations with possible new time commitments and fees.
The other styles of business will do well to ask employees about their preferences regarding future work. Most companies dictate what is to be, for the most part, that's understandable. But when most are preparing for change, employees will appreciate your asking for their input. Similar to developing a returning and referring clientele, employers should strive to have a loyal workforce. It begins by requesting feedback and attempting to accommodate employee suggestions.
In all instances, preparing for change will make the transition a bit easier. There are always unforeseen obstacles, but having a clear idea and a plan at hand to proceed will ease the process.
Sales Tips: Preparing For Change
Use quiet time to focus on what you enjoy and want to accomplish.

List of milestones to accomplish what is to come next.

Prioritize goals for making your idea a reality.

List the new knowledge you may need or the people who can help.

Set time aside to research your idea.

Consider whether a partner, collaborators, or organization will empower your concept.

Practice verbalizing and communicating on varying platforms what you plan to accomplish.

Connect with similar-minded people.

Monitor the information that appears most popular to create new products and services.

Celebrate Success!
Today's insights are provided to help you achieve the Smooth Sale!
RESOURCES FOR PERSONAL AND BUSINESS GROWTH:
Advisorpedia Publishes information to help advisors build their practice, and those having an interest in the markets choose investments and find inspiration.
BizCatalyst360 Presents a life, culture, and biz new media digest serving as a hub of creative expression and personal growth.
CatCat Build your future one skill at a time.
For Book Lovers Only   For Book Lovers Only introduces you, the book lover, to new and exciting authors and works of fiction and non-fiction.   
GetCiara  Make remote your unfair advantage.
Greg Jenkins Consulting LLC – Helping organizations realize the value of diversity to build inclusive, evolving, high-performing cultures.
Growth Hackers – Helping businesses worldwide grow with lead generation, growth marketing, conversion rate optimization, data analytics, user acquisition, retention, and sales.
Inclusion Allies Coalition "Everyone is welcome here." Learn more to train teams, and join the advocacy program.
Internet Advisor Find the internet service right for you among 2083 internet providers across 36,380 cities, plus Cellphonedeal compiles great deals on phones, plans, and prepaids to furnish you with the best options in your area.
Kred Connect with top-rated influencers to learn from and grow your networks.
LinktoEXPERT "It is not who you know – it is who knows you and what your expertise can do for them plus understands the value of hiring you."
Lotus Solution LLC Helps organizations create diversity and inclusion to ensure a fair and a just workplace through customized consulting, training, and keynote speeches.
SalesPop! Purveyors of Prosperity; how to compete against yourself to excel in your career.
Simma Lieberman "The Inclusionist" helps develop inclusive leaders from the inside out to champion diversity and build equitable, inclusive cultures at every level.
Vengreso Provides easy-to-follow on-demand sales training for LinkedIn.
Vunela Provides a unique opportunity to view Videos and read articles by World Leaders.
WebTalk is the one-stop platform. Build your marketplace and grow social connections.
Women's Information Network (WIN) An education-and-event-based Global Community of Women Helping Women Worldwide Live Their Best Lives through Celebration, Self-Improvement, and Service.