Photo by Geralt via Pixabay
Attract the Right Job Or Clientele:
Are You Taking The Proper Steps To Maximize Employee Loyalty?
Four million workers quit their jobs in October 2022. The great resignation of 2022 left many companies struggling to keep up with business demands. Employees are bouncing from job to job more than ever for good reasons. Companies must focus more on satisfying their employees; otherwise, droves of workers will continue to quit their jobs. So what can your business do to prevent losing its employees? 
_________________________________________________________________________________________________________________
Steps to Maximize Employee Loyalty
It is best to begin with, self-reflection, admission of errors, and then create a program for implementing better policies. Begin by understanding what is causing workers to leave their current employer in the first place, and learn how you can create a better working environment for your employees.
What Makes Employees Leave?
When employers don't recognize the hard work of their employees, tensions rise, and employees quit. Workers feel overworked, underpaid, and burnt out. Younger generations are less likely to tolerate toxic working environments and poor management, leading to increased job hopping.
The primary reasons workers quit are the low pay and poor benefits. With an ever-changing economy, keeping up and paying your staff adequate wages is essential. Since the COVID-19 pandemic, work-life balance has become necessary for employees, along with the flexibility to work from home. Aside from low salaries and lack of benefits, employees have discovered that there's more to life than long working hours. If you want to maximize your employee loyalty, you must prioritize your employee's happiness.
What Can You Do to Improve Employee Loyalty?
Understanding that your employees are real people is the first step toward improving relations with your employees. Businesses that respect their employees will have a better retention rate than management that is detached from their workforce. If you notice your employees start to disengage or decrease productivity, they could be dissatisfied with their environment. Take the time to reflect on what you are currently doing to keep your employees happy and brainstorm ways to improve morale in your workplace.
Listen to Employee Needs
Your employees are looking for more than just the standard casual Friday; they want you to understand who they are and their needs. The best way to learn how to satisfy your employees is to ask them. Approach the situation with the intent to do better by your team. For employees to feel comfortable voicing their concerns, businesses must be receptive to constructive feedback. Put together a survey that can give you better insight into the needs and wants of your team.
Keep communication open with your employees to stay connected and build a stronger sense of collaboration. Employers that fulfill their employee's needs tend to have better employee satisfaction and retention rates. Understanding your employees' feedback can allow them to build more trust in you as the employer because it shows that you care about their well-being.
Invest in Learning Opportunities
Your employees must know how to keep up as the business world grows. Your team will become more knowledgeable in their field by developing learning opportunities. Pushing your employees to take courses or attend conferences will not only benefit them but benefit your business as well.
One of the most significant stressors outside of work for an employee is their finances. Finances are a large part of life; some may need to understand their financial situation better than others. To help alleviate this, consider sharing learning opportunities such as financial literacy courses and resources surrounding debt management options, credit score navigation, and other financial wellness tips. Consider giving presentations that will help your employees outside the office as well. Your employees will appreciate your willingness to invest in their future.
Make Advancement Opportunities Clear
Transparency is vital in establishing a solid relationship with your employees. Your employees should know how they can move forward in the company. What can you offer in terms of promotions and raises? Why would someone want to make the step up into a higher position?
Today's workforce cares about broadening their horizons. They want to feel free from the same position for decades. Employees are more likely to move on without room for advancement. Although growing your business is a top priority, having employees who can grow alongside your company can benefit your overall success. Workers proud of their work in the company will continue to work hard for themselves and the business.
Support Your WFH (work from home) Employees
Flexible working environments are here to stay, so it's essential to ensure your remote workers feel engaged with their co-workers and managers. Work culture can extend into the digital world; it's just a little more work. Instead of the usual water cooler chats, use a company messaging system to stay connected throughout the day. Talk to your employees about more than just their next deadline. Remote workers still want to feel like they are a part of the team, so be sure to reach out frequently throughout the work day. Once you learn to work with the new remote culture, you can provide more support to your WFH team, reinforcing employee loyalty.
Why You Need to Keep Your Employees Satisfied
Although it may seem cliché, happy workers are productive workers. Have you ever had a job that you hated? How well did you perform in that environment? Likely, you did not contribute as much as you usually would due to poor working conditions. Employees that love their job stay at their job. It's that simple. As a business owner, you must ensure your team has a positive working environment if you want them to stay. You can improve employee retention and develop stronger loyalty in your business through communication and team building.
In Conclusion: Steps to Maximize Employee Loyalty
Only some people will be fit for your company; however, more people will remain for the long term. As your staff sees you in action for them to experience a welcoming and collaborative environment, you will soon maximize employee loyalty. It's a two-way street that requires the effort upfront, rewarding you with an improving bottom line for ongoing growth.
For More Insights: Visit Elinor's Amazon Author Page
'Communicate to Attract Interest'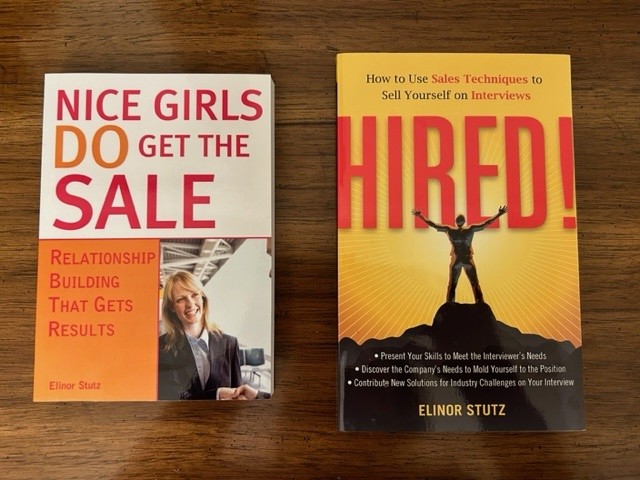 Authentic Relationships Are Essential
Be A Story-Teller
As the CEO of Smooth Sale, after her near-death experience, Stutz created the motto,
"Believe, Become, Empower"
" Nice Girls DO Get the Sale is an International Best-Selling and Evergreen Book – among the classics;
HIRED! Helped many to secure the job they desired.
Related Blog Stories:
Sales Tips: Steps to Maximize Employee Loyalty
You can more easily maximize employee loyalty by giving full attention to their insights and requests.
Respect goes a long way for employees to remain with you and the company for the long term.
Each team member will want to openly discuss ideas to enhance the individual position and the team.
Inquire how you may improve the team environment.
Gain consensus on suggestions and then take action.
Be the model of striving to do better for your employees.
Always keep an eye on new possibilities for enhancing teamwork.
Host a Zoom Happy Hour occasionally for fun and camaraderie.
Should all team members work on the premises, occasionally host special events and a meal for everyone.
Celebrate Success!
Today's insights are provided to help you achieve the Smooth Sale!
RESOURCES FOR PERSONAL AND BUSINESS GROWTH:
Advisorpedia Publishes information to help advisors build their practice, and those interested in the markets choose investments and find inspiration.
BabyBoomer – A trusted media source that collects and curates all the news, resources, and shows of interest for the Baby Boomer generation.
BizCatalyst360 Presents a life, culture, and biz new media digest as a hub of creative expression and personal growth.
CatCat Build your future one skill at a time.
ContactOut is a web-based platform that enables users to search for contact information and uncover contact details, including email addresses, phone numbers, and other personal data.
Greg Jenkins Consulting LLC – Helping organizations realize the value of diversity to build inclusive, evolving, high-performing cultures.
Growth Hackers – Helping businesses globally grow with lead generation, growth marketing, conversion rate optimization, data analytics, user acquisition, retention, and sales.
Inclusion Allies Coalition "Everyone is welcome here." Learn more to train teams and join the advocacy program.
Internet Advisor Find the internet service right for you among 2083 internet providers across 36,380 cities; plus, Cellphonedeal compiles excellent deals on phones, plans, and prepaid to furnish you with the best options in your area.
Kred Connect with top-rated influencers to learn from and grow your networks.
LinktoEXPERT "It is not who you know – who knows you and what your expertise can do for them, plus understand the value of hiring you."
Lotus Solution LLC Helps organizations create diversity and inclusion to ensure fairness and work through customized consulting, training, and keynote speeches.
Onalytica Find relevant influencers for your brand.
SalesPop! Purveyors of Prosperity; how to compete against yourself to excel in your career.
Simma Lieberman, "The Inclusionist," helps develop inclusive leaders from the inside out to champion diversity and build equitable, inclusive cultures at every level.
Vunela Provides a unique opportunity to view Videos and read articles by World Leaders.
WebTalk is the one-stop platform To build your marketplace and grow social connections.
Win Win Women is the world's only interactive network and an international community for women. Women WIN when they receive solutions + Experts WIN when they provide solutions = Win Win Women.